Education
Southwest Wildlife organization, animal rescue, animal rehabilitation, Arizona animal rescue
Marine Conservation,Biosphere conservation.
Animal & Animal Rights Protection
Friedrich Nietzsche Quotes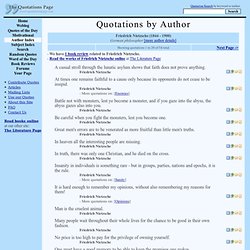 - We have 1 book review related to Friedrich Nietzsche. - Read the works of Friedrich Nietzsche online at The Literature Page A casual stroll through the lunatic asylum shows that faith does not prove anything. Friedrich Nietzsche At times one remains faithful to a cause only because its opponents do not cease to be insipid. Battle not with monsters, lest ye become a monster, and if you gaze into the abyss, the abyss gazes also into you. Be careful when you fight the monsters, lest you become one.
Of all that Heaven produces and nourishes, there is none so great as man. CONFUCIUS, The Wisdom of Confucius Ceremonies are the first thing to be attended to in the practice of government. From the loving example of one family a whole State may become loving, and from its courtesies, courteous; while from the ambition and perverseness of the one man the whole State may be thrown into rebellious disorder.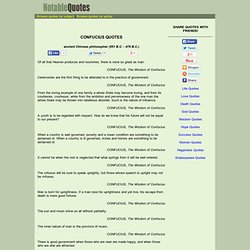 Confucius Quotes
Mark Twain - Complete works of Mark Twain, Biography, Quotes
Aesop's Fables
Beatrix Potter (born Helen Beatrix Potter; 28 July 1866 – 22 December 1943) was an English author, illustrator, natural scientist and conservationist best known for her imaginative children's books featuring animals such as those in The Tale of Peter Rabbit which celebrated the British landscape and country life. Born into a wealthy Unitarian family, Potter, along with her younger brother, Walter Bertram (1872–1918), grew up with few friends outside her large, extended family. Her parents were artistic, interested in nature and enjoyed the countryside.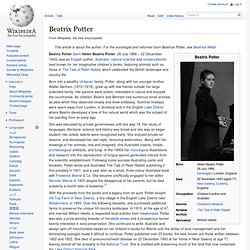 Beatrix Potter
mundo virtual para niños ecológico y educativo