AUDIO
Trouver des sons... et les traiter avec Audacity. Magneto JO, le magnétophone de Jacques Omnes. MAGNETOJO. TELECHARGER MAGNETO JO. Téléchargement. Vous pouvez prendre connaissance du mode d'emploi de Reconst 4.0 en cliquant ici.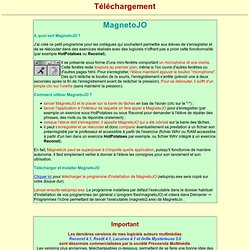 Télécharger Reconst 4.0, Grille 2.2, Lacunes 4.0, Restit 4.0 : Vous copierez ainsi sur votre disque dur le programme d'installation JO40.EXE. Lorsque le téléchargement sera terminé, lancez ce programme, qui créera sur votre disque dur un répertoire C:\JO et ses sous-répertoires RECONST, GRILLE, LACUNES, où il copiera les fichiers nécessaires. Woxikon. Balabolka. Balabolka is a Text-To-Speech (TTS) program.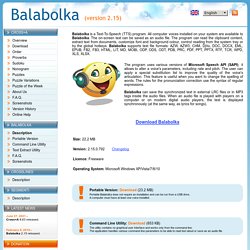 All computer voices installed on your system are available to Balabolka. The on-screen text can be saved as a WAV, MP3, MP4, OGG or WMA file. The program can read the clipboard content, view the text from AZW, AZW3, CHM, DjVu, DOC, EPUB, FB2, HTML, LIT, MOBI, ODT, PRC, PDF and RTF files, customize font and background colour, control reading from the system tray or by the global hotkeys.
Download Balabolka. Voice2Note. Au choix sur Deezer. LIVRES AUDIO. MP3 Skype Recorder. By Ishan Bansal on August 18, 2009 | Sponsored Links Works on: Windows MP3 Skype Recorder is a nice free software to record all your Skype calls.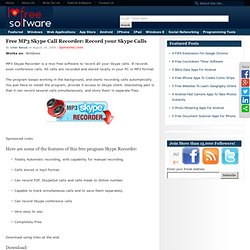 TTS Online : Free Text to Speech Voices : Read The Words. Logiciel libre d'enregistrement et de montage audio. Free Audio Editor and Recorder.
---