Self sufficient
EcoDIY UK green living house conversion (living the Good Life!)
How to Harvest, Process, and Store Vegetable Seeds « Surviving the Middle Class Crash
A Quick Comparison of Vegetable Seeds to Silver Dollars The small seed envelopes available for sale at hardware stores and supermarkets are generally priced between $0.97 to $1.69 per package. Each individual package usually contains somewhere between 100 mg to 3.5 g of seed, with an average of 900 mg of seeds per package. 1000 mg equals 1 gram and 1 gram equals 0.035 standard ounces.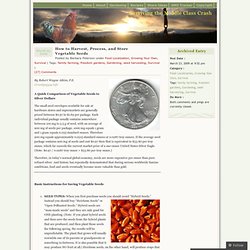 Seed Saving Handbook: Learn How to Save Seeds From Common Garden Vegetables—Free!
One of the most valuable assets in my garden is my greenhouse.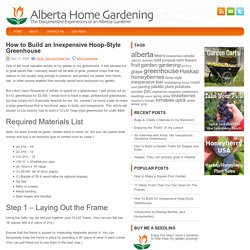 How to Build an Inexpensive Hoop-Style Greenhouse | Alberta Home Gardening
uBuilder Plans
FREE CHICKEN COOP PLANS
How To Grow Ginger? Growing Ginger Root Is Not That Hard...
Learn How To Grow Ginger At Home When I started growing ginger root I expected it to be difficult. It's not.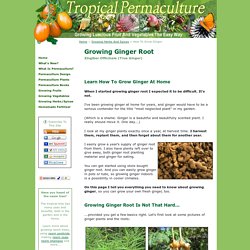 Anyone Can Build A Planet Whizbang Wheel Hoe
Handy Farm Devices - Cobleigh - ToC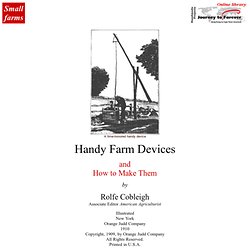 By Way of Introduction SUCCESS comes to the man who so works that his efforts will bring the most and the best results -- not to the man who simply works hard.
skippystuff.com
How to Build a Natural Swimming Pool
Learn how to build a natural swimming pool in order to create a cooling summer retreat for your homestead. Whether you like to practice your dolphin dives or lounge away the day on a raft, swimming is one of summer's perfect pleasures. With a minimum of materials and without an arsenal of chemicals, you can build an idyllic water oasis right in your own back yard and thwart summertime's sultry dog days. Though fairly common in Europe, natural swimming pools (like the one pictured above in an Austrian family's backyard), are in their infancy in the United States. Ask most American swimming-pool contractors to build a backyard pool and chances are they'll roll out a long list of goods, including rebar, gunite, fiberglass, chlorine and an energy-sapping filtration system.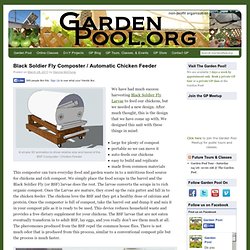 A simple 3D animation to show relative size and layout of the BSF Composter / Chicken Feeder We have had much success harvesting Black Soldier Fly Larvae to feed our chickens, but we needed a new design. After much thought, this is the design that we have come up with.
Black Soldier Fly Composter / Automatic Chicken Feeder | GardenPool.org
self-reliance | homesteading | backwoods | home | magazine
The Masters of Horticulture
Becoming Self Sufficent at Go Self Sufficient (UK)
Sound Strategies - Contact Info
CHICKENRUN - About Us
About Us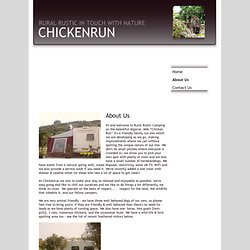 Build Your Own Solar Water Heating Panel Further Solar Reading and Links: economical Selenium photo voltaic cells
DIY Solar Panel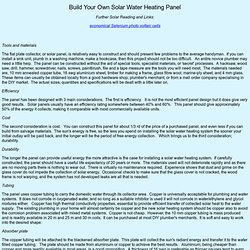 BuildItSolar: Solar energy projects for Do It Yourselfers to save money and reduce pollution
DIY solar Hot Water System build your own
Self Sufficient UK
80w Solar Panels | Small 80w Solar Panels | PV photovoltaic 80w Solar Panel Kit by Solar Panels Work UK - 80w Solar Panels Work UK
Solar power and caravaning
Raising BackYard Chickens, Build a Chicken Coop, Pictures of Breeds
Garden Seeds UK, Flower seeds, vegetable seeds, herb seeds, sprouting seeds, online seed catalogue