Self sufficient
EcoDIY UK green living house conversion (living the Good Life!)
Rosie and I are celebrating passing our assessment to be a Permaculture Association LAND learning centre. This means that groups can obtain funding from the Permaculture Association to come and visit us here and see what we are up to. We are looking forward to having (and learning from) lots of interesting visitors. If you want to visit us as a working or as a paying guest get in touch.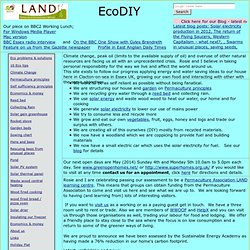 How to Harvest, Process, and Store Vegetable Seeds « Surviving the Middle Class Crash
A Quick Comparison of Vegetable Seeds to Silver Dollars The small seed envelopes available for sale at hardware stores and supermarkets are generally priced between $0.97 to $1.69 per package. Each individual package usually contains somewhere between 100 mg to 3.5 g of seed, with an average of 900 mg of seeds per package. 1000 mg equals 1 gram and 1 gram equals 0.035 standard ounces.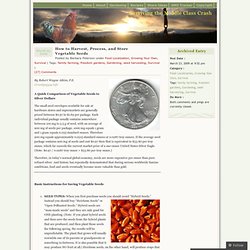 Go directly to the vegetable(s) you're looking for: Go directly to the topic you're interested in using the links to the left. Read the Handbook and learn how to breed your own new vegetable varieties, reproduce existing heirloom seed varieties and save vigorous, free seeds from your garden. You may also print any of the chapters you're interested in (the print version has most colors, navigation, etc. removed).
Seed Saving Handbook: Learn How to Save Seeds From Common Garden Vegetables—Free!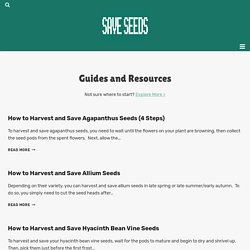 One of the most valuable assets in my garden is my greenhouse. It has allowed me to grow plants that I normally would not be able to grow, produce crops that the season is not usually long enough to produce, and protect my plants from frosts, hail, or other severe weather that normally would have destroyed my garden. But I don't have thousands of dollars to spend on a greenhouse. I just priced out an 8'x12' greenhouse for $3,500. I would love to have a large, professional greenhouse, but that simply isn't financially feasible for me.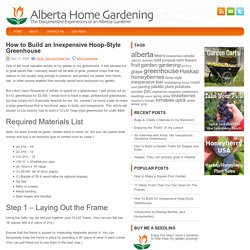 How to Build an Inexpensive Hoop-Style Greenhouse | Alberta Home Gardening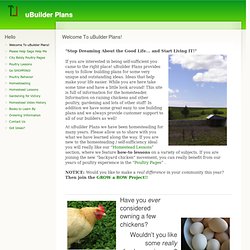 uBuilder Plans
"Stop Dreaming About the Good Life... and Start Living IT!" If you are interested in being self-sufficient you came to the right place! uBuilder Plans provides easy to follow building plans for some very unique and outstanding ideas. Ideas that help make your life easier. While you are here take some time and have a little look around! This site is full of information for the homesteader.
So you're thinking about building a chicken coop but don't want to spend a fortune oncoop plans and building materials? This was my thought when I built my own coop afew years ago. I've read that the average person spends $300.00 to build their coopand I didn't want to spend that much - I scoured the internet to find free (or cheap)but well made chicken coop designs that I could either build myself or buy. I've included the links to FREE coop designs on the left side of the page.the links contain plans to big or small chicken coops, depending on your needs. I'vealso added some ideas for cheap or free chicken coop supplies i.e. buildingmaterials, chicken feeders, chicken water containers, chicken nest boxes, chickenroosts, and a few recommended books on how to care for chickens.
FREE CHICKEN COOP PLANS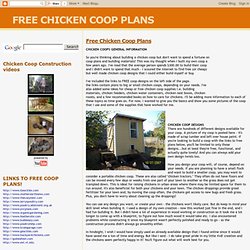 How To Grow Ginger? Growing Ginger Root Is Not That Hard...
Learn How To Grow Ginger At Home When I started growing ginger root I expected it to be difficult. It's not.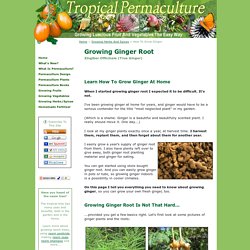 —Updated: 3 April 2014— The quote above comes from Eliot Coleman, and is found in his excellent book, The New Organic Grower. Coleman is, of course, right in his assessment, and anyone who already owns a good wheel hoe with an oscillating stirrup blade will verify this. Yes indeed, such a wheel hoe is the ideal tool for keeping weeds under control in any serious home or market garden. Properly used, the wheel hoe with a stirrup blade will cultivate soil and hoe weeds ten times faster than a hand hoe.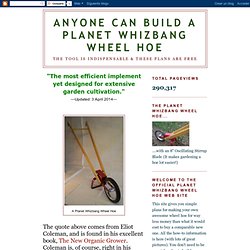 Anyone Can Build A Planet Whizbang Wheel Hoe
Handy Farm Devices - Cobleigh - ToC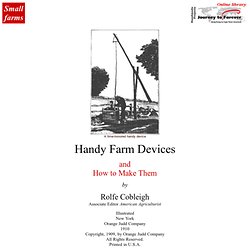 By Way of Introduction SUCCESS comes to the man who so works that his efforts will bring the most and the best results -- not to the man who simply works hard. It is the know-how, things-to-do-with and economy that count. Labor-saving machinery has revolutionized many a trade and industry. It has made farming an industry and a science of possibilities undreamed of and unattainable a hundred years ago. But it is not enough for the modern farm to be equipped with the best tools and machinery that shops and factories turn out, to know how to use them and keep them in repair.
skippystuff.com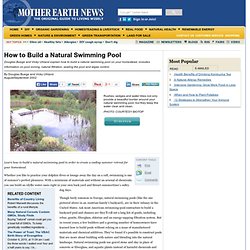 How to Build a Natural Swimming Pool
Learn how to build a natural swimming pool in order to create a cooling summer retreat for your homestead. Whether you like to practice your dolphin dives or lounge away the day on a raft, swimming is one of summer's perfect pleasures. With a minimum of materials and without an arsenal of chemicals, you can build an idyllic water oasis right in your own back yard and thwart summertime's sultry dog days. Though fairly common in Europe, natural swimming pools (like the one pictured above in an Austrian family's backyard), are in their infancy in the United States. Ask most American swimming-pool contractors to build a backyard pool and chances are they'll roll out a long list of goods, including rebar, gunite, fiberglass, chlorine and an energy-sapping filtration system. But in recent years, a few builders and a growing number of homeowners have learned how to build pools without relying on a mass of manufactured materials and chemical additives.
A simple 3D animation to show relative size and layout of the BSF Composter / Chicken Feeder We have had much success harvesting Black Soldier Fly Larvae to feed our chickens, but we needed a new design. After much thought, this is the design that we have come up with.
Black Soldier Fly Composter / Automatic Chicken Feeder | GardenPool.org
self-reliance | homesteading | backwoods | home | magazine
Farm/GardenThe $1 gardenBy Jonathan Nunan The dollar garden is simple in concept: buy as many seeds as you can for one dollar and harvest as much food as possible from the plants you grow. You see, sometime last year my mother, Susan, read something somewhere that claimed a tomato cost some incredible amount to grow on your own. Mom—whose plan to build a house out of firewood worked out just fine—made it her mission to grow as much as she could on as small a budget possible.
The Masters of Horticulture
Infographic from "The Mother Nature Network" If I haven't mentioned it before, I am a numbers guy. In my real job, I create and maintain computer applications that analyze all of The M.D. Anderson Cancer Center's numbers. Because I crunch and report numbers all day, every day, I am kind of a nut about them.
Becoming Self Sufficent at Go Self Sufficient (UK)
Sound Strategies - Contact Info
CHICKENRUN - About Us
About Us Hi and welcome to Rural Rustic Camping on the beautiful Algarve, AKA "Chicken Run" It's a friendly family run site which we are developing as we go, making improvements where we can without spoiling the unique nature of our site. We don't do small pitches where everyone is crowded in; we allow you to pick your own spot with plenty of room and we also have a small number of hardstandings. We have water from a natural spring well, waste disposal, electricity, some UK TV, WiFi and we also provide a service wash if you need it.
Build Your Own Solar Water Heating Panel Further Solar Reading and Links: economical Selenium photo voltaic cells
DIY Solar Panel
BuildItSolar: Solar energy projects for Do It Yourselfers to save money and reduce pollution
DIY solar Hot Water System build your own
Self Sufficient UK
80w Solar Panels | Small 80w Solar Panels | PV photovoltaic 80w Solar Panel Kit by Solar Panels Work UK - 80w Solar Panels Work UK
Solar power and caravaning
Raising BackYard Chickens, Build a Chicken Coop, Pictures of Breeds
Garden Seeds UK, Flower seeds, vegetable seeds, herb seeds, sprouting seeds, online seed catalogue