Trend
46 Free Social Media Monitoring Tools | DreamGrow Digital. If you want to know what's happening in the social web you need social media monitoring tools.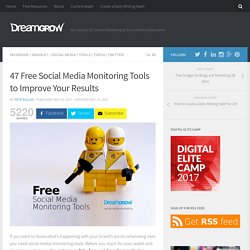 Before you reach for your wallet and start to spend money try out some of the free social media monitoring services. This way you will get an understanding of what is available and if you need any paid services. Inside Social Games - Tracking Innovation at the Convergence of. New 2008 Social Technographics data reveals rapid growth in adop. By Josh Bernoff Data is my secret weapon.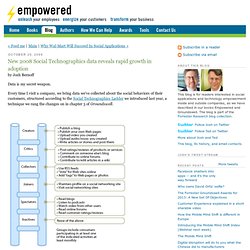 Every time I visit a company, we bring data we've collected about the social behaviors of their customers, structured according to the Social Technographics Ladder we introduced last year, a technique we rang the changes on in chapter 3 of Groundswell. When I go to Vanguard, I show them the profile of their customers – and their competitors'. I went to a company that makes replacement hip joints – I showed them the profile of people with arthritis. I just came back from Brussels, where I showed a bunch of direct marketers how Europeans participate – and how many people who resist direct marketing still embrace social technologies. Viralheat | Social media monitoring and analytics.
Twitter StreamGraphs. By: Jeff Clark Date: Tue, 15 Jul 2008 I just posted a new application in my projects section called Twitter StreamGraphs.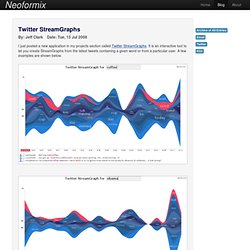 It is an interactive tool to let you create StreamGraphs from the latest tweets containing a given word or from a particular user. A few examples are shown below. The application shows a StreamGraph for the latest 200 tweets which contain the search word. Webtrendmap.com's Top Trending Links - Web Trend Map. TweetTabs : Realtime Twitter trends and Twitter search. (new realtime results) OneRiot.com - Find the Pulse of the Web. TweetGrid - by jazzychad. What The Trend? Find out WHY terms are trending on Twitter. NewsTrendz - Discover what everyone cares about.
Twazzup. QuarkBase : Everything about a Website. Tweetrush. Viral Content Sharing Report: Table of Contents. Beta) - Social media monitoring, buzz tracking, brand measuremen. Edopter.com: social trendcasting. T|w|i|t|t|e|r|m|e|t|e|r.
---