Seotools
The 30 Free SEO Tools You Must Know
Recently a "101 free SEO Tools that don't suck" list went popular on Sphinn.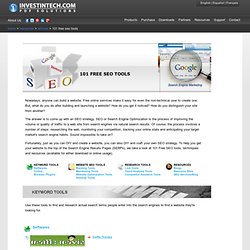 Free SEO Tools
Nowadays, anyone can build a website. Free online services make it easy for even the non-technical user to create one. But, what do you do after building and launching a website? How do you get it noticed?
PageMasher | Web Application Ranking Analysis
Search-based keyword tool LocalMarketing GetListed
This SEO Tools page has links to the best SEO Tools on the internet and these tools will help you to optimize your website and move your search engine position higher. You can now submit your Internet based SEO Tools to this list at the SEO Tool Submission Page. There is a refundable review fee of $5. Only quality SEO Tools will be added to the list. There is now a RSS feed for the SEO tools page and a XML to XHTML conversation page with a supporting CSS file which formats the RSS feed so it can be displayed formated. I am offering a feed of the tools with the awards so that means not just 20 links but 100's of inbound links for the award winners.