E-Practicas Digitales
Wassim Jabi, Ph.D. - Dossier and Portfolio
Alberto Pugnale a r c h i t e c t
supermanoeuvre
PreVault is a pre-cast concrete pavilion completed for the Aarhus Festuge (Festival) in Denmark.
supermanoeuvre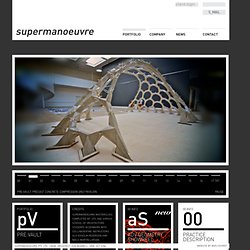 Compose Mail - estudioconvista - Gmail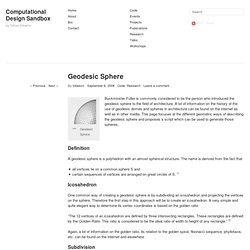 Geodesic Sphere «
Geodesic Sphere
supermanoeuvre
matter design | brandon clifford and wes mcgee
Axel Kilian, Ph.D., Dipl.-Ing. Overview of Projects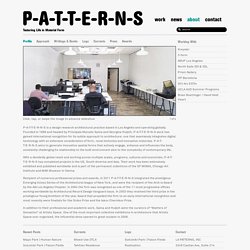 P-A-T-T-E-R-N-S is a design research architectural practice based in Los Angeles and operating globally. Founded in 1999 and headed by Principals Marcelo Spina and Georgina Huljich, P-A-T-T-E-R-N-S work has gained international recognition for its subtle approach to architecture; one that seamlessly integrates digital technology with an extensive consideration of form, novel tectonics and innovative materials. P-A-T-T-E-R-N-S aims to generate innovative spatial forms that actively engage, enhance and influences the body, constantly challenging its relationship to the built environment akin to the complexity of contemporary life.
About « P-A-T-T-E-R-N-S
SJET
apomechanes
Jens Dyvik | Concept, Interaction & Product Design
ONL [Oosterhuis_Lénárd]: ONL [Oosterhuis_Lénárd]
Selected works
Temporal Tenancy | matter design
This the­sis posits that our con­ven­tional under­stand­ing of domes­tic­ity is in direct rela­tion to a cul­tural assump­tion about prop­erty own­er­ship – per­ma­nence, pros­per­ity, growth – and, in turn, claims that this rela­tion­ship is cur­rently in a state of cri­sis (we move now more than ever and fore­clo­sure rates are through the roof).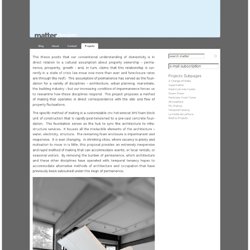 WF's Erik Thorson has been fortunate enough to participate in this years issue of tarp.
Erik Thorson « workshops factory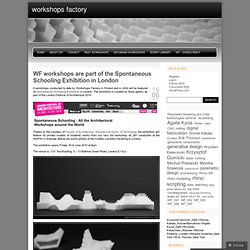 Workshop: Modeling for Digital Fabrication Instructor: Andrew Kudless Date: January 17, 2009 (10am-4pm) Location: Lab C, SF Campus Eligibility: Any CCA student, faculty, or staff Cost: Free Prerequisite: Beginning-Intermediate Rhino knowledge This workshop will cover the basic concepts and techniques needed to prepare digital models for digital fabrication at CCA.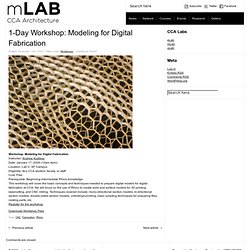 1-Day Workshop: Modeling for Digital Fabrication – mlab
Michal Piasecki
Professor John H Frazer - Educator, Researcher, Consultant, Globetrotter
Wax and Water 3dPrint
digital fabrication « workshops factory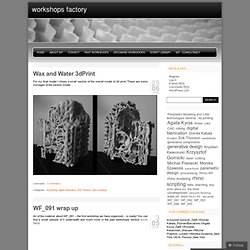 Team
BIO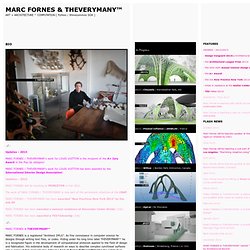 Updates – 2013: MARC FORNES / THEVERYMANY's work for LOUIS VUITTON is the recipient of the A+ Jury Award in the Pop Up category!
Architecture - brady peters
onur yuce gun | personal webpage
Parametric Modelling and Structural FEM Analysis on Vimeo
Pierre-Maxence Renoult - Ingénieur Architecte/Architectural Design and Engineering - Main
Knippers Helbig - Advanced Engineering - Home
Jan Knippers « Digital Crafting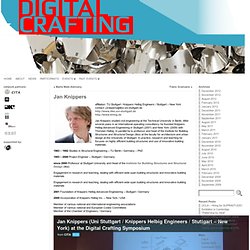 affiliation: TU Stuttgart / Knippers Helbig Engineers / Stuttgart – New York contact: j.knippers@itke.uni-stuttgart.dehttp://www.itke.uni-stuttgart.dehttp://www.khing.de
Firm Profile - Knippers Helbig
architects – Kasper Guldager Jørgensen Opens Exhibition in Essen – Nov 11th, 2010
Homepage
Erik Verboon
SJET
Gallery of Computation | generative artifacts