E-Practicas Digitales
Wassim Jabi, Ph.D. - Dossier and Portfolio
Alberto Pugnale a r c h i t e c t
supermanoeuvre
PreVault is a pre-cast concrete pavilion completed for the Aarhus Festuge (Festival) in Denmark. The festival is among the largest cultural events in Scandinavia and showcases both local, national and international artists. The structure was designed and constructed as part of a masterclass lead by Dave Pigram from supermanoeuvre & the University of Technology, Sydney (UTS) in collaboration with Ole Egholm Pedersen and Niels Martin Larsen of Aarhus School of Architecture (AAA). Six students from UTS and six from (AAA) formed the rest of the project team with instructors and students taking an equal role in all design decisions.
supermanoeuvre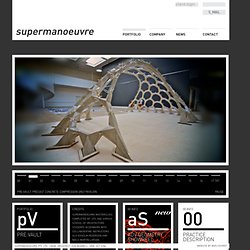 Compose Mail - estudioconvista - Gmail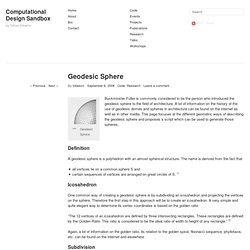 Geodesic Sphere «
Geodesic Sphere Buckminster Fuller is commonly considered to be the person who introduced the geodesic sphere to the field of architecture. A lot of information on the history of the use of geodesic domes and spheres in architecture can be found on the internet as well as in other media. This page focuses at the different geometric ways of describing the geodesic sphere and proposes a script which can be used to generate those spheres. Definition
supermanoeuvre
matter design | brandon clifford and wes mcgee
Axel Kilian, Ph.D., Dipl.-Ing. Overview of Projects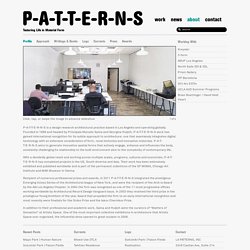 P-A-T-T-E-R-N-S is a design research architectural practice based in Los Angeles and operating globally. Founded in 1999 and headed by Principals Marcelo Spina and Georgina Huljich, P-A-T-T-E-R-N-S work has gained international recognition for its subtle approach to architecture; one that seamlessly integrates digital technology with an extensive consideration of form, novel tectonics and innovative materials. P-A-T-T-E-R-N-S aims to generate innovative spatial forms that actively engage, enhance and influences the body, constantly challenging its relationship to the built environment akin to the complexity of contemporary life.
About « P-A-T-T-E-R-N-S
SJET
apomechanes
It's finally online, the very first trailer for my upcoming research documentary. The movie will be about my adventures in global collaboration and local fabrication. How can we help people create their own products? How can we make a living from sharing? It will feature shots from FabLabs and projects around the world, animations about design by sharing and interviews with various makers and generally awesome people. Making Sharing Living will premiere in August 2013 at FAB9 in Yokohama, Japan
Jens Dyvik | Concept, Interaction & Product Design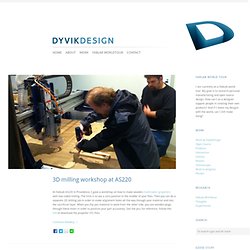 ONL [Oosterhuis_Lénárd]: ONL [Oosterhuis_Lénárd]
Selected works
WF's Erik Thorson has been fortunate enough to participate in this years issue of tarp. Release party tomorrow night, in the borough of Brooklyn. This year's issue focuses on the engagement of digital processes which are currently at the forefront of architectural discourse and practice. Various computational methodologies, such as parametric systems, generative processes, and scripting, all pose questions on organizational strategies, formal qualities, and branding, just to name a few.
Erik Thorson « workshops factory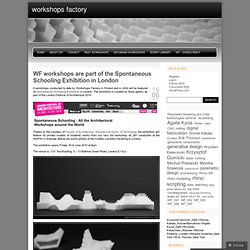 Workshop: Modeling for Digital Fabrication Instructor: Andrew Kudless Date: January 17, 2009 (10am-4pm) Location: Lab C, SF Campus Eligibility: Any CCA student, faculty, or staff Cost: Free Prerequisite: Beginning-Intermediate Rhino knowledge This workshop will cover the basic concepts and techniques needed to prepare digital models for digital fabrication at CCA. We will focus on the use of Rhino to create solid and surface models for 3D printing, lasercutting, and CNC milling. Techniques covered include: mono-directional section models, bi-directional section models, double-sided section models, unfolding/unrolling, basic scripting techniques for preparing files, nesting parts, etc.Register for the workshop Download Workshop Files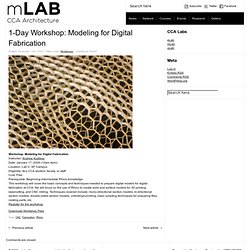 1-Day Workshop: Modeling for Digital Fabrication – mlab
Michal Piasecki
Professor John H Frazer - Educator, Researcher, Consultant, Globetrotter
Wax and Water 3dPrint For my final model I chose a small section of the overall model to 3d print. These are some immages of the section model. WF_091 wrap up All of the material about WF_091 – the first workshop we have organized – is ready!
digital fabrication « workshops factory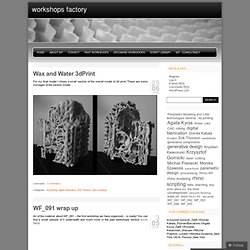 Team
BIO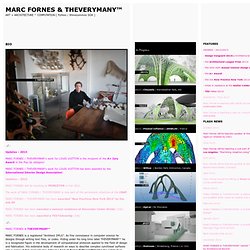 Updates – 2013: MARC FORNES / THEVERYMANY's work for LOUIS VUITTON is the recipient of the A+ Jury Award in the Pop Up category! MARC FORNES / THEVERYMANY's work for LOUIS VUITTON has been awarded by the International Interior Design Association! Updates – 2012: MARC FORNES will be teaching at PRINCETON in Fall 2012. The work of MARC FORNES / THEVERYMANY is now part of the permanent collection of the CNAP.
Architecture - brady peters
onur yuce gun | personal webpage
Parametric Modelling and Structural FEM Analysis on Vimeo
Pierre-Maxence Renoult - Ingénieur Architecte/Architectural Design and Engineering - Main
Knippers Helbig - Advanced Engineering - Home
Jan Knippers « Digital Crafting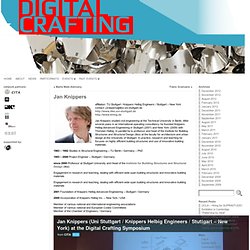 affiliation: TU Stuttgart / Knippers Helbig Engineers / Stuttgart – New York contact: j.knippers@itke.uni-stuttgart.dehttp://www.itke.uni-stuttgart.dehttp://www.khing.de Jan Knippers studied civil engineering at the Technical University in Berlin. After several years in an international operating consultancy he founded Knippers Helbig Advanced Engineering in Stuttgart (2001) and New York (2009) with Thorsten Helbig. In parallel he is professor and head of the Institute for Building Structures and Structural Design (itke) at the faculty for architecture and urban design at the University of Stuttgart. In practice, research and teaching he focuses on highly efficient building structures and use of innovative building materials.
Firm Profile - Knippers Helbig
architects – Kasper Guldager Jørgensen Opens Exhibition in Essen – Nov 11th, 2010
Homepage
Erik Verboon
latest news Roland Snooks and Robert Stuart-Smith, Directors of Kokkugia are excited to announce the formation of two new architecture practices: Studio Roland Snooks and Robert Stuart-Smith Design (rs-sdesign). Kokkugia has always been a highly speculative research practice focused on imagining the future. Snooks and Stuart-Smith are now leveraging that research to establish practices that are focused on realising built projects and providing architectural services. The two practices will operate independently from Melbourne and London respectively but will continue to collaborate on strategic projects such as their recent Astana 2017 Expo scheme. Kokkugia will operate in parallel to the new architectural practices, acting as their collaborative research lab.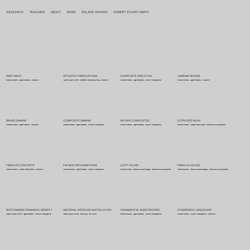 THEVERYMANY / Marc Fornes would like to present his:Best Wild Wishes for 2010* * according to the "etiquette" a new year best wishes card should be sent before Jan 1st - that if you are a purist - Jan 15th being the absolut deadline - Jan 14th is therefore more than on time... As "card" - here is a sample along 2009 of insider views of THEVERYMANY studio in Brooklyn - perfect timing before as changing for a larger space in order to build (and storage) larger projects/structures... Best wishes -and once again many thanks- to all the people who are making those experiments possible - especially: To THEVERYMANY collaborators: Skylar Tibbits, Mathew Staudt, Jared Laucks, Brandon Kruysman, Jon Proto,... To THEVERYMANY academia collegues & friends: Francois Roche (R&Sie), Stephan Henrich,...
01.2014 - A new public art project comissioned by the Cambridge Arts Council will be opening Jan 27th at the Cambridge City Hall Annex. 01.2014 - Skylar Tibbits will be speaking at MIT Technology Review's Emtech Singapore Jan. 21st at the Marina Bay Sands. 01.2014 - Skylar Tibbits and Autodesk Inc. will be co-teaching a course at the Singapore University of Technology and Design.