Musixxxx
Video
NESFlix : NO CARRIER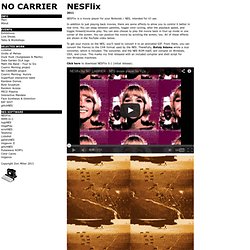 NESFlix is a movie player for your Nintendo / NES, intended for VJ use. In addition to just playing back movies, there are some effects to allow you to control it better in real time. You can swap between palettes, toggle color cycling, alter the playback speed, and toggle forward/reverse play. You can also choose to play the movie back in four-up mode or one corner of the screen.
Toe jam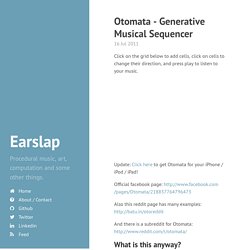 New! If you like Otomata, check out my new instrument Circuli by clicking here! Update: Click here to get Otomata for your iPhone / iPod / iPad! Official facebook page: http://www.facebook.com/pages/Otomata/218837764796473
In Bb 2.0 is a collaborative music and spoken word project conceived by Darren Solomon (website / twitter) and developed with contributions from users. The videos can be played simultaneously -- the soundtracks will work together, and the mix can be adjusted with the individual volume sliders. Learn more in the FAQ. You may also enjoy marker/music, another music, video and spoken word project, produced in collaboration with NSU in South Dakota. Contact! Johann Sebastian Bach - Toccata et fugue
Ryoji Ikeda - Datamatics
Audiosurf: Ryoji Ikeda - Data.Adaplex
Big bad wolf
The only way to play guitar
throat singing
Pink Floyd: Live at Pompeii - Director's cut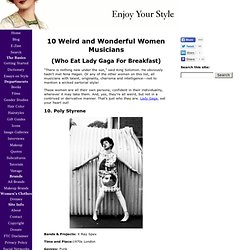 "There is nothing new under the sun," said King Solomon. He obviously hadn't met Nina Hagen. Or any of the other women on this list, all musicians with talent, originality, charisma and intelligence––not to mention a wicked sartorial style! These women are all their own persons, confident in their individuality, wherever it may take them.
GAtari - Atari 2600 chipmusic project by cTrix @ Blip Festival Tokyo 2011