Kids for Cash scandal
Judge Featured In Moore's CAPITALISM: A LOVE STORY Found Guilty Of Racketeering Posted on 18 February 2011 by Rich Drees A Wilkes-Barre, Pennsylvania judged featured in Michael Moore's 2009 documentary Capitalism: A Love Story has been found guilty of 12 of 39 criminal counts stemming from his involvement in what has become known as the "Kids For Cash" scandal.
Judge Featured In Michael Moore's CAPITALISM: A LOVE STORY Found Guilty Of Racketeering | FilmBuffOnline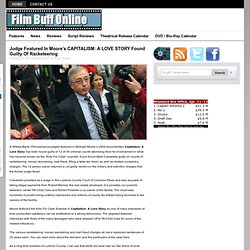 Ex-judge convicted of jailing kids for cash - Crimesider
In this Feb. 12, 2009 file photo Mark Ciavarella, center, leaves the federal courthouse in Scranton, Pa. The Pennsylvania Supreme Court has overturned hundreds of juvenile convictions issued by Ciavarella. AP PHOTO (CBS/AP) SCRANTON, Pa. - Former juvenile court judge Mark Ciavarella was convicted in an alleged "kids for cash" scheme that accused him and another judge of sending youth offenders to for-profit detention centers in exchange for millions of dollars in illicit payments from the builder and owner of the lockups. The 61-year-old Luzerne County ex-judge left the bench in disgrace two years ago after prosecutors charged him with engineering one of the biggest courtroom frauds in U.S. history by using juvenile delinquents as pawns in a plot to get rich.
Corrupt Judges Removed in Pennsylvania - Updated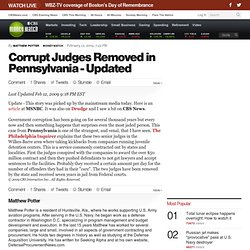 Matthew Potter Matthew Potter is a resident of Huntsville, Ala., where he works supporting U.S. Army aviation programs.
Pa. judge gets 28 years in "kids for cash" case
Former Luzerne County, Pa. Judge Mark Ciavarella turns from reporters as he leaves the federal courthouse in Scranton Feb. 15, 2011, after testifying in his public corruption trial. AP Photo/The Citizen's Voice, Mark Moran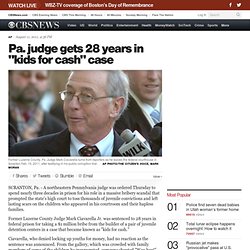 Ex-Judge heading to prison for sending juveniles to private detention facilities in exchange for money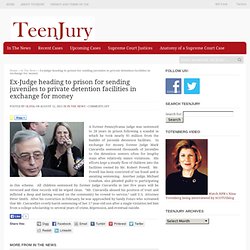 digg A former Pennsylvania judge was sentenced to 28 years in prison following a scandal in which he took nearly $1 million from the builder of juvenile detention facilities. In exchange for money, former judge Mark Ciavarella sentenced thousands of juveniles to the detention centers often for lengthy stays after relatively minor violations. His efforts kept a steady flow of children into the facilities owned by Mr.