Games
So this week we're being entrepreneurial again. It's a Loopy Logo. To the right you will see a logo for a fictional company. I created it using 2 random words and 2 random images from our Idea generator. Your challenge is to be as creative as you can and come up with an idea for what the company does as well as a slogan for them. Feel free to be as wacky and out there as you like.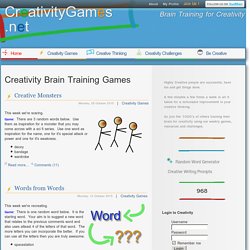 The site was developed to be bug-free and work properly. By playing Turn-O-Phrase you hereby acknowledge that the game was not designed to perform as part of mission critical systems such those employed by nuclear reactors, airplanes, and large financial institutions. Playing the game there is OK, though. The site is provided on an AS IS and AS AVAILABLE basis, without warranties or conditions of any kind, either express or implied including, but not limited to, implied warranties of merchantability, fitness for a particular purpose, and non-infringement. In other words, don't look a gift horse in the mouth. The makers of the site are not responsible for the actions, content, information, or data of third parties.
Turn-O-Phrase - Word Puzzles for Culture Buffs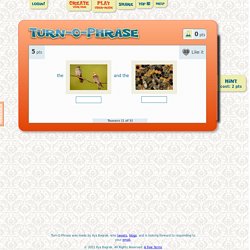 Board Games – Educating Her World
Cards – Educating Her World
Request – Educating Her World
Running – Educating Her World
The Learning Edge
"Don't Gross out the World" interactive game about dining customs #geographyteacher
Note: Learning games have really taken off since I originally wrote this post a number of years ago (right before the 5th annual Games for Change Festival). As a result, this post is past due for an update. If you know of other learning games you feel should be added, or have updates/perspectives concerning any of the games listed here, please comment or contact me.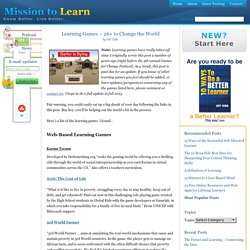 26 Learning Games for Change | Serious Games | Online Learning Games
Loading... What the hell is "bhoogolvidya"? It means Geography in Hindi/Sanskrit. Wanted a crazy name. What is this about?