Research
Cost Allocation & Profitability Analysis — Tagetik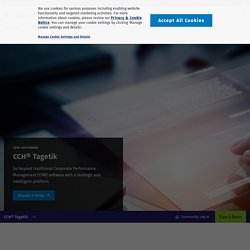 Can you allocate costs to do profitability analysis by product, project segment or region? With Tagetik performance management software, you can. In today's competitive market climate, it's essential to be able to determine which products, customers, channels and other factors are impacting profitability — either positively or negatively and continually monitor their contribution. But getting all of the costs into the "right bucket" can be difficult without embarking on a full Activity-Based Costing exercise.
News and Resources for and About CEOs
Data Scientist: What Skills Does It Require?
aptclarity.com
BIG DATA: The Answer to Agile - Greenplum Product Announcement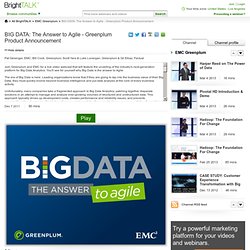 Pat Gelsinger, EMC; Bill Cook, Greenplum; Scott Yara & Luke Lonergan, Greenplum & Gil Elbaz, Factual Join Greenplum and EMC for a live video webcast that will feature the unveiling of the industry's next-generation platform for Big Data Analytics. You'll see for yourself why Big Data is the answer to Agile. The era of Big Data is here. Leading organizations know that if they are going to tap into the business value of their Big Data, they must quickly evolve beyond business intelligence and put data analysis at the core of every business activity. Unfortunately, many companies take a fragmented approach to Big Data Analytics; patching together disparate solutions in an attempt to manage and analyze ever-growing volumes of structured and unstructured data.
SAPPHIRE NOW
General Session – SAP Executive Keynote, Bangalore 2011 | SAP TechEd Online | SAP
World Conference Las Vegas 2012 -- TDWI Events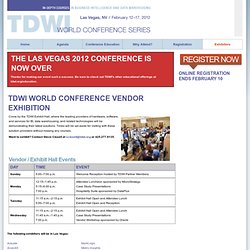 TDWI World Conference Vendor Exhibition Come by the TDWI Exhibit Hall, where the leading providers of hardware, software, and services for BI, data warehousing, and related technologies will be demonstrating their latest solutions. Times will be set aside for visiting with these solution providers without missing any courses. Want to exhibit?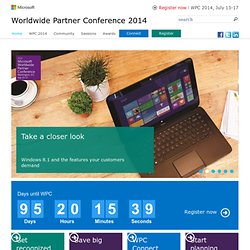 WPC 2011 - Worldwide Partner Conference - July 10-14, 2011
Ipsos research confirms Microsoft's approach to Social in the Enterprise and their Implementation of Yammer! 05 Dec 2013 13:15 Download the full Gartner BI MQ Detailed Report, including Customer views on 40 different products, over 15 different categories. It is a must read for every BI expert.
TDWI -The Data Warehousing Institute
Resources | Events
Agile Business Transformation - Sales Cloud and Service Cloud Consulting, Salesforce Consulting, CRM, Remote DBA Services
Marketing Automation | Demand Generation | Eloqua
6% Is Not Enough: The Case for Driver-Based Planning in 2012
Home Page - The Business Performance Innovation Network
BPM.com - the Resource for Business Process Management
B2B Marketing Automation - Lead Generation - Free Trial
Welcome Dashboard
FEI
FEI
FEI
Enterprise MobileNext | mNext Forum | San Francisco, CA
CRM, the cloud, and the social enterprise - Salesforce
Dreamforce '11 : The Cloud Computing Event of the Year – Cloud Computing Conference - Salesforce
Dreamforce '11 : Agenda - Salesforce
Market Intelligence | Competitive Intelligence - Market Intelligence, Competitive Intelligence Research from and by Competitive Intelligence Professionals
InterGrowth Registration
ACG Global Home page
Strategic and Competitive Intelligence Professionals-SCIP
Web 2.0 Summit 2011 - Co-produced by UBM TechWeb & O'Reilly Conferences, October 17 - 19, 2011, San Francisco
Business Analytics Sponsors Platinum Sponsor Gold Sponsors Summit Partner
2011 Business Analytics Summit: Overview | Business Analytics Summit
2011 Retail Summit: Overview | Retail Summit
Business Intelligence Research | Data Management | Aberdeen Group
Hadoop World Conference | Big Data Event for Apache Hadoop
Industry Conferences Ventana Research Business Technology Innovation Summit 2013November 11th & 12th, 2013, Swissotel ChicagoVentana Research's summit offers a guide on the rapid changes in technology, providing insight into where the industry will go over the next decade and how business and technology leaders can be positioned for success. Register now! Ventana Research Business Technology Leadership SummitMay 29 - 30, 2013, Hyatt Fisherman's Wharf, San Francisco, CAThe Ventana Research Business Technology Leadership Summit an annual forum designed for business and technology professionals, spanning from executive level to business and IT team leaders, to learn and collaborate about current industry challenges and trends.
Ventana Research - Education Events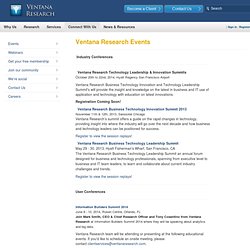 Events | Greenplum
Events
Business Analytics Webcast Series
Reduce Data, Reduce Costs with Smarter Backup and Restore
Predictive Analytics World 2012: San Francisco, Toronto, Chicago, and More
Webcasts | Greenplum
What We Do :: Additional Resources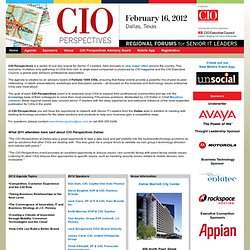 CIO Perspectives - Dallas 2012
CIO Perspectives is a series of one-day events for Senior IT Leaders, held annually in nine major cities around the country. This exclusive, invitation-only gathering of CIOs from mid- to large-sized companies is produced by CIO magazine and the CIO Executive Council, a global peer advisory professional association. The agenda is created by an advisory board of Fortune 1000 CIOs, ensuring that these events provide a powerful mix of peer-to-peer networking, in-depth presentations, workshops and discussion panels – all focused on the business and technology issues enterprise CIOs care most about. The goal of each CIO Perspectives event is to empower local CIOs to expand their professional communities and tap into the knowledge base of their colleagues to solve their most pressing IT/business problems.
Home
The new global economy - CNNMoney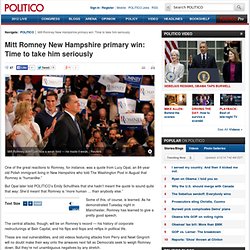 Mitt Romney New Hampshire primary win: Time to take him seriously - Ben Smith
One of the great reactions to Romney, for instance, was a quote from Lucy Opal, an 84-year old Polish immigrant living in New Hampshire who told The Washington Post in August that Romney is "humanlike." But Opal later told POLITICO's Emily Schultheis that she hadn't meant the quote to sound quite that way: She'd meant that Romney is "more human … than anybody else." Continue Reading Some of this, of course, is learned.
Find all the Business Objects information you need on BusinessObjects Expert!
Abstract Manager
Welcome to the ASUG Call for Presentations Page If you already have an ASUG Call for Presentations account please log in below to continue. Please note: ASUG.com and the ASUG Call for Presentations website require two different sets of credentials. Your ASUG.com username and password will not allow you access to the ASUG Call for Presentations website. All users are required to create a new record to log in to this site. It is important that you allow your browser to display pop-ups for the Call for Presentations site to work properly.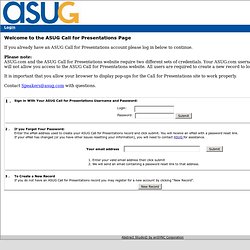 feed for Charles Wilson: Streamwork
Vision Critical | Market Research Software | Online Panels
Research and Advisory Services Company | The Corporate Executive Board
Technology Research | Gartner Inc.
SAP Throws Down the Next-Generation Architecture Gauntlet With HANA
Who's Who in Collaborative Decision Making
Who's Who in Collaborative Decision Making
Exhibitors: Gartner Business Intelligence Summit 2012 | BI and Performance Management Trade Show
Worldwide Offices
U.S. Conference Calendar
refine - Google Refine, a power tool for working with messy data (formerly Freebase Gridworks)
Create Chart - Tree Seek
Binary to Text (ASCII) Conversion
CORELOGIC® THIRD QUARTER 2011 NEGATIVE EQUITY DATA SHOWS SLIGHT DECLINE BUT REMAINS ELEVATED
Daily News, Polls, Public Opinion on Politics, Economy, Wellbeing, and World
Economic Consulting
Research
s Marketing Leadership Forum 2012, April 18-19, 2012, Los Angeles, CA
Develop A Killer Thought Leadership Marketing Strategy, January 26, 2012, Cambridge, MA
s Customer Intelligence Forum 2012, April 18-19, 2012, Los Angeles, CA
Events
Is "Command and Collaborate" the New Leadership Model? - Herminia Ibarra
KPI Library - Discover the right Key Performance Indicators
Google I/O Conferece now June 27-29, 2012
Award
Whitepapers | The Future of Work | Cognizant Technology Solutions
Navigant Consulting Acquires Tim D. Martin & Associates, Inc
The Berkeley Blog
Claremont Graduate University News and Events Index
Art Center College of Design | Pasadena, CA | Learn to Create. Influence Change.
Annenberg Leadership and Management Speaker Series 2011
About - Pomona College
Nelson Speaker Series
Six Sigma, Six Sigma Training, Six Sigma Consulting, Lean Training, Lean Consulting
Six Sigma Canada Inc. : Home
SBTI - Sigma Breakthrough Technologies, Inc.
SAIConsulting, LLC
iGrafx - Enabling Process Excellence
SmartDraw - Communicate Visually with the World's First Visual Processor(tm)
RMI Home
Brodem
Lean Six Sigma, Performance Excellence & Innovation Consulting. BMGI - Problem Solved.
Six Sigma Training By Thomas Pyzdek « Pyzdek Institute
Pinnacle Process Solutions, Intl
Productivity Press Publishing
Mountainview - information technology service management
lean.org - Lean Enterprise Institute| Lean Production | Lean Manufacturing | LEI | Lean Services |