Twitter Comes to Europe
Why Is Twitter's Search For A French Country Manager Turning To Merde? As if it wasn't tough enough being an entrepreneur in France right now (OK, it's not impossible, but let's face it it could be easier) news reaches us that a global tech company like Twitter is having issues putting boots on the ground in the nation's capital.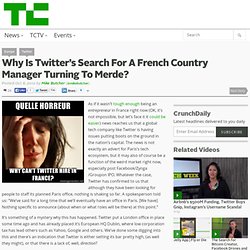 The news is not exactly an advert for Paris's tech ecosystem, but it may also of course be a function of the weird market right now, especially post Facebook/Zynga/Groupon IPO. Whatever the case, Twitter has confirmed to us that although they have been looking for people to staff its planned Paris office, nothing is shaking so far. A spokesperson told us: "We've said for a long time that we'll eventually have an office in Paris.
Twitter prepares for European expansion. Twitter lining up London and Dublin bases for 2011? Opening an office isn't that much of a big deal, but such is the kudos of Twitter that the UK government has been rolling out its biggest guns to try and get the firm to base itself in London when it opens its European HQ next year.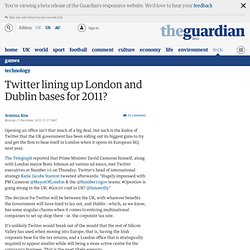 The Telegraph reported that Prime Minister David Cameron himself, along with London mayor Boris Johnson ad various ad execs, met Twitter executives at Number 10 on Thursday. Twitter's head of international strategy Katie Jacobs Stanton tweeted afterwards: "Hugely impressed with PM Cameron @MayorOfLondon & the @Number10gov teams. #OpenGov is going strong in the UK. #Gov20 conf in UK? @timoreilly. " David Cameron urges Twitter to make its HQ @London. Why Twitter Will Pick The Irish.
Twitter Starts Hiring Sales People In London – But Stays Coy About A Euro HQ. Twitter To Launch German Office As It Expands Across Europe.
---