Misc
Justin Bieber Swears Off YouTube For Facebook, Unwittingly Steps In Copyright Minefield - Oliver Chiang - SelectStart. Lady Gaga Official YouTube Account Terminated. The Official Lady Gaga YouTube channel, ladygagaofficial, has been terminated, taking with it all of the episodes of the singer's popular GagaVision web series.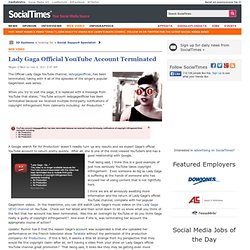 When you try to visit the page, it is replaced with a message from YouTube that states, "YouTube account ladygagaofficial has been terminated because we received multiple third-party notifications of copyright infringement from claimants including: Air Production." A Google search for 'Air Production' doesn't readily turn up any results and we expect Gaga's official YouTube account to return pretty quickly. After all, she is one of the most-viewed YouTubers and has a good relationship with Google. Un minutieux montage des JT de Pernaut censuré au nom du droit d'auteur. Voici encore une illustration de la censure par abus de droit d'auteur.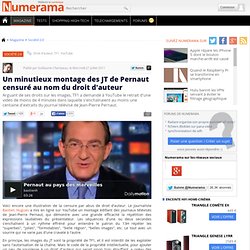 Le journaliste Bastien Hugues a mis en ligne sur YouTube un montage édifiant des journaux télévisés de Jean-Pierre Pernaut, qui démontre avec une grande efficacité la répétition des expressions laudatives du présentateur. Les séquences d'une ou deux secondes s'enchaînent à un rythme effréné pour entendre le patron du 13H répéter les "superbes", "jolies", "formidables", "belle région", "belles images", etc.
YouTube et les Creative Commons : ce qui change vraiment. La nouvelle a été saluée par plusieurs articles et commentaires (jusque sur le Monde.fr) : le site de partage de vidéos YouTube permet enfin , depuis cette semaine, de placer ses créations sous licence Creative Commons (uniquement la CC-BY 3.0).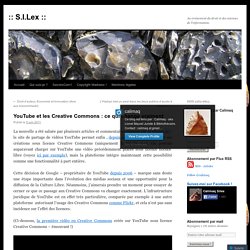 On pouvait auparavant charger sur YouTube une vidéo précédemment placée sous licence licence libre (voyez ici par exemple), mais la plateforme intègre maintenant cette possibilité comme une fonctionnalité à part entière. Cette décision de Google – propriétaire de YouTube depuis 2006 – marque sans doute une étape importante dans l'évolution des médias sociaux et une opportunité pour la diffusion de la Culture Libre. Néanmoins, j'aimerais prendre un moment pour essayer de cerner ce que ce passage aux Creative Commons va changer exactement. Why YouTube Adopting Creative Commons Is a Big Deal Online Video News.
The Complete Guide To Fair Use & YouTube. When it comes to YouTube, copyright law can be a video creator's biggest nightmare.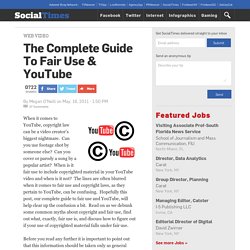 Can you use footage shot by someone else? Can you cover or parody a song by a popular artist? Top 10 YouTube Videos of All Time. Updated 4/14/2014.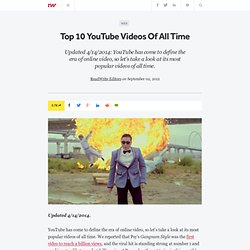 YouTube has come to define the era of online video, so let's take a look at its most popular videos of all time. We reported that Psy's Gangnam Style was the first video to reach a billion views, and the viral hit is standing strong at number 1 and working steadily towards 2 billion views! Psy makes the cut twice in this month's YouTube Top 10, reaching the number seven spot with his follow-up single, Gentleman. La SPPF déboutée pour avoir ignoré le filtre anti-piratage de YouTube.
L'affaire remonte à 2009.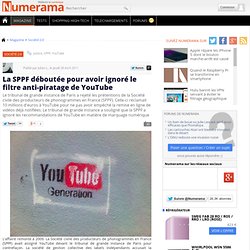 La Société civile des producteurs de phonogrammes en France (SPPF) avait assigné YouTube devant le tribunal de grande instance de Paris pour contrefaçon. La société de gestion collective des labels indépendants accusait la plate-forme vidéo de n'avoir pas empêché la remise en ligne d'un "nombre très important de vidéo-musiques produites par ses membres".
2 Out of 3 YouTube Videos Are Ignored: Online Video News « YouTube: Growth In User-Generated Content Is Outpacing Official Videos. By now we've all heard YouTube's assertion that it doubled the amount it pays labels and publishers in music-licensing fees last year, now totaling millions of dollars a month.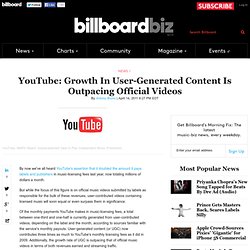 But while the focus of this figure is on official music videos submitted by labels as responsible for the bulk of these revenues, user-contributed videos containing licensed music will soon equal or even surpass them in significance. Of the monthly payments YouTube makes in music-licensing fees, a total between one-third and one-half is currently generated from user-contributed videos, depending on the label and the month, according to sources familiar with the service's monthly payouts. YouTube and the major film studios. In the course of writing lists or features, it's frequently occurred to myself and other writers to upload a clip from a movie to YouTube, by way of illustrating a point - and embedding it in the article.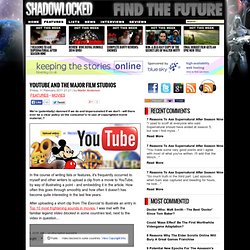 How often this goes through smoothly and how often it doesn't has become quite interesting in the last few years. After uploading a short clip from The Exorcist to illustrate an entry in Top 10 most frightening sounds in movies, I was met with the familiar legend Video blocked in some countries text, next to the video in question... The 'View Copyright Info' link indicated that the uploaded video had been content-matched using YouTube's Content ID tool, and was blocked either worldwide or in enough countries as to make the inclusion of the video-embed undesirable.
Créer une vidéo : une cascade de droits ! Des milliers d'heures de vidéos sont uploadées tous les jours sur internet, mais quid du droit d'auteur ?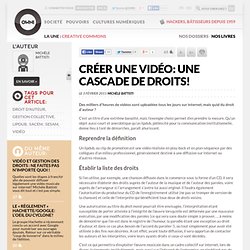 C'est un titre d'une extrême banalité, mais l'exemple choisi permet d'en prendre la mesure. Qu'un objet aussi court et anecdotique qu'un lipdub, plébiscité pour la communication institutionnelle, donne lieu à tant de démarches, paraît ahurissant. Reprendre la définition Un lipdub, ou clip de promotion est une vidéo réalisée en play-back et en plan-séquence par des collègues d'un milieu professionnel, généralement destiné à une diffusion sur Internet ou d'autres réseaux. Le copyright expliqué aux enfants. L'autre week-end, mes deux enfants ont décidé de faire un film avec leur camarade Hugo.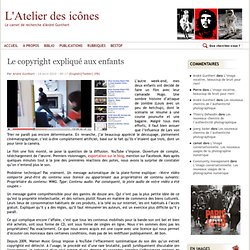 Une sombre histoire d'attaque de zombie (Louis avec un peu de ketchup), dont le scénario se résume à une course poursuite et une bagarre. Malgré tous mes efforts, il faut bien avouer que l'influence de Lars von Trier ne paraît pas encore déterminante. En revanche, j'ai beaucoup apprécié le découpage, pleinement cinématographique, c'est-à-dire complètement artificiel, basé sur le fait qu'ils n'étaient que trois, dont un pour tenir la caméra.
---