Microsoft & Apple attack Android
When patents attack Android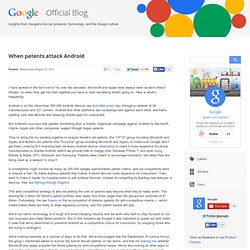 I have worked in the tech sector for over two decades. Microsoft and Apple have always been at each other's throats, so when they get into bed together you have to start wondering what's going on. Here is what's happening: Android is on fire.
Microsoft Fires Back With A Missile
Earlier today, Google came out swinging. Seemingly sick of being continuously slapped in the face by the patent issue, Google's SVP and Chief Legal Officer, David Drummond, wrote a blog post calling out several of Google's rivals for attempting to use "bogus patents" to destroy Android. Chief among the rivals called out was Microsoft. Drummond noted that the software giant had been getting in bed with other rivals to hurt Google. Among the accusations was that Microsoft teamed up with Apple to buy Novell's old patents, implying that they did so in order to keep them away from Google.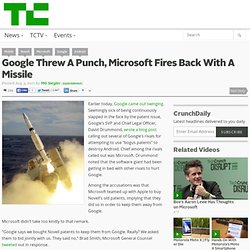 Google: Patently Absurd
Wednesday, 3 August 2011 David Drummond, Google senior vice president and chief legal officer, "When Patents Attack Android": But Android's success has yielded something else: a hostile, organized campaign against Android by Microsoft, Oracle, Apple and other companies, waged through bogus patents. They're doing this by banding together to acquire Novell's old patents (the "CPTN" group including Microsoft and Apple) and Nortel's old patents (the "Rockstar" group including Microsoft and Apple), to make sure Google didn't get them; seeking $15 licensing fees for every Android device; attempting to make it more expensive for phone manufacturers to license Android (which we provide free of charge) than Windows Mobile; and even suing Barnes & Noble, HTC, Motorola, and Samsung. Patents were meant to encourage innovation, but lately they are being used as a weapon to stop it.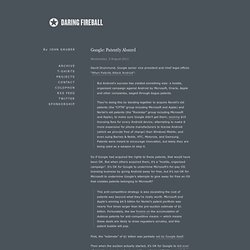 Get out the fire extinguishers, because the patent fight between the tech titans is heating up. On Wednesday, Google publicly accused Apple and Microsoft of banding together to take down Android, using their winnings from recent Novell and Nortel patent auctions as ammunition. In a post to the Official Google Blog, Google Senior Vice President and Chief Legal Officer David Drummond said that Apple, Microsoft, Oracle, and others have waged "a hostile, organized campaign against Android" by snapping up patents from Novell and Nortel and asking Google for high licensing fees for every Android device. According to Drummond, the companies in question are attempting to "make it more expensive for phone manufacturers to license Android (which we provide free of charge) than Windows Mobile; and even suing Barnes & Noble, HTC, Motorola, and Samsung."
Google publicly accuses Apple, Microsoft, Oracle of patent bullying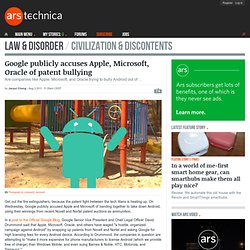 Microsoft Responds To Google's Response To Microsoft's Response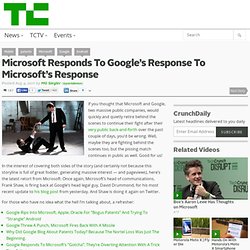 If you thought that Microsoft and Google, two massive public companies, would quickly and quietly retire behind the scenes to continue their fight after their very public back-and-forth over the past couple of days, you'd be wrong. Well, maybe they are fighting behind the scenes too, but the pissing match continues in public as well. Good for us! In the interest of covering both sides of the story (and certainly not because this storyline is full of great fodder, generating massive interest — and pageviews), here's the latest retort from Microsoft. Once again, Microsoft's head of communications, Frank Shaw, is firing back at Google's head legal guy, David Drummond, for his most recent update to his blog post from yesterday.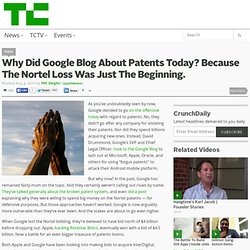 As you've undoubtedly seen by now, Google decided to go on the offensive today with regard to patents. No, they didn't go after any company for violating their patents. Nor did they spend billions acquiring new ones. Instead, David Drummond, Google's SVP and Chief Legal Officer, took to the Google Blog to lash out at Microsoft, Apple, Oracle, and others for using "bogus patents" to attack their Android mobile platform. But why now? In the past, Google has remained fairly mum on the topic.
Why Did Google Blog About Patents Today? Because The Nortel Loss Was Just The Beginning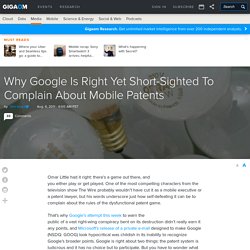 Omar Little had it right: there's a game out there, and you either play or get played. One of the most compelling characters from the television show The Wire probably wouldn't have cut it as a mobile executive or a patent lawyer, but his words underscore just how self-defeating it can be to complain about the rules of the dysfunctional patent game. That's why Google's attempt this week to warn the public of a vast right-wing conspiracy bent on its destruction didn't really earn it any points, and Microsoft's release of a private e-mail designed to make Google (NSDQ: GOOG) look hypocritical was childish in its inability to recognize Google's broader points. Google is right about two things: the patent system is ludicrous and it has no choice but to participate. But you have to wonder what Google hoped to gain by launching a public assault on Microsoft (NSDQ: MSFT) for playing the same game Google is obviously desperate to play.
Why Google Is Right Yet Short-Sighted To Complain About Mobile Patents
The public row between Microsoft and Google continues, with both Microsoft and Google issuing new responses to one another over Google's original accusation of patent bullying. The basic gist is this: Google says Microsoft's invitation for Google to join the Novell patent consortium was a "false 'gotcha!'" that would have put Android at a disadvantage, while Microsoft asserts that Google merely wanted to assert the same patents against others.
Tiny step toward patent reform?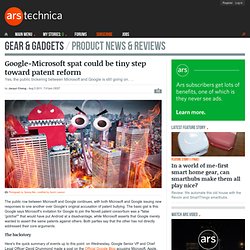 Google Buys IBM Patents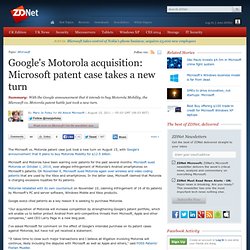 Google buys Motorola for its patent portfolio
The Microsoft vs. Motorola patent case just took a new turn on August 15, with Google's announcement that it plans to buy Motorola Mobility for $12.5 billion. Microsoft and Motorola have been warring over patents for the past several months. Microsoft sued Motorola on October 1, 2010, over alleged infringement of Motorola's Android smartphones on Microsoft's patents. On November 9, Microsoft sued Motorola again over wireless and video coding patents that are used by the Xbox and smartphones. In the latter case, Microsoft claimed that Motorola is charging excessive royalties for its patents.
Google Bought Motorola for More Than Patents, Schmidt Says
Google Inc. (GOOG) Chairman Eric Schmidt said his company's planned $12.5 billion purchase of smartphone maker Motorola Mobility Holdings Inc. was aimed at acquiring products, and not merely patents. "We did it for more than just patents," Schmidt said in a conversation with Salesforce.com Inc.