Thinking out of the box
hellodiy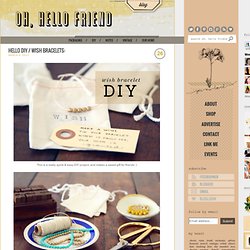 Here's a quick and easy fun little treat you can make. Great for kids! I actually made these when I was little, they were really good! The only ingredients you need are:
Diy posts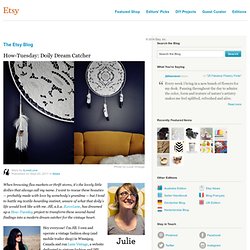 Doily Dream Catcher
When browsing flea markets or thrift stores, it's the lovely little doilies that always call my name. I want to rescue these beauties — probably made with love by somebody's grandma — but I tend to battle my textile-hoarding instinct, unsure of what that doily's life would look like with me. Jill, a.k.a. ILoveLune, has dreamed up a How-Tuesday project to transform these second-hand findings into a modern dream catcher for the vintage heart. Hey everyone!
This instructable flows out of Rayeath's very helpful nook cover instructable with some (hopefully) helpful changes. How to convert a hardback book into a Kindle cover with a strap: What you will need: 1) A book you don't mind chopping up; this book must be at least 7.5" tall, 5" wide, and 1 cm thick (though a little thicker might be better) 2) Two sheets of craft felt which are larger than the books covers by approximately 2 inches on all sides 3) Hot glue gun & glue sticks 4) Up to 3' of 1/2" braided elastic 5) Stiff paperboard; Rayeath recommends a cereal box, I used the covers of an old composition notebook 6) Scissors 7) X-acto knife 8) Paperclip 9) Ruler 10) Sharpie
DIY Kindle Cover
because im addicted: diy
Do It Yourself
Scissors + Thread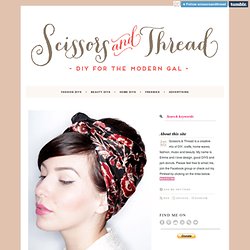 Faux Updo For Short Hair | Keiko Lynn Keiko Lynn is my beauty hero. She seems to have perfected the cat eye, always has the most amazing lipstick and she can tie a hair scarf like a fiend! Sigh. Anyway, whilst perusing her site, I came across this fantastic tutorial on how to do an updo for short hair. I kind of sadly accepted I would no longer be able to put my hair up once I cut it, but this style which combines a teased crown, bobby pins & a pretty scarf is something even I could re-create!
this old dress.
The Daily Telecraft: Brainstorm: What to do with Coffee Bags?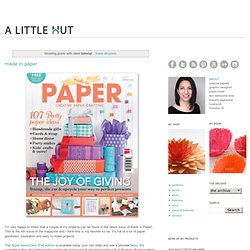 Since the busiest gift giving season will soon be upon us (whether we want to believe it or not) I decided to create a set that shows you how to combine different tools to make gift embellishments and a card idea. Keep in mind that the flower idea can be made with many colors and even be a useful way to use small scraps (you know I enjoy those projects). Flower The Martha Stewart Punch Around sets are a great way to add a decorative border to any project. But instead of showing you how that works (you can see that here) I decided to make something that uses them in a different way.
tutorial
Here is a new gift tag/gift decor project for the series that I'm creating because of the holiday season. I didn't use any paper for this one. I'm trying to use what I have so this version is using a tiny part of my popsicle sticks stash. The design is fairly simple - one stick to use for a holiday message, another for "FROM" and the last one for the "TO" information. Materials:- 3 popsicle sticks- yarn (enough to make it around the gift about two-three times.- drill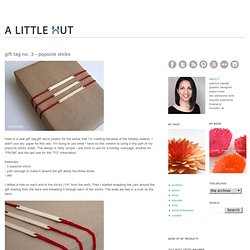 Dollar Store Plastic Animal Bookends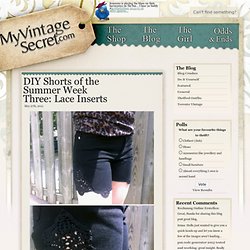 May 27th, 2012 Lace inserts are a popular denim DIY this summer. Usually done with white lace and light denim I wanted to mix it up and try it with black!
the Trendy Girl | Category: Do it yourself
Craft Projects | Family Chic
Bored and Crafty
Make
Make a Chocolate Surprise Egg Create your own delectable chocolate egg with a surprise inside using Heather Baird's easy tutorial. By Heather Baird Published: April 8, 2014
SuperEggplant | Welcome to my adventures in knitting, sewing, baking, and life.
Lark Craft's upcoming book Heart-Felt Holidays: 40 Festive Felt Projects to Celebrate the Seasons is the follow-up to Fa La La La Felt. The book comes out in April, but Lark Crafts are starting the fun early by offering this Mushroom love brooch project by Lisa Jordan . Mushroom love brooch project by Lisa Jordan What You Need
Live & Enliven: D.I.Y
SEMI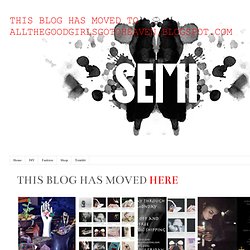 I don't buy leather new. I will buy vintage leather but I am a vegetarian and so I exercise self control even when there is something I REALLY want. I bought this sweater a few years ago because it had the exact cut as the leather jacket I was aching for but couldn't buy. I felt very sated. I have loved it dearly but it has lost it's shape and has been looking a little sad for quite awhile.
Handmade | Free People Clothing Boutique Blog
{show & tell}