Frugal living
Creative Homemaking...Dedicated to all of Your Homemaking Needs
New Articles: DIY Furniture Polish Easy recipe for making DIY wood furniture polish from olive oil and lemon juice. DIY Goo Gone Sticker and Label Remover This homemade version of goo gone works great to remove sticker and label residue from glass and plastics. DIY Ice Pack Easy homemade ice pack = rubbing alcohol + any brand liquid dish soap.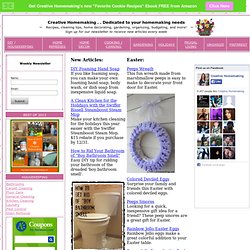 Online Recipes Free - Kitchen Crafts 'n' More
Frugal Kiwi — Live Green. Spend Less.
Make it: Gardener Lotion Bar
From the Nature's Gifts episode of Creative Juice on DIY Network. Smooth out skin's rough edges with a homemade lotion bar. Perfect for gardeners, knitters or anyone who needs a little soothing care for their hands. This easy recipe is so good for the skin! Gardener Lotion Bar Ingredients: 3 tbsp. beeswax pellets 2 tbsp. regular cocoa butter 3 tbsp. shea butter 2 tbsp. sweet almond oil 2 tbsp. calendula oil ¼ tsp. vitamin E acetate soap bar mold glass measuring cup small saucepan popsicle stick for stirring optional – essential oils
Lunette Menstrual Cup from Feminine Wear by: Lunette - washable
www.ecomenses.com
www.ecomenses.com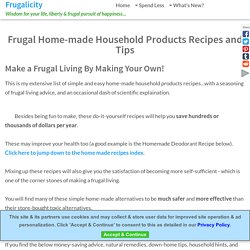 Extensive List of Easy Home-made Household Products for Frugal Living
The below Homemade Laundry Detergent and Homemade Fabric Softener recipes can save you a lot of money and your health too. They are also more eco-friendly laundry alternatives. Many expensive store bought laundry detergents and fabric softeners are some of the most toxic household products in the average home. Expensive heavy duty chemical laundry cleaners and fabric softener have been implicated as being possible causes of breast cancer.
Chickens in the Road | Author Suzanne McMinn
Encouragement for Moms
Frugal Granola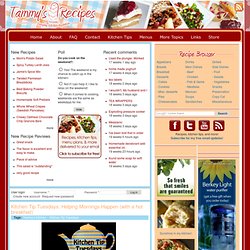 Tammy's Recipes | Everyday Kitchen Inspiration
Three fried eggs (240 cal.), 4 oz. salmon (169 cal.) and a cup of black coffee = 409 calorie breakfast (20 g fat and 47 g protein) Last year when I decided to get serious about losing weight again , I had a handful of healthful practices in mind that I tried to prioritize (or continue to prioritize). Ten months later, and 40+ pounds lighter, I'm ready to blog about it.
The Frugal Girl — cheerfully living on less