Frugal living
Creative Homemaking...Dedicated to all of Your Homemaking Needs. New Articles: DIY Foaming Hand SoapIf you like foaming soap, you can make your own foaming hand soap, body wash, or dish soap from inexpensive liquid soap.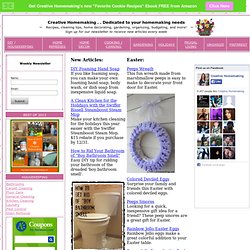 A Clean Kitchen for the Holidays with the Swiffer Bissell Steamboost Steam MopMake your kitchen cleaning for the holidays this year easier with the Swiffer Steamboost Steam Mop. $15 rebate if you purchase by 12/31. How to Rid Your Bathroom of "Boy Bathroom Smell" Easy DIY tip for ridding your bathroom of the dreaded 'boy bathroom smell'.
Online Recipes Free - Kitchen Crafts 'n' More. Frugal Kiwi — Live Green. Spend Less. Soap making. Make it: Gardener Lotion Bar. From the Nature's Gifts episode of Creative Juice on DIY Network.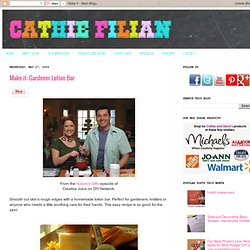 Smooth out skin's rough edges with a homemade lotion bar. Perfect for gardeners, knitters or anyone who needs a little soothing care for their hands. This easy recipe is so good for the skin! Gardener Lotion Bar Ingredients: 3 tbsp. beeswax pellets 2 tbsp. regular cocoa butter 3 tbsp. shea butter 2 tbsp. sweet almond oil 2 tbsp. calendula oil ¼ tsp. vitamin E acetate soap bar mold glass measuring cup small saucepan popsicle stick for stirring optional – essential oils. Pioneer Thinking - Reflexion de Pionnier - Pensamiento de Pionero. Lunette Menstrual Cup from Feminine Wear by: Lunette - washable. Www.ecomenses.com. Www.ecomenses.com. Extensive List of Easy Home-made Household Products for Frugal Living. The below Homemade Laundry Detergent and Homemade Fabric Softener recipes can save you a lot of money and your health too.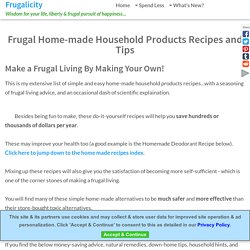 They are also more eco-friendly laundry alternatives. Many expensive store bought laundry detergents and fabric softeners are some of the most toxic household products in the average home. Expensive heavy duty chemical laundry cleaners and fabric softener have been implicated as being possible causes of breast cancer.
Chickens in the Road | Author Suzanne McMinn. Encouragement for Moms. Frugal Granola. Tammy's Recipes | Everyday Kitchen Inspiration. One of the things I've learned is that every house has differences.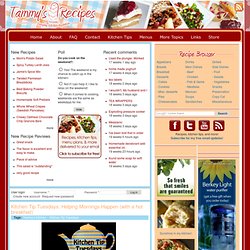 Some things will be better (or easier); other things will be worse (or more difficult). When shopping for rental houses, I try to keep in mind the things that are truly important to me and for our family. Organic Gardening, Modern Homesteading, Renewable Energy, Green Homes, DIY Projects – MOTHER EARTH NEWS. The Frugal Girl — cheerfully living on less.
---