Writings
Plotinus ENNEADS - THE FOURTH ENNEAD II - 51. Translated by Stephen MacKenna and B.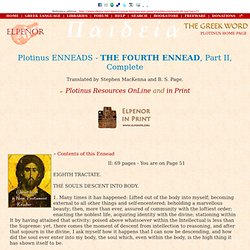 S. Page. II: 69 pages - You are on Page 51 EIGHTH TRACTATE.THE SOUL'S DESCENT INTO BODY.1. Rebeccarellis | WritersCafe. AMAiHW « DC. The Egg. Author's Note: The Egg is also available in the following languages: The Egg By: Andy Weir You were on your way home when you died.
It was a car accident.
---