Fun Things
Your Birthday, Your Tree and their meanings (wowzone.com) WOW Poetry,... Find your birthday and its corresponding tree.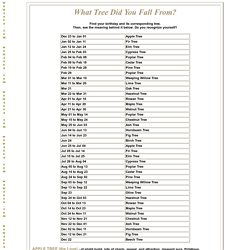 Then, see the meaning behind it below. Do you recognize yourself? APPLE TREE (the Love) - of slight build, lots of charm, appeal, and attraction, pleasant aura, flirtatious, adventurous, sensitive, always in love, wants to love and be loved, faithful and tender partner, very generous, scientific talents, lives for today, a carefree philosopher with imagination. ASH TREE (the Ambition) - uncommonly attractive, vivacious, impulsive, demanding, does not care for criticism, ambitious, intelligent, talented, likes to play with fate, can be egotistic, very reliable and trustworthy, faithful and prudent lover, sometimes brains rule over the heart, but takes partnership very seriously.
BEECH TREE (the Creative) - has good taste, concerned about its looks, materialistic, good organization of life and career, economical, good leader, takes no unnecessary risks, reasonable, splendid lifetime companion, keen on keeping fit (diets, sports, etc.) Oneword.com. How to Detect Lies - body language, reactions, speech patterns. Interesting Info -> Lying Index -> How to Detect Lies Become a Human Lie Detector (Part 1) Warning: sometimes ignorance is bliss.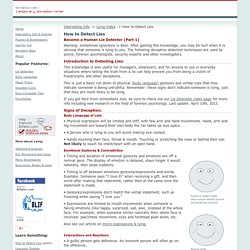 After gaining this knowledge, you may be hurt when it is obvious that someone is lying to you. Personality Tests. The 100 Best Books of All Time. The World Library is a list of the 100 best books, as proposed by one hundred writers from fifty-four different countries, compiled and organized in 2002 by the Norwegian Book Club.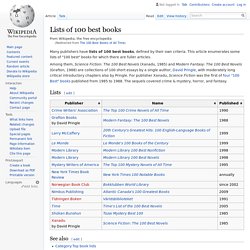 This list endeavours to reflect world literature, with books from all countries, cultures, and time periods. Eleven of the books included on the list are written by women, eighty-five are written by men and four have unknown authors. Each writer had to select his or her own list of ten books. The books selected by this process and listed here are not ranked or categorized in any way; the organizers have stated that "they are all on an equal footing," with the exception of Don Quixote which was given the distinction "best literary work ever written. " LookLex [Travel guides / Encyclopaedia / Language course]
---