FASHION
Fashion | Sex & Fashion
Paul Bui: A High Fashion Russh Stylist, writer and handsome man about town, Paul Bui talks to us about style, substance and of course, sexy... More ++ Dream Girls (Guy Bourdin) Surreal, sinister and sensual, unsettling and beautiful, Guy Bourdin was the first photographer to take these elements and associate it with selling a fashion product - becoming a legendary image maker in the process...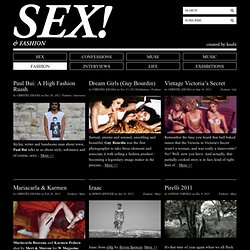 Fred Butler SS12 | TerrakotaCeleste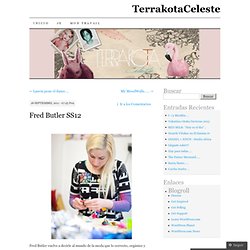 Fred Butler vuelve a decirle al mundo de la moda que lo correcto, orgánico y elegante no es lo único que existe en los accesorios. Con su nueva temporada en mano y ya vendiendo piezas únicas a los mejores coleccionistas de joyería, en SS12 enseña su inspiración: la naturaleza absoluta. Gusanos, frutas, plantas y todo lo relacionado con la naturaleza extravagante y sin olvidar su toque geométrico y origami son ingredientes base para el resultado de esto, y mucho trabajo, por que no se puede olvidar que Fred hace todo manualmente casi son toque industrial. Un resultado de joyería/accesorios que veo muy productivo para los shoots mas atrevidos.
See What Marc Jacobs, Alexa Chung, Hamish Bowles and More Fashion Folk Wore for Halloween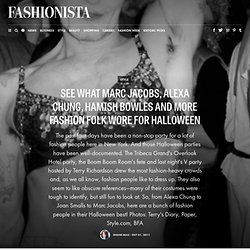 Marc Jacobs The past four days have been a non-stop party for a lot of fashion people here in New York. And those Halloween parties have been well-documented. The Tribeca Grand's Overlook Hotel party, the Boom Boom Room's fete and last night's V party hosted by Terry Richardson drew the most fashion-heavy crowds and, as we all know, fashion people like to dress up. They also seem to like obscure references–many of their costumes were tough to identify, but still fun to look at.
Proti šedi
Main : potipoti
Hervé Léger Paneled Bandage Pencil Skirt - Herve Leger
Catwalking
ACNE SS12 - TEXT BY PHILIPPE POURHASHEMI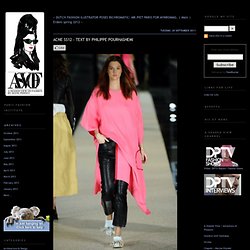 « DUTCH FASHION ILUSTRATOR POSES BICHROMATIC: MR.PIET PARIS FOR MYKROMAG. | Main | Erdem spring 2012 » Tuesday, 20 September 2011 Dear Shaded Viewers, Acne's fashion strength keeps growing each season and last night's show in London only made this clearer.
Edited by Andy Wass on Sonny Vandevelde is a European-born, Sydney-raised photographer. Fed up with the unimaginative "tunnel vision" of his photography instructors, he dropped out of college and learned his craft his own way. His father did lighting on film sets, so Vandevelde picked up equipment and technical knowledge from working with him.
Fashion 2011 | Featured Photographer: Sonny Vandevelde
tenmagazine
Band of Outsiders, Inc. Homepage
tenmagazine
Digger Mag Fashion Magazine & Artworks
Arts: Design: Fashion: Magazines and E-zines
Check Off These 30 Amazing Fall Essentials By Christene Barberich & Gina Marinelli For lovers of fashion, there's no season that offers more reasons to get out of bed and get dressed than fall. Tall boots, velvet, tweed, corduroy, denim, silk...it's all on the menu. And this autumn, there are even more luxe and tactile options to get your creative juices flowing. But stocking a fail-safe fall wardrobe isn't only about getting up to speed with the trends, it's about taking stock of all the stylish staples you already have—and wearing them in a new way.
30 Wardrobe Essentials For Fall- Fall '11 Style Essentials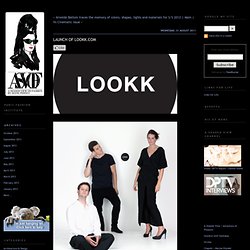 Launch of Lookk.com
« Arnoldo Battois traces the memory of colors, shapes, lights and materials for S/S 2012 | Main | Vs Cinematic issue » Wednesday, 31 August 2011 Launch of Lookk.com
Welcome to Forget Me Not Boutique
Fashion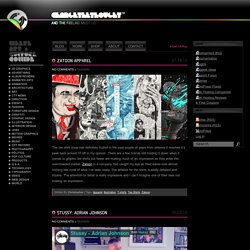 The tee shirt craze has definitely fizzled in the past couple of years from whence it reached it's peak back around 07-08 in my opinion. There are a few brands still holding it down when it comes to graphic tee shirts but fewer are making much of an impression as they enter the overcrowded market. Zatoon is a company that caught my eye as their wares look almost nothing like most of what I've seen lately. The artwork for the shirts is wildly detailed and bizarre. The attention to detail is really impressive and I can't imagine one of their tees not making an impression.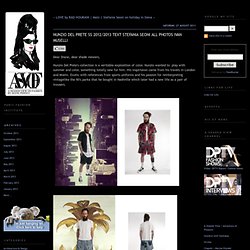 « LOVE by RAD HOURANI | Main | Stefania Seoni on holiday in Siena » Saturday, 27 August 2011 Nunzio Del Prete ss 2012/2013 text Stefania Seoni all photos Ivan Muselli Dear Diane, dear shade viewers, Nunzio Del Prete's collection is a veritable explosition of color. Nunzio wanted to play with summer and color, something totally new for him.
Nunzio Del Prete ss 2012/2013 text Stefania Seoni all photos Ivan Muselli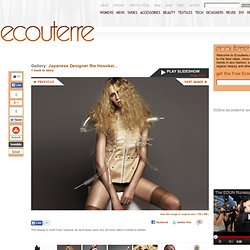 Hosokai constructs each piece by hand, but she admits it can be difficult to account for the amount of air when managing the size and volume of her dresses. Although the materials are inexpensive—about 9 cents per balloon—each featherweight (and biodegradable) creation carries a hefty price tag ranging from $1,930 to $3,860. Hosokai began her career as a florist before venturing into the world of balloon art and starting her own company, Daisy Balloon . With her recent win at Belgium's annual "Millennium Jam" balloon festival and over 20 wedding dresses sold since Daisy Balloon launched two years ago, it's clear that Hosokai's unique take on fashion is taking off—so long as she steers clear of sharp objects, that is. + Rise Hosokai
Japanese Designer Rie Hosokai Turns Balloons Into Inflatable Couture Rie Hosokai Balloon Fashion – Ecouterre
agnes b Mens Fashion Spring/Summer 2012
We look to Fashionisto for their thoughts on the agnès b Spring/Summer 2012 collection. "Cultivating a cheeky mix of inspirations, the latest collection from agnès b chronicles the experience of growing up and upgrading to the inevitable wardrobe of cherished suiting pieces. Beginning with a touch of chic Grecian times and progressing to the fantastic imagery of men ready for that step into business…" Note the OBEY hit on the shirt above.
.: CHINCHE baby tech :.
Kleine Fabriek 10th edition January 10-11, 2010 Children's Fashion Trade Show Highligts International Kids Fashion Magazine Guide Community
4fashionshake
« Fred Butler's amazing ball of color from her film by Elisha Smith-Leverock at Headquarters today | Main | Lesley de Freitas _Many Kinds of Love Parts 1 & II » Saturday, 26 March 2011 4FASHIONSHAKE III _ Hormazd Narielwalla does DP as one participant in 4FASHIONSHAKE Dear Shaded Viewers, 4Fashionshake is a project organized by Ozon magazine , held twice a year in April and November in Greece. It is an innovative fashion event aiming to shake up the outdated features of fashion events that currently dominate Greek fashion reality.
4FASHIONSHAKE III _ Hormazd Narielwalla does DP as one participant in 4FASHIONSHAKE
Gabriel Moreno illustrations Attracting Attention
Madrid-based illustrator, engraver and painter Gabriel Moreno is attracting attention with his great illustrations.
For the first time in Louis Vuitton history, has allowed a music artist to design a line of sneakers for them. LV, who has had legal battles in the past with such music artist as Britney Spears, and TI over use of their products in music videos, has granted Kanye West and internship as a product designer for their company.
Louis Vuitton sneakers x Kanye West - Urban Arts Magazine
HOME
In English | Beckmans
Naim Josefi | Beckmans
trends info - Beauty and Fashion Blog
nOir Jewelry
Fashion for women -- fashion designers, latest fashion trends, fashion tips
Trend book fashion style agency
Fashionoffice: magazine editorials on fashion, beauty, art
Airborne
07/16/10
PHOTO: Recycled Clothes by Jonathan JJ Hudson - Fashion - Lifestyle
welcome : minimarket
Soddster
.... soon .....
Sparkling Crystal Dress – Hussein Chalayan
Inventan ropa interior inteligente | Noticias sobre tecnología, móviles, informática, nokia, Samsung - Canalblog.es
Absolutamente Posh!: Me ♥ Superheroes
Fashion
Runway LookFinder - Search Designer Collections by Season, Clothing, Style, and More
NOKIZINE
NOKI SPRING/SUMMER 2009 LONDON: 15.09.2008
Fashion East
hello, : Ju Yeon LEE
corte na costura
Index of MaisonMartinMargiela
The Zipper Dress (From Sebastian Errazuriz) (Creative Design) | Britannica Blog
[ Texknit Digital Printing ] Impresión digital textil
Collections | Jaspergarvida.com
MichikoKoshino.com
Art Basel: Food and Fashion | CulturePOP | Ingredients for an Artful Life
PACT organic cotton underwear
Flying Mouse 365 Select Store
Tee Biz
graphic t-shirt designs: cool & funny t-shirts weekly! Tees designed by the community.
Moda.cz - oblečení, účesy, kosmetika, celebrity, zdraví, dieta, horoskopy
ModaFad