Productivité
Collaborez en réunion
Comment transformer 1.000 dollars en 264 milliards grâce à la Bourse?
Se lancer dans le trading avec 1.000 dollars (733 euros aujourd'hui) en poche le 1er janvier 2013, être le plus riche de la Terre en novembre, possible ou non? David Yanofsky, de Quartz, s'est posé la question. Dans un article publié le 16 décembre 2013, il imagine le trader le plus chanceux et talentueux qui ait jamais été.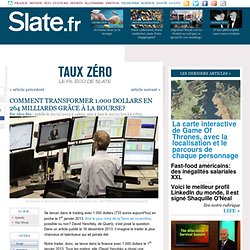 Khan Academy
What They Don't Teach in Business School about Entrepreneurship
How Japanese kids learn to multiply in primary school
La chose est connue : les employés de Google ont accès à de nombreux privilèges, de par leur statut. Seulement, nous ne savions pas que la firme prenait également soin d'entretenir les veufs/veuves de ses employé(e)s !
Google entretien les veuves de ses employés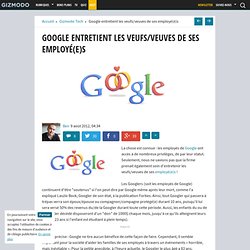 Un team créatif envoie réellement du pâté aux agences en guise de CV
Chart: Are You A Thinker Or A Doer?
How To Turn Down A Job
"I wanted a happy culture. So I fired all the unhappy people." —A very successful CEO (who asked not to be named) We (your authors) teach our children to work hard and never, ever give up.
Three Types of People to Fire Immediately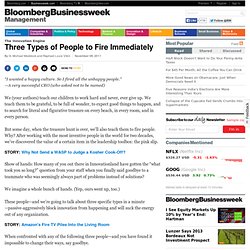 Go the Fuck Home: Engineering Work/Life Balance - Pam Selle Ignite Philly 9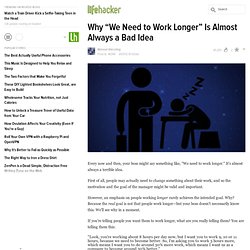 Every now and then, your boss might say something like, "We need to work longer." It's almost always a terrible idea. First of all, people may actually need to change something about their work, and so the motivation and the goal of the manager might be valid and important.
Why "We Need to Work Longer" Is Almost Always a Bad Idea
Les questions les plus loufoques posées par Google en entretien d'embauche
Ace the interview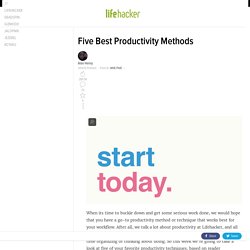 Five Best Productivity Methods
I work until I need a break, take a refresher, and then get right back to working. It is not useful to purposely interrupt good workflow. Bad workflow, i.e. staring at the screen and pulling out hair, is what should be corrected.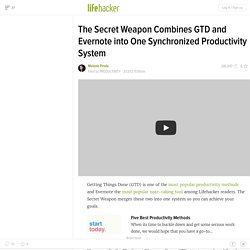 The Secret Weapon Combines GTD and Evernote into One Synchronized Productivity System
Agreed! I really want to implement this system, but it seems like a HUGE pain to have to import all those e-mails. Plus it drives me nuts when the e-mail doesn't render properly in Evernote and I can hardly decipher it. So the workflow would go something like this: 1.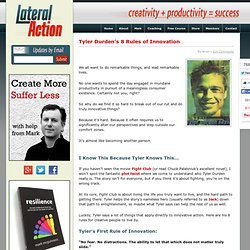 Sharebar We all want to do remarkable things, and lead remarkable lives. No one wants to spend the day engaged in mundane productivity in pursuit of a meaningless consumer existence. Certainly not you, right? So why do we find it so hard to break out of our rut and do truly innovative things? Because it's hard.
Tyler Durden's 8 Rules of Innovation
Dear Lifehacker, I'm concerned that I'm being monitored at work, but I'm not sure how to tell. I don't think my employers have installed anything on my computer, but does that matter? Also, if I am being monitored, is there anything I can do about it?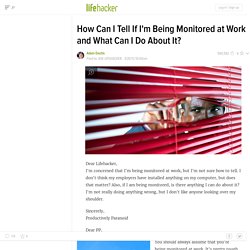 How Can I Tell If I'm Being Monitored at Work and What Can I Do About It?
matrice eisenhower
Scrum (méthode)
Un article de Wikipédia, l'encyclopédie libre. Pour les articles homonymes, voir Scrum. Scrum est une méthode agile dédiée à la gestion de projets. Scrum est issu des méthodes incrémentales (telles que le modèle en spirale) qui permettent de maîtriser une production planifiée. Scrum n'autorise pas l'aspect « adaptatif » car il ne propose pas de pratiques permettant de mesurer les modifications importantes et leurs incidences sur le planning de réalisation.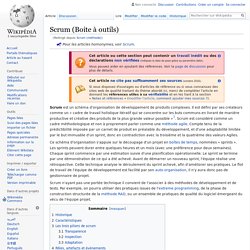 scrumblr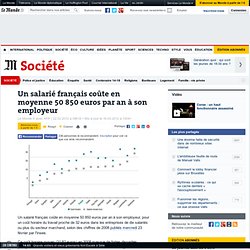 Un salarié français coûte en moyenne 50 850 euros par an à son employeur, pour un coût horaire du travail proche de 32 euros dans les entreprises de dix salariés ou plus du secteur marchand, selon des chiffres de 2008 publiés mercredi 23 février par l'Insee. Ce coût horaire moyen (31,82 euros) en 2008 masque de fortes disparités, puisqu'il varie de 21 à 49 euros selon le secteur d'activité. Il est le plus élevé dans le secteur des banques et des assurances (49,01 euros) et la production et distribution d'électricité et de gaz (46,09).
Un salarié français coûte en moyenne 50 850 euros par an à son employeur
Getting Better vs Being Good
Everybody likes to do stuff they're good at. When we're doing the types of tasks and projects we've already mastered, we feel in control and confident. But settling into our sweet spots – and avoiding new experiences that require us to "stretch" – comes with consequences.
We've been getting a lot of inquiries about project management at 99U recently, so we thought we'd share a little behind-the-scenes on how we make ideas happen – quite literally – and then open it up to the community for more input on your tactics.
Do-It-Yourself Project Management (And How Behance Does It)
You're busy. I'm busy. Everyone is busy.
How To Set Smart Daily Goals
How To Become A Self-Management Superhero
Increasingly creative careers are location independent.
99% Takeaways: Be A Sprinter, Not A Marathon Runner
To add visual punch to our 2011 99U Conference takeaways, we partnered with Ogilvy Notes to create a series of illustrations emphasizing the essential points of each and every 99U talk. First up, we have some visualizations of two of our incredible Day 1 speakers – expert researchers in the fields of leadership and collaboration – and our sit-down interview with Beth Comstock, SVP and Chief Marketing Officer at GE. PATRICIAN McCARTHY – Founder, The Mien Shiang Institute
The 5 Types of Work That Fill Your Day
Outils d'organisation projet 1/9
Sept services pour planifier vos réunions | Descary
Prezi - The Zooming Presentation Editor
Kickstarter
Host a Competition on Kaggle
Welcome to Schemer!
SketchUp