Drama
This Epic Note-Passing War On A Delayed Flight Wins Thanksgiving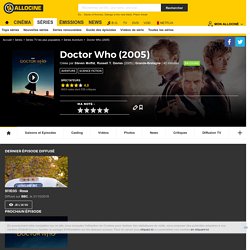 Une incroyable longévité ! Secret de tournage sur la série Véritable institution en Grande-Bretagne, Doctor Who est de retour après 10 ans d'absence.
Doctor Who (2005) - Serie TV
Is Doctor Who a Religion? | Idea Channel | PBS
Doctor Who - Demons Run when a Good Man Goes to War
Wibbly Wobbly Timey Wimey...Stuff
Doctor Who- Fezzes Are Cool
Doctor Who- Typography "Amy Remembers"
Doctor Who - The Eleventh Doctor is a Badass (NEW VERSION SOON)
Doctor Who: Epic Matt Smith Speech
"Doctor Who" The Pandorica Opens (2010) - Memorable quotes
An Awful Lot of Running (Doctor Who).avi
becks28nz: Doctor Who - first readthrough with... » I do not know how to function as a normal human.
Indisputable Proof That Doctor Who Is Based On Actual Events
the man with the key is king ♛
Karen Gillan Talks Inspector Spacetime!
How John Barrowman found out he was the Face of Boe
Doctor Who Theme Super Nintendo Style And Other Whovian Awesomeness
Doctor Who: The First Question - 50th Anniversary Trailer (HD)
12 Pop Culture Icons Who Are Probably Time Lords
whenigrowupiwannabeadonut.tumblr.com/post/36538199730/a-time-lord-wallflower-hungerybunny
The Internet's Reaction To The Twelfth Doctor
Tendances des recherches - Recherche sur Recherche sur le Web : peter capaldi, matt smith, doctor who, david tennant - Dans tous les pays, De 2004 à ce jour
Bill-Mudron-Doctor-Who-Themed-Bayeux-Tapestry-Illustration.jpg (1800×1201)
"Extermination !" C'est le leitmotiv de ces créatures de métal, apparues en 1963 dans la série britannique Doctor Who . Ce qui ne les a pas empêchées de devenir extrêmement populaires.
SÉRIE TÉLÉ • Les Daleks, des monstres inoxydables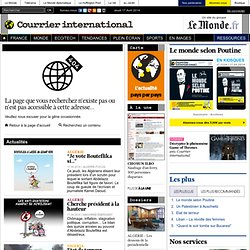 Doctor Who 16-Bit RPG
Doctor Who Animation - 50 Years in Time and Space
Steven Moffat Explains The Big "The Day Of The Doctor" Twist
The Internet Has Feelings About "The Day Of The Doctor"
The 35 Greatest Easter Eggs From The "Doctor Who" 50th Anniversary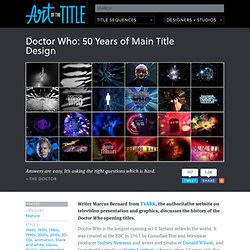 Writer Marcus Bernard from TVARK, the authoritative website on television presentation and graphics, discusses the history of the Doctor Who opening titles. Doctor Who is the longest-running sci-fi fantasy series in the world.
Doctor Who: 50 Years of Main Title Design — Art of the Title
A force de vouloir ressembler à leurs cousines américaines, les séries françaises en ont presque oublié de regarder chez leurs voisines, les Britanniques. L'industrie de Sa Majesté, aussi vieille que celle d'Hollywood (environ 60 ans), a offert au petit écran une foule de classiques ( Chapeau Melon et Bottes de Cuir , Le Prisonnier , Dr Who , Amicalement vôtre , etc.) et d'œuvres contemporaines marquantes ( Skins , MI-5 , Suspect n°1 , Queer as Folk , etc.). Pourtant, ses moyens ne sont que légèrement supérieurs aux nôtres.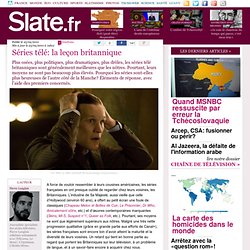 Séries télé: la leçon britannique
Dr Who map.jpg (1636×1047)
Maps
Utilisateurs d'un lecteur d'écran : cliquez ici pour accéder à la version HTML brut Account Options Connexion Itinéraire Mes adresses Satellite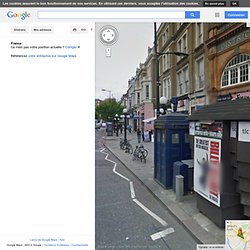 mwjnctylvB1t2r6v4o1_500.gif (400×640)
Benedict Cumberbatch touched your bottom., Joe: Just wait a second, I love him. I've just...
NASA has confirmed the existence of a real-universe analogue of Gallifrey, the fictional Time Lord planet that features in the BBC science-fiction drama series, Doctor Who. According to an article in the Register , NASA came across what it calls a "transiting circumbinary multi-planet system" – in layman's speak, "two worlds orbiting two suns" – using its Kepler planet-hunting telescope, and the Register likens to " Doctor Who 's Time Lord homeworld [of] Gallifrey – or alternatively the luxury-planet-builders' planet Magrathea [from] The Hitchhikers' Guide to the Galaxy "! The Register reports the lead author of the study, Jerome Orosz – associate professor of astronomy at San Diego State University – as saying , "Each planet transits over the primary star, giving unambiguous evidence that the planets are real." Digital Journal 's Andrew Moran first reported on the discovery in January of this year, but the full study report has now been accepted by and published in Science .
Science confirms 'Doctor Who-type world, Gallifrey'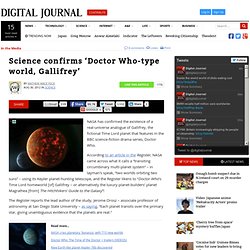 Sherlock - Serie TV
Jim Moriarty's Skull Tie | BBC Sherlock | Sherlockology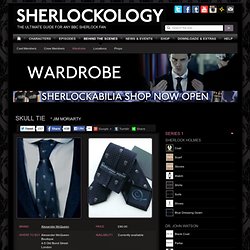 Alexander McQueen Dark Blue Skull Narrow Silk TieThis 100% silk tie gives formalwear a directional twist. Combining an elegant finish with an iconic skull and polka dot print ensure this contemporary classic lends your on-duty wardrobe instant edge. "I teamed it with a Spencer Hart round collar shirt and an Alexander McQueen tie with skulls on it.
The Doctor Vs. Sherlock
20 Things You May (or May Not) Know About BBC Sherlock
Honey, you should see me in a crown. - Sherlock BBC
Sherlock : The Reichenbach Fall recap
You'll dream about that box., And THAT'S why I watch the Mentalist. MY MOUTH...
All the Kills in the Game of Thrones by studioincandescence on deviantART
Cette semaine, grand coup de projecteur sur un acteur peu connu du grand public, et qui pourtant dégouline de charisme pour une taille très courte : le Moustachissime Peter Dinklage. Flaaak Magazine s'intéresse à cette petite personnalité au lieu de vous parler du prochain film de Canet et ses potes Lelouche, Cluzet et Magimel dans leur nouvelle maison à L'île De Ré. Comme quoi, être petit ça peut aussi vouloir dire être cool. Peter Dinklage dans le rôle de Tyrion Lannister de Game Of Thrones. Peter Dinklage a su faire son petit trou dans le monde du cinéma, sans pour autant être aidé. Difficile à croire qu'une chose pareille arrive chez nous, où être acteur, c'est savoir user et abuser de ce qu'on appelle chez Flaaak Magazine, « le piston artistique ».
Peter Dinklage, ce « petit-plus » de Game of Thrones | Flaaak magazine
GQ Men of the Year 2011 : Peter Dinklage
98042.jpg (434×2342)
Game of Thrones est une série n'hésitant pas à mettre la dose sur les effets spéciaux . La preuve à travers la vidéo qui suit. En attendant l'arrivée de la troisième saison de la série Game of Thrones, encore actuellement en tournage (et ce, sans doute jusqu'à la fin de l'année, la saison en question étant prévue pour s'étaler sur 10 épisodes), voici une vidéo particulièrement intéressante, qui va faire le focus sur les nombreux effets spéciaux déployés au sein des épisodes de la saison 2. Et d'ailleurs, il faut saluer le travail réalisé sur le sujet : difficile d'apercevoir l'intégration de ces mêmes effets spéciaux, tant ils semblent réalistes.
Les effets de Game of Thrones sont impressionnants