Psychology
Public release date: 19-Dec-2012 [ Print | E-mail Share ] [ Close Window ] Contact: Jeff Renaudjrenaud9@uwo.ca 519-661-2111 x85165University of Western Ontario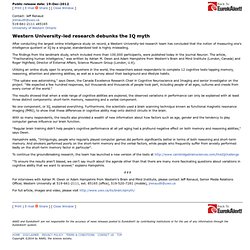 Western University-led research debunks the IQ myth
Western-led research debunks the IQ myth
Based upon the International Personality Item Pool (IPIP) Our personality test consists of 50 questions and takes about 5 to 7 minutes to complete. Answer as many questions as you can to get the most accurate score possible. Your answers are held in strictest confidence and are not shared with anyone.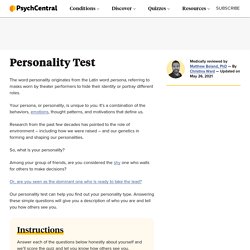 this is (not) psychology
The Public Self is the part of ourselves that we are happy to share with others and discuss openly. Thus you and I both see and can talk openly about this 'me' and gain a common view of who I am in this element. There are often parts of our selves that are too private to share with others. We hide these away and refuse to discuss them with other people or even expose them in any way. Private elements may be embarrassing or shameful in some way.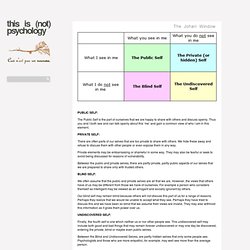 Jungian Personality Types