Alvin794
Alvin
The Nietzsche Family Circus. How to Think Like Sherlock Holmes: Lessons in Mindfulness and Creativity from the Great Detective. By Maria Popova "A man's brain originally is like a little empty attic, and you have to stock it with such furniture as you choose."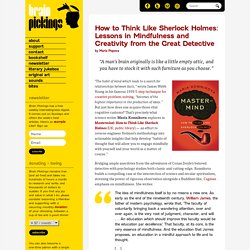 "The habit of mind which leads to a search for relationships between facts," wrote James Webb Young in his famous 1939 5-step technique for creative problem-solving, "becomes of the highest importance in the production of ideas." But just how does one acquire those vital cognitive customs? John Cleese on the 5 Factors to Make Your Life More Creative. By Maria Popova "Creativity is not a talent.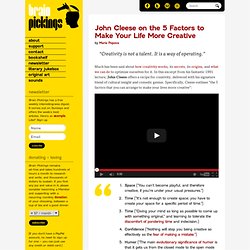 It is a way of operating." Much has been said about how creativity works, its secrets, its origins, and what we can do to optimize ourselves for it. In this excerpt from his fantastic 1991 lecture, John Cleese offers a recipe for creativity, delivered with his signature blend of cultural insight and comedic genius. Specifically, Cleese outlines "the 5 factors that you can arrange to make your lives more creative": Be Like Water: The Philosophy and Origin of Bruce Lee's Famous Metaphor for Resilience. By Maria Popova "In order to control myself I must first accept myself by going with and not against my nature."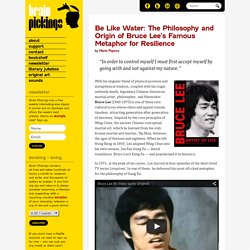 With his singular blend of physical prowess and metaphysical wisdom, coupled with his tragic untimely death, legendary Chinese-American martial artist, philosopher, and filmmaker Bruce Lee (1940-1973) is one of those rare cultural icons whose ethos and appeal remain timeless, attracting generation after generation of devotees. My Ideal Bookshelf: Famous Artists and Writers Select Their All-Time Favorite Books.
By Maria Popova Reverse-engineering identity through the love of books.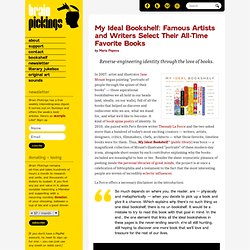 In 2007, artist and illustrator Jane Mount began painting "portraits of people through the spines of their books" — those aspirational bookshelves we all hold in our heads (and, ideally, on our walls), full of all the books that helped us discover and rediscover who we are, what we stand for, and what we'd like to become. A kind of book spine poetry of identity. In 2010, she paired with Paris Review writer Thessaly La Force and the two asked more than a hundred of today's most exciting creators — writers, artists, designers, critics, filmmakers, chefs, architects — what those favorite, timeless books were for them. Thus, My Ideal Bookshelf * (public library) was born — a magnificent collection of Mount's illustrated "portraits" of these modern-day icons, alongside short essays by each contributor explaining why the books included are meaningful to him or her. Agnes Martin on Art, Happiness, Pride, and Failure: A Rare Vintage Interview with the Reclusive Artist.
By Maria Popova "We all have the same inner life.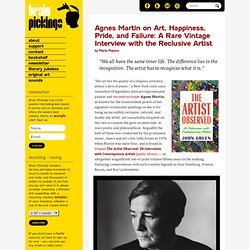 The difference lies in the recognition. The artist has to recognize what it is." 19-Year-Old Sylvia Plath on the Transcendent Simplicity and Reverie of Nature. "No matter what the ideas or conduct of others, there is a unique rightness and beauty to life which can be shared in openness, in wind and sunlight, with a fellow human being who believes in the same basic principles."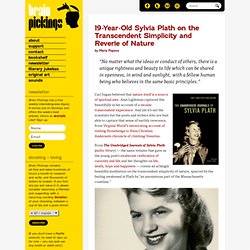 On a relatively unfrequented, stony beach there is a great rock which juts out over the sea. After a climb, an ascent from one jagged foothold to another, a natural shelf is reached where one person can stretch at length, and stare down into the tide rising and falling below, or beyond to the bay, where sails catch light, then shadow, then light, as they tack far out near the horizon. The sun has burned these rocks, and the great continuous ebb and flow of the tide has crumbled the boulders, battered them, worn them down to the smooth sun-scalded stones on the beach which rattle and shift underfoot as one walks over them. Legendary Psychoanalyst Adam Phillips on Why the Capacity for Boredom Is Essential for a Full Life. By Maria Popova "Boredom … protects the individual, makes tolerable for him the impossible experience of waiting for something without knowing what it could be."
When was the last time you were bored — truly bored — and didn't instantly spring to fill your psychic emptiness by checking Facebook or Twitter or Instagram? Barbara Walters on the Art of Conversation, How to Talk to Bores, and What Truman Capote Teaches Us About Being Interesting. By Maria Popova "Things being what they are in the world today, we are more and more driven to depend on one another's sympathy and friendship in order to survive…" What The Paris Review has done for the art of the interview in print, Barbara Walters has done for it on television.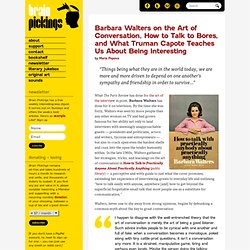 Barbara Walters on the Art of Conversation, How to Talk to Bores, and What Truman Capote Teaches Us About Being Interesting. How to Find Yourself. By Maria Popova "Little triumphs are the pennies of self-esteem."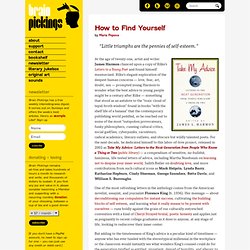 At the age of twenty-one, artist and writer James Harmon chanced upon a copy of Rilke's Letters to a Young Poet and found himself mesmerized. Rilke's elegant exploration of the deepest human concerns — love, fear, art, doubt, sex — prompted young Harmon to wonder what the best advice to young people might be a century after Rilke — something that stood as an antidote to the "toxic cloud of tepid-broth wisdom" found in books "with the shelf life of a banana" that the contemporary publishing world peddled, so he reached out to some of the most "outspoken provocateurs, funky philosophers, cunning cultural critics, social gadflies, cyberpunks, raconteurs, radical academics, literary outlaws, and obscure but wildly talented poets. 37 Things You'll Regret When You're Old. Homeless People Were Asked To Write Down A Fact About Themselves. Their Answers May Surprise You.
Rethink Homelessness, an initiative of the Central Florida Regional Commission on Homelessness, recently asked a few homeless people to write down a fact about themselves that other people wouldn't know just by walking past them.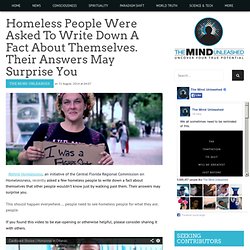 Their answers may surprise you. This should happen everywhere… people need to see homeless people for what they are; people.
Misc. Darwin's Battle with Anxiety. By Maria Popova A posthumous diagnosis of the paralyzing mental malady that afflicted one of humanity's greatest minds. Charles Darwin was undoubtedly among the most significant thinkers humanity has ever produced. But he was also a man of peculiar mental habits, from his stringent daily routine to his despairingly despondent moods to his obsessive list of the pros and cons of marriage. There's More to Life Than Being Happy. "It is the very pursuit of happiness that thwarts happiness. " Kacper Pempel/Reuters In September 1942, Viktor Frankl, a prominent Jewish psychiatrist and neurologist in Vienna, was arrested and transported to a Nazi concentration camp with his wife and parents. Three years later, when his camp was liberated, most of his family, including his pregnant wife, had perished -- but he, prisoner number 119104, had lived.
The Oppressed Majority: A Poignant French Short Film about a World in Which Men Are Subject to Sexism. By Maria Popova A tragicomic day in the life of a man who struggles for equality in a mirror-image society dominated by women. "Those who travel with the current will always feel they are good swimmers," NPR science correspondent Shankar Vedantam wrote in his extraordinary exploration of society's hidden biases, "[and] those who swim against the current may never realize they are better swimmers than they imagine."
That's precisely what French filmmaker Eleonore Pourriat brings to life with imaginative vividness, elegantly waltzing between the hilarious and the heartbreaking, in her brilliant and pause-giving short film Oppressed Majority — a day in the life of a man who faces subtle sexism and unabashed sexual violence in a mirror-image society dominated by women. Laugh, cry, think twice:
Psychology. Consciousness. Pondering. Questionable New Age Stuff. Information and How-to's.
---