Réseaux - Outils
AVG lance officiellement MultiMi, son application de réseaux sociaux
Télécharger MultiMi - Gratuit,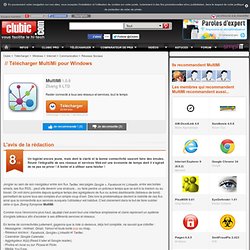 Jongler au sein de son navigateur entre son flux Twitter, ses pages Google +, Facebook ou LinkedIn, entre ses boites emails, ses flux RSS... peut vite devenir une sinécure... ou faire perdre un précieux temps que ce soit à la maison ou au travail. On voit donc poindre depuis quelque temps des agrégateurs de flux ou autres dashboards (tableaux de bord) permettant de suivre tous ses comptes d'un simple coup d'oeil. Dès lors la problématique devient la lisibilité de ces flux ainsi que la connectivité aux services auxquels l'utilisateur est habitué. C'est clairement dans le but de faire oublier celle-ci que Zbang It propose MultiMi. Comme nous l'énoncions plus haut, MultiMi c'est avant tout une interface simplissime et claire reprenant un système d'onglets latéraux afin d'accéder à ses différents services et réseaux. En terme de connectivités justement, gageons que la liste ci-dessous, déjà fort complète, ne saurait que s'étoffer : - Messagerie : Hotmail, Gmail, Yahoo!
Seesmic has been acquired by HootSuite and as of March 2013, the Seesmic website is no longer supported. But HootSuite welcomes all Seesmic users into our nest! Here's how you can start using HootSuite today.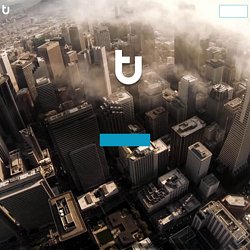 FriendBinder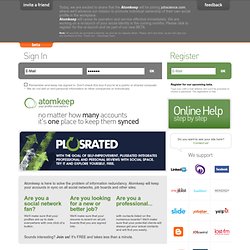 My top pick is Atomkeep. "My top pick is AtomKeep. This is a service that allows you to build a profile on a single site, and then pump it out to as many of the platforms that you have accounts with. It's really cool, clever and intuitive." -Andrew Dubber, New Music Strategies
Influencer Exchange
The Pixelpipe team is pleased to announce that we will all soon be joining a much larger organization. While the details are still to be finalized, we can say that we will be working on similar themes to what we have delivered with both our Pixelpipe & Pi.pe services. We are very proud of the many millions of files that we have been able to share over the years & thank all of our loyal users. Today we are shutting down both the Pixelpipe & Pi.pe services. We hope that you have enjoyed using our free services & will only wish us the best as we transition to our new roles.