Psychology
The Top 10 Psychology Studies. The end of 2010 fast approaches, and I'm thrilled to have been asked by the editors of Psychology Today to write about the Top 10 psychology studies of the year.
I've focused on studies that I personally feel stand out, not only as examples of great science, but even more importantly, as examples of how the science of psychology can improve our lives. Each study has a clear "take home" message, offering the reader an insight or a simple strategy they can use to reach their goals , strengthen their relationships, make better decisions, or become happier. If you extract the wisdom from these ten studies and apply them in your own life, 2011 just might be a very good year. 1) How to Break Bad Habits. Every Day vs Every Once In Awhile. One of my Secrets of Adulthood is: What you do every day matters more than what you do once in a while.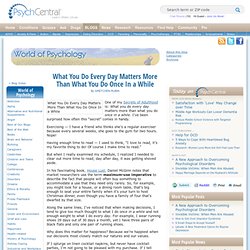 I've been surprised how often this "secret" comes in handy. Exercising — I have a friend who thinks she's a regular exerciser because every several weeks, she goes to the gym for two hours. Nope! Having enough time to read — I used to think, "I love to read, it's my favorite thing to do! Of course I make time to read." Focus. Making Sense of Dreams.
---