Tutorials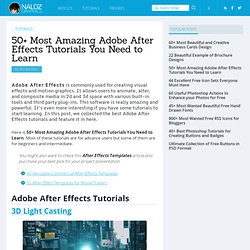 Adobe After Effects is commonly used for creating visual effects and motion graphics. It allows users to animate, alter, and composite media in 2d and 3d space with various built-in tools and third party plug-ins. This software is really amazing and powerful. It's even more interesting if you have some tutorials to start learning.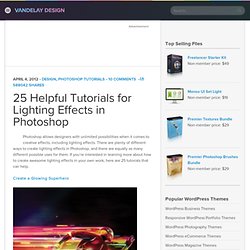 Photoshop allows designers with unlimited possibilities when it comes to creative effects, including lighting effects. There are plenty of different ways to create lighting effects in Photoshop, and there are equally as many different possible uses for them. If you're interested in learning more about how to create awesome lighting effects in your own work, here are 25 tutorials that can help. Looking for hosting? WPEngine offers secure managed WordPress hosting.
I have been playing a lot with the Displace filter in Photoshop and I still get impressed with how powerful it is. Even though I have written some tutorials using it, I decided to try to recreate a different effect that I saw in one of the images submitted for the Daily Inspiration. It was a brick wall deformed like it was made of cloth. So in this tutorial, or a quick-tips I will show you how to create a curtain made of bricks or how to deform a brick wall as it was a curtain. To do that we wil use a few stock photos, layer adjustments and the Displace filter in Photoshop CS5. The technique is pretty simple and the tutorial won't take you more than 30 minutes to go through it.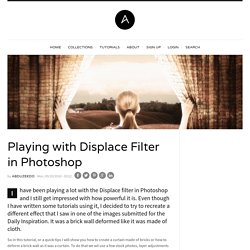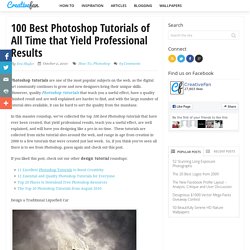 Photoshop tutorials are one of the most popular subjects on the web, as the digital art community continues to grow and new designers bring their unique skills. However, quality Photoshop tutorials that teach you a useful effect, have a quality finished result and are well explained are harder to find, and with the large number of tutorial sites available, it can be hard to sort the quality from the mundane. In this massive roundup, we've collected the top 100 best Photoshop tutorials that have ever been created, that yield professional results, teach you a useful effect, are well explained, and will have you designing like a pro in no time. These tutorials are collected from niche tutorial sites around the web, and range in age from creation in 2008 to a few tutorials that were created just last week. So, if you think you've seen all there is to see from Photoshop, guess again and check out this post. If you liked this post, check out our other design tutorial roundups: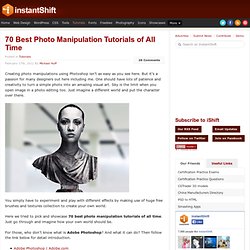 Creating photo manipulations using Photoshop isn't as easy as you see here. But it's a passion for many designers out here including me. One should have lots of patience and creativity to turn a simple photo into an amazing visual art. Sky is the limit when you open image in a photo editing too. Just imagine a different world and put the character over there.
This tutorial will help you learn how to speed up skin retouching and polish photos in Photoshop using basic techniques. Original Photo Step 1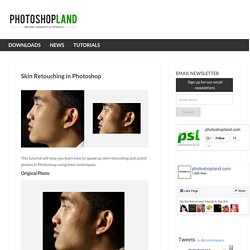 Perfect online (cloud based) tool for tracking your time and costs. Improve your productivity and bill… Munditia is classy and elegant eCommerce Theme for WordPress. It is a complete solution for your online… We showing you the huge collection of event management logo design for Inspiration. This is really true… 4000 Android Icons Working on an Android app or just like the style from the Android OS? This collection… Download 890 handwritten decorative vector shapes in Adobe Illustrator and Adobe Photoshop (resizable… Download 6 Creative minimalistic corporate and product flyer templates.