Brushes, plug-ins
200+ Ultimate Collection of Photoshop Plugins. Photoshop is a powerful image editing software which is very useful for web designers and photographers to create desired effects in the images.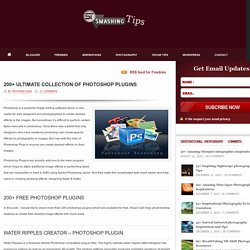 But sometimes it's difficult to perform certain tasks manually in photoshop. Once there was a belief that only designers who have mastered photoshop can create special effects on photographs or images. Brushes | Grafplus. Free Photoshop Brushes downloads and Photoshop Tutorials. Photoshop Brushes, Free Photoshop Brushes | BrushLovers.com. 800+ Great Tech Brushes for Photoshop. Sep 10 2010 Working on a Futuristic Design on a graphics or web design in Photoshop mostly requires more tech feeling.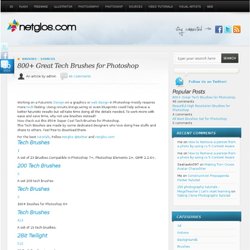 Using circuits,linings,wiring or even blueprints could help achieve a better futuristic results but will take time doing all the details needed. To work more with ease and save time, why not use brushes instead? 300+ Vintage Style Textures and Photoshop Brushes. This post is a roundup of latest free web design resources released during the month of March.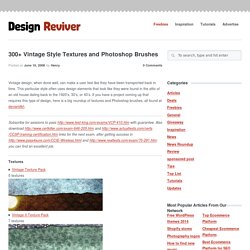 This collection includes patterns, icons, themes, and… Continue Reading → This post is a roundup of latest free web design resources released during the month of February. This collection includes ui kits, insignias, backgrounds,… Continue Reading → Professional Photoshop Patterns you CAN'T be Missing. If you use Photoshop to create some catching graphics, whether it is for a website or for a corporate logo or banner, I bet you know the value of good, professionally made patterns.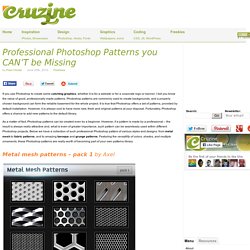 Photoshop patterns are commonly used to create backgrounds; and a properly chosen background can form the reliable basement for the whole project. It is true that Photoshop offers a set of patterns, provided by default installation. However, it is always cool to have more new, fresh and original patterns at your disposal. 50 Free Photoshop Brush Sets Everyone Should Have. Awesome Freebies: 500+ of The Best Photoshop Patterns. Free stuff is always popular, and this time it's really useful as well.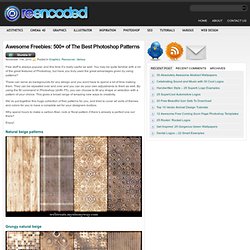 You may be quite familiar with a lot of the great features of Photoshop, but have you truly used the great advantages given by using patterns? These can serve as backgrounds for any design and you wont have to spend a lot of time making them.
---