Capture
Snippy Snip, and you're done! Multi-mon support!
Snippy
HALTADEFINIZIONE by HAL9000 S.r.l. - High Resolution Photos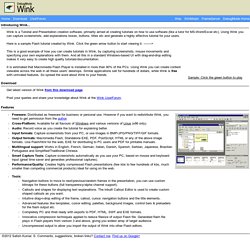 Here is a sample Flash tutorial created by Wink. Click the green arrow button to start viewing it. --------> This is a good example of how you can create tutorials in Wink, by capturing screenshots, mouse movements and specifying your own explanations with them. And all this in a standard Windows-based UI with drag-and-drop editing makes it very easy to create high quality tutorials/documentation.
CamStudio - Free Screen Recording Software