Cooking
The Daily Dish — Busy mom of five shows you how to save money,eat better & make delicious food your whole family will love.
Our Best Bites | Tips, Tricks, and Tastes from Two Real-Life Kitchens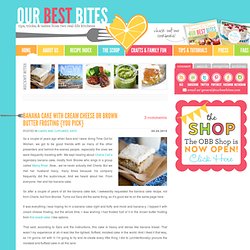 So if you're familiar with Cafe Rio, a Utah-based fresh Mex chain that's kind of starting to spread throughout the rest of the United States, you may have seen this chicken recipe floating around the Internet. I've done some poking and prodding and I'm not exactly sure WHERE it originated, but if you google Cafe Rio chicken, invariably a WHOLE BUNCH of blogs will pop up with a recipe for Crock Pot chicken and Italian salad dressing and a packet of Ranch. Which is cool, because it's super delicious. But I've eaten a lot of Cafe Rio chicken in my days and I'm pretty sure this isn't actually Cafe Rio chicken (I think it's the cumin…shhhh.).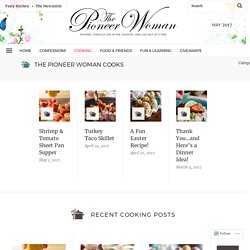 This is a very special recipe for two important reasons: One, it's delicious, hearty, and comforting. Noodles. Meatballs.
The Pioneer Woman Cooks | Ree Drummond
I was craving Indian food again lately and of course I needed gluten free naan to go with it. I found this easy recipe and used my favorite GF flour blend in it. For the naan, I also added in crushed garlic and curry powder for great flavor.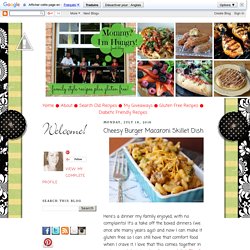 Mommy? Im Hungry! Recipe Blog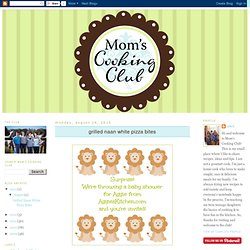 Have you ever made a frittata before? If not, it's really something you should try. It's a one skillet meal that can be eaten for breakfast, brunch, lunch or dinner. You can't say that about alot of dishes. It's great for a Sunday breakfast or those busy weeknights. It is truly versatile....and delicious!
Mom's Cooking Club
Meet Me in the Kitchen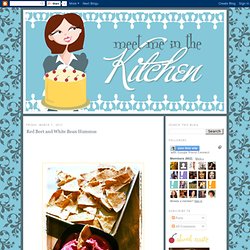 It feels repetitive to say that I have made everything there is to make with overripe bananas, but that is how I feel. It happened again and I realized I had never tried Ellie Krieger's version of banana bread. Her original recipe called for pecans, but a few people in my family don't love nuts, so I left them out. I decided to put a dollop of Dark Chocolate Dreams in the center of the muffins, just to make them more exciting. This was a great banana muffin and we enjoyed them very much! Banana Bread adapted from Ellie Krieger 3/4 cup all-purpose flour 1 cup whole-wheat pastry flour 1/4 cup granulated sugar 1/4 cup brown sugar 1 teaspoon baking soda 1/2 teaspoon baking powder 1/4 teaspoon salt 1/4 cup canola oil 1/4 cup nonfat yogurt 2 large eggs 1 teaspoon vanilla extract 3 very ripe, large bananas, peeled and mashed (about 1 1/2 cups)
Kalyn's Kitchen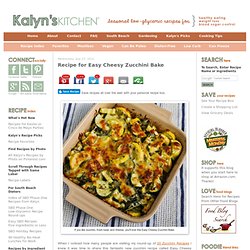 Recipe for Easy Cheesy Zucchini Bake
When I noticed how many people are visiting my round-up of 20 Zucchini Recipes I knew it was time to share this fantastic new zucchini recipe called Easy Cheesy Zucchini Bake, recommended by my sister Pam. She found the recipe in Penzeys Back to School 2011 Catalog , where it was submitted by Karen Niessing. Pam changed the recipe a little and then I changed it a tiny bit more, and we were both impressed with how this very basic idea of tossing zucchini with a few fresh and dried herbs and cheese and then baking it can produce a dish that's so delicious.
A number of you have expressed interest in my favorite carrot cake recipe and have emailed me for the recipe in response to an offer I made to a commenter on my NY Cheesecake post. So, because I love sharing my favorite recipes, I'm going to post the recipe, but without any photos. To provide you all with photos of this wonderful cake, I'd have to make it, and then there would only be the two of us who would eat it as our family is scattered all over New England, and I work from home so I can't take it to work to share. Ultimately, the cake would only be eaten by me because Ole Sweetie-Pi can't eat nuts, and I wouldn't consider this cake without the nuts.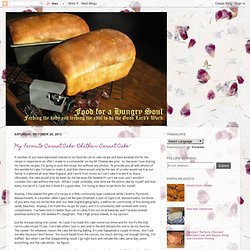 Food for Hungry Soul
Dine & Dish Family friendly recipes & menu planning ideas
A wonderful Chocolate Almond Muffin recipe featuring Slivered Almonds from Diamond Nuts to celebrate the start of the REAL new year. Happy New Year, everyone! Oh, I know I already wrote a happy new year post, but this time I want to wish you all a Happy REAL New Year.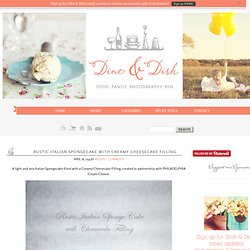 Cooking with Cristine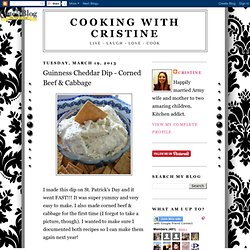 I made this dip on St. Patrick's Day and it went FAST!!! It was super yummy and very easy to make. I also made corned beef & cabbage for the first time (I forgot to take a picture, though). I wanted to make sure I documented both recipes so I can make them again next year! Guinness Cheddar Dip
The Swans
I know a lot of people are probably cookie-d out by now and a lot of people had trays of cookies around or were busy baking trays of cookies over the holidays. However, not me. I was busy moving.
The Life & Loves of Grumpy's Honeybunch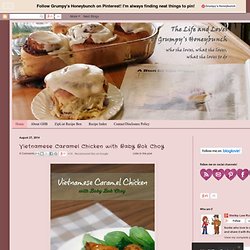 Homemade Baby Food Recipes - Gourmet Baby Food Recipes by The Baby Chef
Nowadays it's easy to find organic varieties of the same food you eat without all the harmful pesticides and chemicals. And you can easily convert any of your favorite recipes for organic by simply purchasing organic ingredients. My kids loved Stoneyfield's Organic Baby Yogurt (Yo Baby), but the consistency was a little runnier than they liked when they started eating chunkier textures. So, I tried experimenting with adding diced fruit pieces and other ingredients to beef up the texture a bit. The banana in this recipe adds a little freshness to the mix while the graham crackers gives them good chewing practice.
Lynn's Kitchen Adventures wholesome and delicious meals from my table to yours Looking for a recipe?
Lynn's Kitchen Adventures :: wholesome and delicious meals from my table to yours
What A Dish!
This flatbread was delicious. This makes a large amount of dough- more than I can fit into my oven at one time, anyway, so I divided it in half, put each on a sheet of parchment, and then baked them on a hot pizza stone in my oven, one at a time. This helped get that crispy crust and they were done in less than 15 minutes each. My husband and I ate the one covered in delicious caramelized onions and tomatoes. I made the kids a "plain" one drizzled with olive oil, black pepper, and Parmesan cheese. They loved it!
Family Fresh Cooking
Quick easy cooking family recipes of appetizers breakfast lunch dinner desserts and left overs with ingredients in pantry or food storage
This Week for Dinner – Weekly Meal Plans, Dinner Ideas, Recipes and More!
This giveaway is now closed. Thank you! It's the new year and I would hazard a guess that some of you have made some health-related resolutions – eat better, exercise more, you know, all that fun stuff! I don't know about you, but new workout clothes always seem to be a good motivator for me to actually work out. I know, so shallow. But if it works, it works!
Mommy's Kitchen
Pin It I had some very ripe bananas on my counter earlier this week, so I thought I would make up a batch of Banana Bread. Not just any banana bread, but Chocolate Banana Bread! Lets rewind just a bit shall we, because chocolate banana bread was not my intention. This is just what happens when you don't have a yellow cake mix on hand.
Six Sister's Stuff
Sweet Peas and Pumpkins
Christina's Guide to Feeding the Family
Mommy Hates Cooking
Family Kitchen
Savory Sweet Life-Easy Recipes for Everyday Cooking