Rotolo Class Links
The SEO benefits of using Pinterest | Pauley Creative. Last week I wrote about the growth of Pinterest and how it can be used by businesses in the construction industry .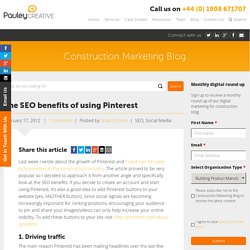 The article proved to be very popular so I decided to approach it from another angle and specifically look at the SEO benefits. If you decide to create an account and start using Pinterest, it's also a good idea to add Pinterest buttons to your website (yes, ANOTHER button). Since social signals are becoming increasingly important for ranking positions, encouraging your audience to pin and share your images/videos can only help increase your online visibility. To add these buttons to your site visit: Niche Social Networks Deliver Big Results.
This post originally appeared on the American Express OPEN Forum, where Mashable regularly contributes articles about leveraging social media and technology in small business.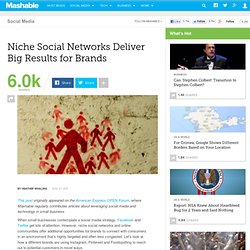 When small businesses contemplate a social media strategy, Facebook and Twitter get lots of attention. However, niche social networks and online communities offer additional opportunities for brands to connect with consumers in an environment that's highly targeted and often less congested. Let's look at how a different brands are using Instagram, Pinterest and Foodspotting to reach out to potential customers in novel ways. Facebook 3.0 May Be The Most Useful App On The iPhone Yet. When Facebook launched the 2.0 version of its iPhone app in September of last year, it was a huge upgrade from its original app that launched with the App Store last July.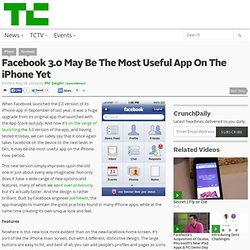 And now it's on the verge of launching the 3.0 version of the app, and having tested it today, we can safely say that it once again takes Facebook on the device to the next level. In fact, it may be the most useful app on the iPhone now, period. This new version simply improves upon the old one in just about every way imaginable. Not only does it have a wide range of new options and features, many of which we went over previously, but it's actually faster. And the design is rather brilliant. Sonar. 23 Brands Using Instagram And What They're Doing Right. By Jason Keath at SocialFresh: The brilliance behind the Polaroid camera was instant gratification.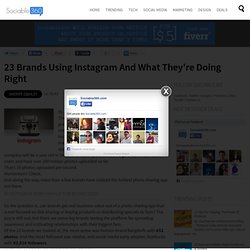 No wonder Instagram has adopted the nostalgic camera tech as it's logo inspiration. Instagram has indeed captured the childlike wonder of many iPhone users (yes we know, they NEED an android app). SXSW 2012: Instagram's Android app prototype makes appearance. Additionally, Systrom confirmed that Instagram has grown to over 27 million registered users, nearly double the 15 million announced back in December 2011.
He explained much of the enormous growth came from the launch of the iPhone 4S, followed by Apple highlighting the app as App of the Year. Speaking of SXSW, the star of the tech conference may be Highlight, a location-based social app. 10 Little Known Social Media Tools You Should Be Using -- Now. Editor's note: A version of this article previously appeared at KISSmetrics.com.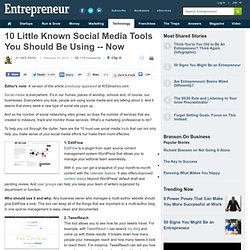 Social media is everywhere. It's in our homes, places of worship, schools and, of course, our businesses. Tearin' Up My Heart Music Video. Why Pinterest is 2012's hottest website. Pinterest, the web-based "pinboard", which launched almost two years ago, barely got a mention until 6 months ago.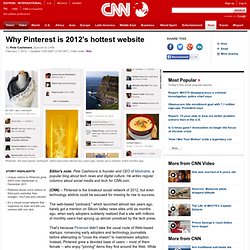 Unique visitors to Pinterest grew 400% from September to December 2011Pinterest drives more visitors to third-party websites than Google+, YouTube and LinkedInIt's a visual social network that organizes by topic and lets you reshare with one click Editor's note: Pete Cashmore is founder and CEO of Mashable, a popular blog about tech news and digital culture. He writes regular columns about social media and tech for CNN.com. Google Yourself: What Will You Find? « synapses. Google Yourself If you haven't done so by now, do it.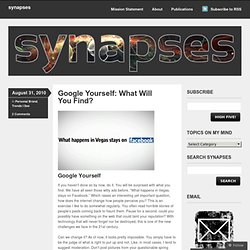 You will be surprised with what you find. We have all seen those witty ads before, "What happens in Vegas, stays on Facebook." Which raises an interesting yet important question, how does the internet change how people perceive you? The Future of Social Media. At the beginning of the month I was asked to speak at a panel that discussed Social media, Social Networks and "What's Coming Up Next".
In research for this discussion, I came up with a few insights on what I foresee coming up next in the world of social media. Here are my top 10 insights: 1) The physical and digital worlds will be more highly connected than ever before – already today we are able to run in the park and track our progress online while sharing it with our friends or track our weight loss, or even our ovulation (well, some of us, that is) with iPhone apps that connect to our Facebook and twitter profiles and enable us to keep track of our progress as well as share the data with our friends. Robert Scoble had a brilliant presentation on this topic at the last TNW Conference in Amsterdam. You can see it here. Ali @ Watson Theater. The Sorting Hat Scene From Harry Potter. RotoloClass: Try me on and I will tell... Beta) |  Free Hashtag Report. HashTracking.com | Twitter Hashtag Tracking and Analytics.
Ali @ Watson Theater. Ali @ Watson Theater. Trust Agents: Chris Brogan and Julien Smith.
Rotolo Class Infographics
On Social Media Becoming Social Business - David Armano. By David Armano | 12:15 PM July 5, 2011 For a clue to social media's future, we need not look much further than Washington.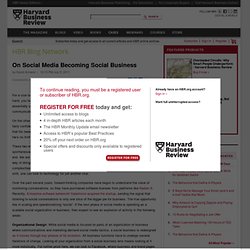 On the one hand, you have "Weinergate," former NY Senator Anthony Weiner's Twitter fiasco, which was essentially user error. He failed to negotiate the thin line between digital communication and social communication, between private and public. On the other hand you have President Obama's announcement that he will do his own Tweeting. I'm fairly confident that while Obama may be the one that hits the "Tweet" button, it's highly unlikely that his tweets will go out into the wild without planning and, for the lack of a better word, design.
NFL Will Allow Players to Tweet Inside the Pro Bowl. The NFL is going to allow players to tweet during the game from this Sunday's Pro Bowl. As first reported by CNBC's Darren Rovell, players will be allowed to tweet from a designated area on the sidelines. The NFL, often called the "No Fun League," famously disallowed in-game tweeting in July of 2009. The NFL later fined a player for tweeting from a training camp. Still, the league's position regarding social media has evolved over time. 10 Smart Enterprise Uses For Twitter - The BrainYard. From recruiting to keeping an eye on the competition, Twitter can help your company do certain jobs much better. Check out these 10 tips. 1 of 10 Call it a social network, microblogging platform, networking site--by any description, Twitter is home to a rapidly growing audience.
McDonald's Twitter Campaign Goes Horribly Wrong #McDStories. Social Media Tips for the New Year. 2011 was a big year for social media. The "Big Three," Facebook, Twitter and LinkedIn got bigger. Hundreds, maybe thousands of other social networks flourished. One would be hard-pressed to make the case that social media is still just a fad. Instead, it's become clear social media is here to stay.
It has fundamentally changed the way we do business and the way we document our everyday lives. Cassia Brooks: A reminder to #rotoloclass... HOW TO: Implement a Social Media Business Strategy. Sharlyn Lauby is the president of Internal Talent Management (ITM) which specializes in employee training and human resources consulting. She authors a blog at hrbartender.com.
Over the past few months, we've talked about whether you should have a social media policy and what should be included in that policy. It only seems logical to discuss the next step in the process, which is what to consider when implementing a social media strategy in your workplace.
---