#NewhouseIDSM
Twitter's Jack Dorsey Wins Media Person of the Year at Cannes Lions
am
Ali @ MMA Mobile Smart Big Top
am
am
Foursquare Checkin Unlocks This Apartment Door, DIY Kits Coming Soon
When the video of the door that unlocks with Foursquare check-ins went viral, I decided to go see how it works--and whether I could get my own. It was tempting to whip out my phone, check in and walk right upstairs, announcing that I didn't know where I was--just that I was blindly following my MapQuest.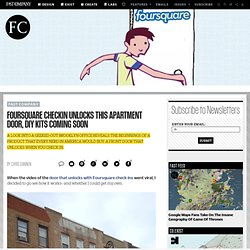 am
am
Ali @ Cannes Lions 2012
am Concept Design For 'Instagram Sunglasses', See The World In Filters
Hey Instagram fans—how would you like to view your world in Instagram filters?
am
Terra Poo Wifi
Change your mindset. What Steve Jobs says here is important.
Ali @ Cannes Lions 2012
Twitter Dominates Day 2 of Cannes Lions [INFOGRAPHIC]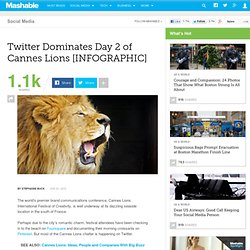 The world's premier brand communications conference, Cannes Lions International Festival of Creativity, is well underway at its dazzling seaside location in the south of France.
Ali @ Cannes Lions 2012
Ali @ MMA Mobile Smart Big Top
Don Draper Drops In on Cannes Ad Fest | Special: Cannes 2012
Twitter Hopes Tweets Will Out-Roar Facebook at #CannesLions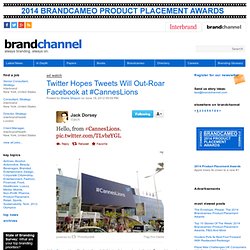 At the Cannes Lions "festival of creativity" (advertising, and marketing) in France this week, Facebook and Twitter are jousting for the spotlight.
1993 View of the Future by AT&T
Ali @ Cannes Lions 2012
Yes We Can, Cannes
What would Don Draper think about the Cannes Lions Festival of Creativity? He probably would have been on the main stage, speaking to a packed room about advertising's power to make emotional connections, perhaps drawing from the Kodak carrousel and poignant family memories. And he definitely would have been seen at The Gutter Bar until the wee hours of the morning. About 10,000 of the world's most creative people in advertising, marketing and PR can relate to the intersection of inspirational content and great conversation: We are all packing our bags for this year's festival, taking place June 17 to 24. The Cannes Lions Festival was founded in 1954 by ad executives who believed that the 30-second film, the staple of advertising at the time, deserved the same recognition as feature films.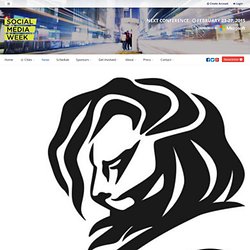 am
Back in 2002, when Matt Britton founded his agency Mr. Youth, as the name suggests, he intended on focusing on helping brands market to the increasingly important and ever-indefinable millennial generation; and that's exactly what Mr. Youth has been doing over the past 10 years. But as the agency's expertise in social further developed, so did the business model.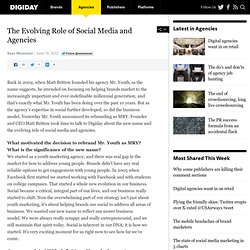 The Evolving Role of Social Media and Agencies
am
am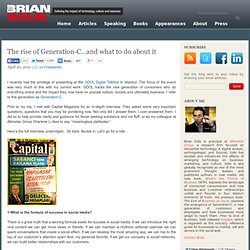 inShare416
The rise of Generation C…and what to do about it
aliphalen
Social Media / Tapit swag before their forum at #CannesLions #NewhouseIDSM
Coke Hug Me Machine
Ali @ Cannes Lions 2012
Advertising Has the Power to Change the World #CannesLions #NewhouseIDSM | Phalen at Cannes Lions
Happy Monday!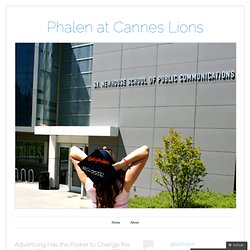 aliphalen
am
am
Ali @ The Nokia Gift Machine @ Microsoft Digital Lounge #MSACannes #CannesLions
Fernanda Romano @fefaromano with @NewhouseSU #NewhouseIDSM at
am
am
Ali @ Palais des Festivals et des Congrès
am
am
h_totheizzo : Walking the orange carpet
am
am
am
Ali @ Greater Rochester International Airport (ROC)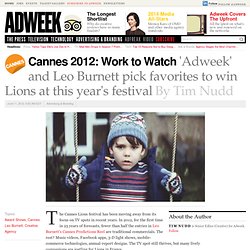 Cannes 2012: 'Adweek' and Leo Burnett Pick Favorites to Win Lions
The Cannes Lions festival has been moving away from its focus on TV spots in recent years. In 2012, for the first time in 25 years of forecasts, fewer than half the entries in Leo Burnett's Cannes Predictions Reel are traditional commercials.
christinafieni
Phalen at Cannes Lions | Read about Ali's adventures, mishaps, experiences, and life lessons as she attends the 2012 Cannes Lions Festival in France.
Login
am
S.I. Newhouse School of Public Communications : Read News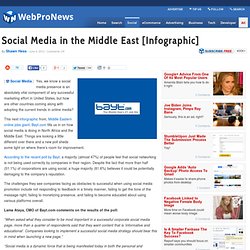 Social Media in the Middle East [Infographic]
Yes, we know a social media presence is an absolutely vital component of any successful marketing effort in United States, but how are other countries coming along with adopting the current trends in online media?
Service Twist: Social Startups Bring Travelers Together
Global Social Media: a Moving Target
Worldwide social media use has now passed the billion-user milestone, and shows no signs of slowing down.
Login
Twitter's Dorsey named Cannes Lions Media Person of 2012
The birth of the micro-blogging service Twitter can be tracked back through Dorsey's life experience. Originally from St Louis, an early fascination for mass-transit and how cities function took Dorsey to New York, where he began programming real-time messaging systems for couriers, taxis, and emergency vehicles. Throughout this work, he witnessed thousands of workers in the field, constantly updating where they were and what they were doing, and came up with the idea for a site that could combine the broad reach of dispatch software, with the ease of instant messaging.
What Is The Symbolic Meaning Of House Warming Gifts And Traditions From Around The World? #infographic
What Is The Symbolic Meaning Of House Warming Gifts And Traditions From Around The World
The World's Most Creative Minds Are Gathering: Cannes Lions 2012 Trailer | Video Gallery | Inspiration
What Is Dancing With Handcuffs & The International Geography of Trust In Social Networks? #video
Media Measurement: Social Media Trends by Country and Age
Social Landscape in Germany – Infografik Social Media und Onlinenutzung in Deutschland « berlinbuzzdotnet
The Top Twitter Countries and Cities (Part 2)
By Mark Evans - Friday, January 22nd, 2010 at 7:30 am ShareThis
Here are your social media business updates for Monday: Twitter Picks German Headquarters: Bloomberg reports that Munich's Focus magazine has just announced Twitter has chosen Berlin as its German headquarters. The e-mailed preview of the upcoming Focus article emphasized that Twitter intentionally avoided Hamburg and Munich, the German headquarters of major tech players Amazon (NASDAQ:AMZN), Microsoft (NASDAQ:MSFT), and Google (NASDAQ:GOOG). Nepali Figurehead PMs Zuckerberg — Asks for Egalitarian Facebook Features: Sunibabu Pant, a prominent Nepali lawmaker and gay rights activist, has personally reached out to Mark Zuckerberg to request the Facebook CEO add a "third gender" option to Facebook's profile setup. As the Washington Post reports, Pant is the only openly gay member of Nepal's parliament, and has attracted worldwide notice as a fierce advocate for LGBT rights.
Trending Social Media: Twitter Chooses German Headquarters
Top 20 Most Popular German Websites | Top Sites Blog
Most Wired Countries In The World: Canada To Lose Top Social Media Spot This Year, eMarketer Says
International
Worldwide Social Media Usage Trends in 2012
Social Media isn't Magic – It's about Staying Human on the Internet
Facebook's Global Ambitions Lure Advertisers
Christina Fieni: our tweets were featured o
Newhouse International Digital and Social Media Study Abroad syllabus
#NewhouseIDSM @Cannes_Lions bound! @h_totheizzo @nicktoneytwe
globalEDGE: Your source for Global Business Knowledge