Soup
Get flash to fully experience Pearltrees
Gordon Ramsay made this soup in a competition against the owner/head chef of Clubway 41. Clubway 41 had a broccoli soup which consisted of 20 different ingredients, whereas Gordon Ramsay's broccoli soup consisted of just 5! This soup really only contains 3 ingredients, should you choose to not count water and garnish as ingredients; "most importantly, this soup actually tastes of broccoli"! Chef Ramsay has since expanded on this recipe to include goat cheese and walnuts. I've tasted the simpler version of this soup from Kitchen Nightmares and I can't wait to try it with the two extra ingredients, it looks fabulous and my mouth is watering from writing this article!
If you've ever tried to make a vegetarian chili, you know how wrong this stuff can go. Some versions call for up to six cans of beans – a recipe for solitary confinement if there ever was one. Others taste like someone dumped a shaker of cumin into a pot of vegetable soup. They just don't taste like chili. Chili needs to be spicy, meaty (even when there's not any meat) and thick enough to hold a tortilla chip in place like the Sword in the Stone.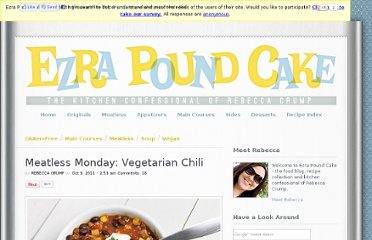 Place beans in large bowl. Add enough water to cover by 3 inches. Let stand overnight.
Home >> Recipes Simple and healthy garlic soup from the Provence. I found this healthy French garlic soup in the Larousse de la cuisine des familles , presented as a family recipe from a Provence mama. Wicked way of roasting whole garlic heads.
Main Ingredients: Garlic: 1 bulb Tomato: 2 big Olive oil: 2 tbsp Cayenne Pepper: 1/4 tsp Paprika: 1 tsp Ground coriander: 2 tsp Dried thyme: 1/2 tsp Vegetable or chicken stock: 2 cups Parmesan cheese: 2 tbsp, grated Butter: 1/2 tbsp Onion: 1 small, chopped Salt Pepper Directions: 1.
Soup may seem like the last thing you want on a steamy summer day, but you'll change your mind when you see these easy recipes. For starters, all five soups are chilled , so they're a perfect way to cool off when the mercury rises. They're also made with the season's freshest produce and require zero cooking. Best of all, each bowl contains nutrients with proven slimming powers —plus they're all less than 240 calories per serving, so they'll help you stay slender for bathing suit season .