Breakfast
Skorpa (Swedish Toast) | Cream City Creations. Skorpa translates to 'Swedish toast' and it's a delicious breakfast treat!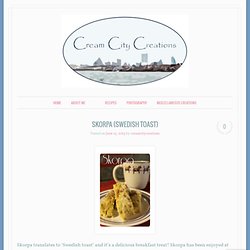 Skorpa has been enjoyed at numerous gatherings with my very Swedish family! I love baking this treat and it always reminds me of family, love and great weekends at my cousins' cottage in the U.P.! It's delicious dipped in a cup of steaming hot coffee. Facebook. Breakfast Quesadillas. Breakfast Quesadillas I'm sharing a recipe today that you should *most definitely* feed your family for breakfast sometime soon: Breakfast Quesadillas!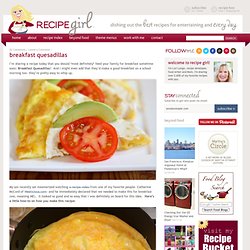 And I might even add that they'd make a good breakfast on a school morning too- they're pretty easy to whip up. My son recently sat mesmerized watching a recipe video from one of my favorite people- Catherine McCord of Weelicious.com- and he immediately declared that we needed to make this for breakfast (we, meaning ME). It looked so good and so easy that I was definitely on board for this idea. Here's a little how-to on how you make this recipe: Moist Pumpkin Bran Muffins. I'm traveling for Thanksgiving but I just had to make SOMETHING before I left.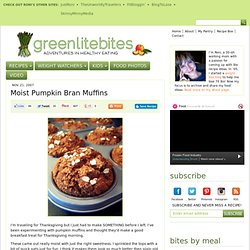 I've been experimenting with pumpkin muffins and thought they'd make a good breakfast treat for Thanksgiving morning. These came out really moist with just the right sweetness. I sprinkled the tops with a bit of quick oats just for fun. I think it makes them look so much better then plain old muffins. Make-Ahead Muffin Melts. This is another recipe from my mother's recipe collection.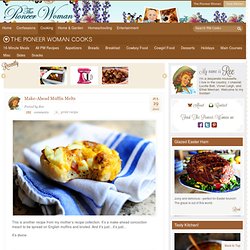 It's a make-ahead concoction meant to be spread on English muffins and broiled. And it's just…it's just… Baked Eggs with Bacon and Spinach. Do y'all remember the scene in Runaway Bride (that's an Oscar contender if I've ever seen one…) where Julia Roberts realizes that she doesn't know how she likes her eggs?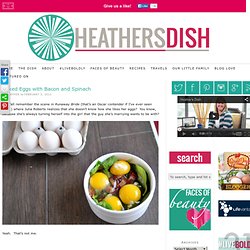 You know, because she's always turning herself into the girl that the guy she's marrying wants to be with? Yeah. That's not me. I know how I like my eggs, although I will say that it depends on the day. Red Velvet Crêpes. I rolled my eyes at the red velvet cake trend, but now I can't get enough.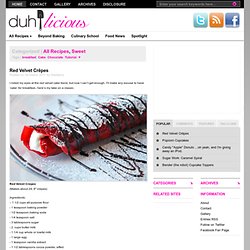 I'll make any excuse to have 'cake' for breakfast– here's my take on a classic. Red Velvet Crepes (Makes about 24, 8″ crepes) Ingredients: – 1 1/2 cups all-purpose flour - 1 teaspoon baking powder - 1/2 teaspoon baking soda - 1/4 teaspoon salt - 3 tablespoons sugar - 2 cups butter milk - 1 1/4 cup whole or lowfat milk - 1 large egg - 1 teaspoon vanilla extract - 1 1/2 tablespoons cocoa powder, sifted - 1 tablespoon red food color gel - 2 tablespoons unsalted butter, melted + 2 tablespoons cooking oil (for pan) *Update: Because the buttermilk lends to the acidity of this batter, do not substitute the baking soda for extra baking powder. If you add more baking powder, and omit the baking soda, you'll end up with a heavy and dense crepe. Sunny Side Up Eggs - Breakfast Recipes. Fresh salad rolls and Vietnamese "omelets" Another installment of Happy Hour at Home, this week it was not only alcohol free, it had a Vietnamese theme.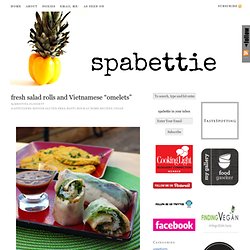 This was the first time I have made fresh salad rolls. I paired them with one of my favorites from my recipe testing, the Vietnamese "Omelet". As part of the recipe testing, I cannot share this one with you, but I can say it really is one of my favorites and is incredibly tasty. English Muffins. Tiramisu Pancakes. A few days ago, I put a call out on Twitter for help.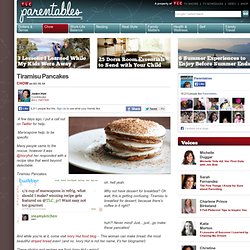 Marscapone help, to be specific. Many people came to the rescue, however it was @Ivoryhut her responded with a recipe idea that went beyond delectable. Tiramisu Pancakes. oh. hell yeah. Why not have dessert for breakfast?
---