Recipes
Hungry Girl. Rice Cooker Recipes Cookbook - Food.com - 80457. This is simple, while you are making your salad, slicing the bread, pouring your wine, and setting the table, your meal will be made all in twenty minutes.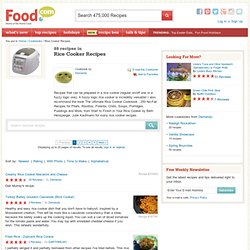 This does not come out starchy, it cooked exactly right. Give it a try in your rice cooker soon. Freezer Cooking with Slow Cooker Recipes. Welcome Pinners!
Please be sure to check out my Real Food tab at the top to find more slow cooker freezer meals! Also, I love to see everyone excited and sharing on their blogs and social media when they use my recipes, but please be sure to link back to me and do not publish the entire recipe! Thanks! My new Ecookbook, From Your Freezer To Your Family , full of new recipes, nutrition info, grocery lists and cute labels!
Freezer Cooking- Slow Cooker Meals! **Update 9.2.2012- Many of the recipes below turned out a bit more "bland" than my husband and I like so at the end of this post I have offered some "additions" to the recipes that you can try if you wish!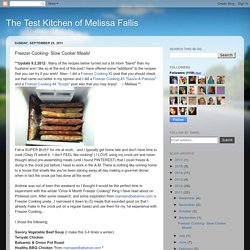 Also-- I did a Freezer Cooking #2 post that you should check out that came out better in my opinion and I did a Freezer Cooking #3 "Sauce-A-Palooza" and a Freezer Cooking #4 "Soups" post also that you may enjoy! ~ Melissa ** Fall is SUPER BUSY for me at work... and I typically get home late and don't have time to cook (Okay I'll admit it.. I don't FEEL like cooking! ) I LOVE using my crock pot and never thought about pre-assembling meals (until I found PINTEREST) that I could freeze & dump in the crock pot before I head to work in the A.M. Snack Girl: eat healthy snacks.
---