LOOSELY SORTED STUFF
Skimlinks | Affiliate marketing made easy - content monetization | Skimlinks. 28/02/2012 - Dropzone. EmberJS/TravisCI/MusicAPI/Etc | DropZone - 24/04/2012. 24/07/2012 - DropZone. 20/04/2012 - DropZone. 05/04/2012 - DropZone. 19/03/2012 - Dropzone. 23/02/2012 - DropZone. 37signals: Web-based collaboration apps for small business. Refer.ly - Refer Anything & Get Rewarded. 37signals (37signals)
What is a 37signals ID? Our open source contributions | 37Signals. Ruby on Rails is the heart and soul of Basecamp.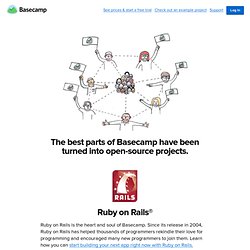 Since its release in 2004, Ruby on Rails has helped thousands of programmers rekindle their love for programming and encouraged many new programmers to join them. Learn how you can start building your next app right now with Ruby on Rails. Knock out Rails & Rack apps like a superhero. Pow is our zero-config Rack server for Mac OS X. Your account has been cancelled. Your account has been cancelled.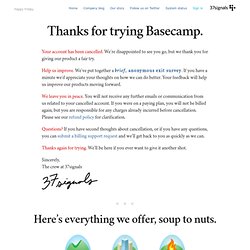 We're disappointed to see you go, but we thank you for giving our product a fair try. Help us improve. We've put together a brief, anonymous exit survey. If you have a minute we'd appreciate your thoughts on how we can do better. 37signals/wysihat. Campfire: Account. Highrise: Latest Activity. Highrise: Small Business CRM, Web-Based Contact Manager. 37signals Launchpad. Pow: Zero-configuration Rack server for Mac OS X. Verelo - Sub-minute website monitoring. Fluent – Making the future of email. Which SaaS products does your startup use on a daily basis. Advice - UserVoice or GetSatisfaction? Project management software, online collaboration: Basecamp. Campfire | Business group chat, file sharing, group decision making: Campfire.
Goodbye Basecamp, This Is The End Of A True Love. My Heart Is Broken. | Christian Jung. Dear Basecamp, I am not angry, this is just the end of a love story, and i want to say goodbye.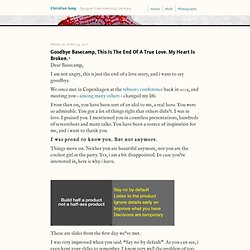 We once met in Copenhagen at the reboot7 conference back in 2005, and meeting you – among many others – changed my life. From then on, you have been sort of an idol to me, a real hero. You were so admirable. Podio | Project Management Software, CRM, Sales, Intranet - thousands of apps. Asana - Task Management for Teams. Trello.
Basecamp extras and integrations via the API. Intercom - A customer relationship management and messaging tool for web app owners. Virtual Phone System: Grasshopper | Manage Your Calls Online. Twilio | Build Scalable Voice, VoIP and SMS Applications in the Cloud.
Time Tracking and Expense Tracking | Less Time Spent. Get Satisfaction - Online Community Software. UserVoice - Customer Feedback and Helpdesk Solutions. Highrise: Small Business CRM, Web-Based Contact Manager. Airbrake: The app error app.
BugHerd
Exceptional: an exception tracker for web apps. Fluent/Fluentd | Logging. IT Security/Etc. Design/UI/Fonts/Icons/Images/Etc. Testing/Metrics/Monitoring/Error Handling/etc | Technology Topic. Development/Programming/Etc.
Sort - Self Hacks/Productivity. Sort - Food/Health/Etc. Sort - Startup/Work/Freelance/Etc. Sort - Design/Etc. Sort - Game Development. Sort - Ecommerce/Etc.
Sort - Web/Etc. Sort - Books/etc. Sort - Database/Caching/Storage/Search[?]/Etc.
Sort - Bio/Genetic/Etc. Node.js on iOS. Sort - HackerNews. Xitrum | Scala Async Web Framework/Server. Kestrel | Simple, distributed message queue system. Finagle | Fault tolerant, distributed RPC.
---