23/02/2012 - DropZone
Music Everywhere - play and learn guitar with Tabber - join music communities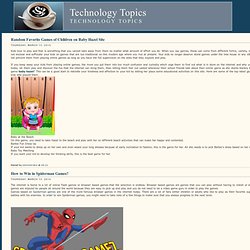 MLM or Multi-Level Marketing has often been interconnected with other names such as "pyramid", and those people who have heard it somewhere always have those negative side comments to say. Bashing about the marketing tactic that they do not even know how it works and the many benefits that people get from joining is just ridiculous and should be stopped. Here is an article that gives lucrative facts about what the best MLM is really about for intent average beginners who are thinking about succeeding through the assistance of MLM.
Amon - Server monitoring, simplified logging and error tracking for web apps
Photoshop Rehab: Advanced Graphic Design with CSS | Tom Giannattasio
Convergence! Over the weekend I was struck with the realization that I don't know how to use neural networks in practice, damn it. Even though a few months ago I realized what neural networks are, even though I've tried implementing them, even though I've used them in a class setting … How the hell do you use these things in real life!? Implement from scratch? … no that can't be it.
FANN – neural networks made easy | A geek with a hat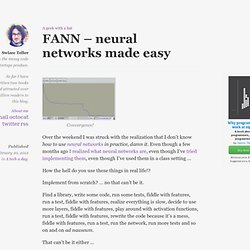 SimpleUPC - Product UPC, Info, Nutrition, and Images
Addons for VLC - addons.videolan.org
Hacker Dojo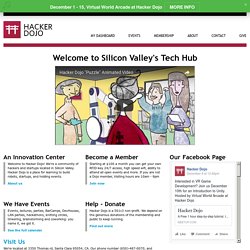 Oh Hey There Welcome to Hacker Dojo! We're a community center in Mountain View.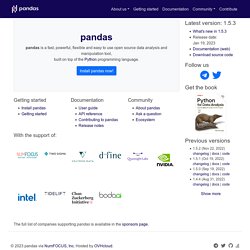 pandas is an open source, BSD-licensed library providing high-performance, easy-to-use data structures and data analysis tools for the Python programming language. 0.13.1 released (February 3, 2014) This is a scheduled bugfix release for 0.13.0, with multiple issues and regressions addressed, and several back-compatible enhancements introduced. See the Release Notes to read all about it. For binaries and source archives of v0.13.1 see the Download page.
README.pod Goals Because the online bookmarks manager pearltrees (www.pearltrees.com) offers less & less satisfation to its users, I decided to create a script to make a database of my existing bookmarks. However, the only possible export file is a RDF file. So I needed at first to retrieve the data from the file.
SebDeclercq/Bookmarks-manager - GitHub | Pearltrees to SqlLite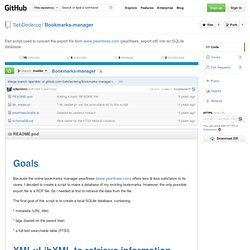 Groupes - Play 2.0 release candidate is ready!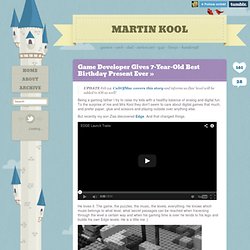 UPDATE Feb 24: CultOfMac covers this story and informs us Zias' level will be added to iOS as well! Being a gaming father I try to raise my kids with a healthy balance of analog and digital fun. To the surprise of me and Mrs Kool they don't seem to care about digital games that much, and prefer paper, glue and scissors and playing outside over anything else. But recently my son Zias discovered Edge. And that changed things. He loves it.
Martin Kool - Game Developer Gives 7-Year-Old Best Birthday Present Ever
If integrating one of these APIs on your own is a headache, then integrating several is a migraine. Singly Data Fabric pushes unified data from any apps or devices your users have authenticated directly to your database. Forget about nuanced differences in rate limits, endpoints and API design. Instead, just pick the APIs you'd like connected and get moving. Integrating one of these APIs on your own is a headache, but integrating several is a migraine.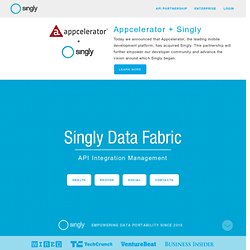 GNU Radio - WikiStart - gnuradio.org
Koneki - Lua Development Tools
Code Assistance — Still writing code, but quicker. Debugger — Finally a tool enabling to watch what is going on in your application. Code Template — Use common statements quicker.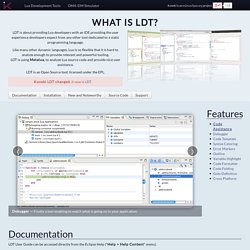 12 February 2011 NOTE: The alpha of my book on APIs is out! Check it out at http://designinghypermediaapis.com.
An API Ontology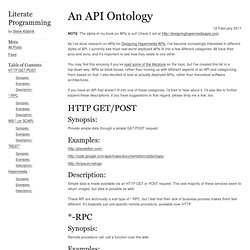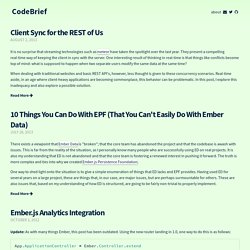 There exists a viewpoint that Ember Data is "broken"; that the core team has abandoned the project and that the codebase is awash with issues. This is far from the reality of the situation, as I personally know many people who are successfully using ED on real projects. It is also my understanding that ED is not abandoned and that the core team is fostering a renewed interest in pushing it forward. The truth is more complex and ties into why we created Ember.js Persistence Foundation. One way to shed light onto the situation is to give a simple enumeration of things that ED lacks and EPF provides.
Qualys SSL Labs - Projects / SSL Server Test / news.ycombinator.com
Unsaved Moving around. Desktop: Hold CTRL and drag the screen. Mobile: Drag quickly to move. Press and hold to start drawing.