Watch
I'm watching it
Watch Desperate Housewives Online Desperate Housewives is an Emmy and Golden Globe award-winning American television comedy-drama series, created by Marc Cherry, that began airing on October 3, 2004 on ABC. It is the most popular show in its demographic worldwide, with an audience of approximately 119 million viewers . Desperate Housewives For those who can't play the episodes , you need DivX Web Player and I also recommend you to get for a better and faster browsing experience.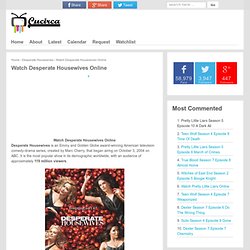 Watch Desperate Housewives Online
Free Audio Books - A Little Princess. Listen to free audio books online.
The Inbetweeners