Things.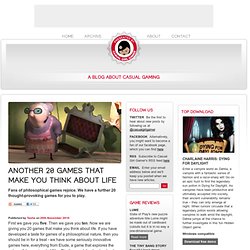 First we gave you five. Then we gave you ten. Now we are giving you 20 games that make you think about life. If you have developed a taste for games of a philosophical nature, then you should be in for a treat - we have some seriously innovative games here, everything from Elude, a game that explores the nature of depression, to Ulitsa Dimitrova, a tale about a street-urchin in Russia.
Sigh..Its true.. Admit It! - TheFunnyPlanet.com - Funny Pictures, Epic Fails, Funny Planet, iPhone Autocorrects, Awkward Texts, LOL Photos, TheFunnyPlanet, Hilarious, Animal LOLs, Troll Comics, Gags, Cartoon
Rize of the Fenix
- StumbleUpon
Dear Pandora Visitor, We are deeply, deeply sorry to say that due to licensing constraints, we can no longer allow access to Pandora for listeners located outside of the U.S., Australia and New Zealand. We will continue to work diligently to realize the vision of a truly global Pandora, but for the time being we are required to restrict its use. We are very sad to have to do this, but there is no other alternative.
Radio - Listen to Free Internet Radio, Find New Music