News 2
World's tallest man saves dolphin
The world's tallest man has saved two dolphins by using his long arms to reach into their stomachs and pull out dangerous plastic shards.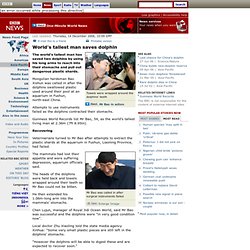 The News-Gazette.com:Yahoo to open C-U office in September
Business - Canada gets poor grade for failing to innovate
Digg continues to crack down on users who plant phony stories on behalf of marketers, recently deleting a user who posted a story about a company that offered to compensate him. The news aggregate site, which allows users to play editor and decide the value of a news story, deleted the user account belonging to Karim Yergaliyev, one of Digg's top-rated users. Digg spokesman David Fonkalsrud, who confirmed that Yergaliyev was booted from the site for violating the company's terms of service, said Yergaliyev was reinstated days after he acknowledged the infraction, apologized and promised never to do it again.
Digg continues to battle phony stories | CNET News.com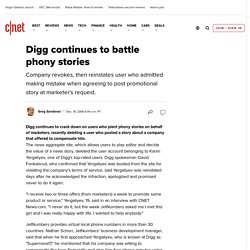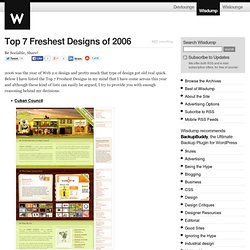 Be Sociable, Share! 2006 was the year of Web 2.0 design and pretty much that type of design got old real quick. Below I have listed the Top 7 Freshest Designs in my mind that I have come across this year and although these kind of lists can easily be argued, I try to provide you with enough reasoning behind my decisions.
Top 7 Freshest Designs of 2006 » Wisdump
amp; Blog Archive & More Google Services in Russia
Wikipedia founder remakes Web publishing economics
Overview NewsTrust and Michigan State University conducted an online survey in December 2005.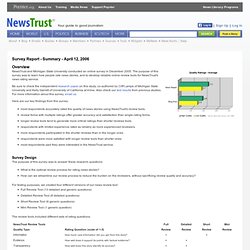 Survey Report Summary
A New Twist: Voting for News You Trust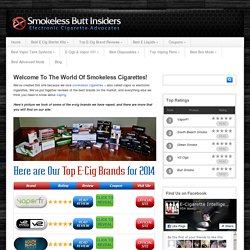 Social news sites like Reddit , Digg and Netscape tend to judge submitted news articles by popularity. Often the snarkiest headline wins. As sites develop niche communities, stories that are promoted often cater more to the wants and whims of the group.
Issue 7: JPG Mag Issue seven of JPG Magazine , all 20,000 copies of it, are giving the publishing world something a little different.
JPG Magazine: User-Generated Content Moves Offline | NewAssignme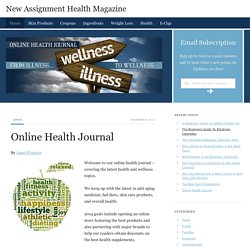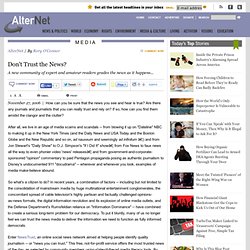 November 27, 2006 | Like this article? Join our email list: Stay up to date with the latest headlines via email. How can you be sure that the news you see and hear is true?
MediaCulture: Don't Trust the News?
Adieu to Google Answers
Posted by Andrew Fikes and Lexi Baugher, Software Engineers Google is a company fueled by innovation, which to us means trying lots of new things all the time -- and sometimes it means reconsidering our goals for a product.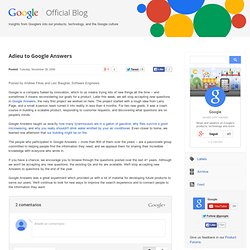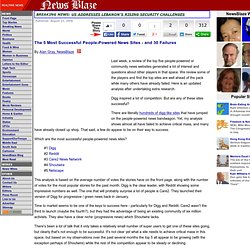 The 5 Most Successful People-Powered News Sites - and 30 Failure
By Alan Gray, NewsBlaze Last week, a review of the top five people-powered or community news websites generated a lot of interest and questions about other players in that space. We review some of the players and find the top sites are well ahead of the pack while many others have already failed.
About NewsBuffer
Secretary of State Condoleezza Rice said yesterday that she will push for full implementation of U.N. sanctions against North Korea as punishment for its recent nuclear test when she makes a critical visit to Asia and Russia this week. The sanctions prohibit trade with North Korea in illicit materials, weapons and luxury items.
Air Samples Confirm N. Korea Nuke Test - w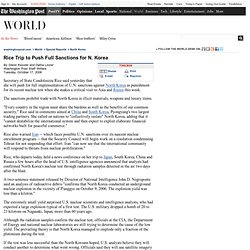 Cookies on the New Scientist website close Our website uses cookies, which are small text files that are widely used in order to make websites work more effectively.
A spot in the sun | the Daily Mail
Unveiling the First Invisibility Shield -
Invisibility is a staple of science fiction, from H.G. Wells to Romulans.
today.reuters.co.uk/news/articlenews.aspx
Technology Review: Emerging Technologies a
What can character animators learn from those who render microscopic worlds in 3D?
Studio Daily | Cellular Visions: The Inner
Stansberry &Associates - Matt Badialis Oil
Shiny Shiny: Robot Guinea Pig with animatr
You turn the key in the lock and step into your darkened flat, and suddenly, a bright-eyed ball of fluff charges you! It's Gupi, the robotic guinea pig , expressing love the only way he knows how (aside from sharing his "magic carrot").
Cookies on the New Scientist website
Scientists probe 2,000-year-old Greek comp
Science & Theology News - What makes nice
SCI FI Tech
Researchers use corn waste to generate ele
Plastic Batteries 100 Times More Powerful
Pink Tentacle
Pink Tentacle
Pink Tentacle
PAK hardware.com
Non-Newtonian Fluid - Google Video
Blog/2006/10/15/hsl-system/
News in Science - Tarantula feet spin stic
New Scientist Archive &045; The Last Word
New micromotor enslaves bacteria for micro
Natural-born painkiller found in human sal
MIT team describes unique desert cloud for
MIT group develops mind-reading device | C
Eureka! Bacteria Have th
Liquid armor is here - Geekologie
Japanese inventor touts water-powered batt
In tunneling physics, a decadesold paradox
In the land of death, scientists gather to