News 2
World's tallest man saves dolphin. The world's tallest man has saved two dolphins by using his long arms to reach into their stomachs and pull out dangerous plastic shards.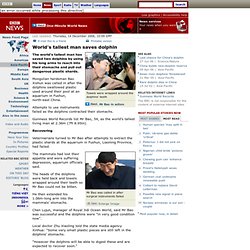 Mongolian herdsman Bao Xishun was called in after the dolphins swallowed plastic used around their pool at an aquarium in Fushun, north-east China. Attempts to use instruments failed as the dolphins contracted their stomachs. Guinness World Records list Mr Bao, 54, as the world's tallest living man at 2.36m (7ft 8.95in). Recovering. Business - Canada gets poor grade for failing to innovate. Canada is like the gifted child who straggles near the back of the class, according to a report scheduled to be released today by the Conference Board of Canada.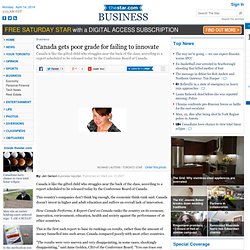 This country's companies don't think big enough, the economic think-tank said. Canada doesn't invest in higher and adult education and suffers an overall lack of innovation. How Canada Performs, A Report Card on Canada ranks the country on its economy, innovation, environment, education, health and society against the performance of 16 other countries.
This is the first such report to base its rankings on results, rather than the amount of money funnelled into such areas. Canada compared poorly with most other countries. 12/27/2006 | Technologist focuses on media and democracy. Digg continues to battle phony stories | CNET News.com. Top 7 Freshest Designs of 2006 » Wisdump. Be Sociable, Share!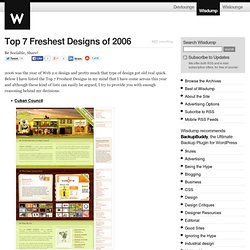 2006 was the year of Web 2.0 design and pretty much that type of design got old real quick. Below I have listed the Top 7 Freshest Designs in my mind that I have come across this year and although these kind of lists can easily be argued, I try to provide you with enough reasoning behind my decisions. Amp; Blog Archive & More Google Services in Russia. Survey Report Summary. Overview NewsTrust and Michigan State University conducted an online survey in December 2005.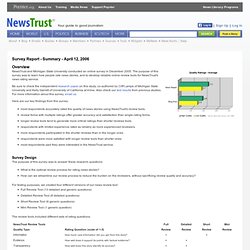 The purpose of this survey was to learn how people rate news stories, and to develop reliable online review tools for NewsTrust's news rating service. Be sure to check the independent research paper on this study, co-authored by Cliff Lampe of Michigan State University and Kelly Garrett of University of California at Irvine. Also check our test results from previous studies. For more information about this survey, email us. A New Twist: Voting for News You Trust. Social news sites like Reddit , Digg and Netscape tend to judge submitted news articles by popularity.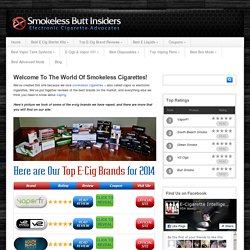 Often the snarkiest headline wins. As sites develop niche communities, stories that are promoted often cater more to the wants and whims of the group. JPG Magazine: User-Generated Content Moves Offline | NewAssignme. MediaCulture: Don't Trust the News? November 27, 2006 | Like this article?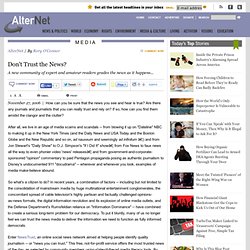 Join our email list: Stay up to date with the latest headlines via email. How can you be sure that the news you see and hear is true? Adieu to Google Answers. Posted by Andrew Fikes and Lexi Baugher, Software Engineers Google is a company fueled by innovation, which to us means trying lots of new things all the time -- and sometimes it means reconsidering our goals for a product.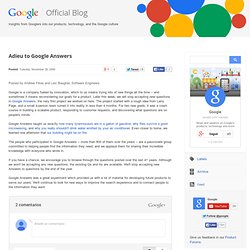 Later this week, we will stop accepting new questions in Google Answers, the very first project we worked on here. The project started with a rough idea from Larry Page, and a small 4-person team turned it into reality in less than 4 months. For two new grads, it was a crash course in building a scalable product, responding to customer requests, and discovering what questions are on people's minds.
Google Answers taught us exactly how many tyrannosaurs are in a gallon of gasoline, why flies survive a good microwaving, and why you really shouldn't drink water emitted by your air conditioner. The 5 Most Successful People-Powered News Sites - and 30 Failure. By Alan Gray, NewsBlaze Last week, a review of the top five people-powered or community news websites generated a lot of interest and questions about other players in that space.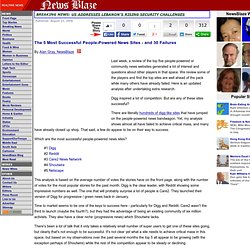 We review some of the players and find the top sites are well ahead of the pack while many others have already failed. About NewsBuffer. VentureBeat. Air Samples Confirm N. Korea Nuke Test - w. Secretary of State Condoleezza Rice said yesterday that she will push for full implementation of U.N. sanctions against North Korea as punishment for its recent nuclear test when she makes a critical visit to Asia and Russia this week.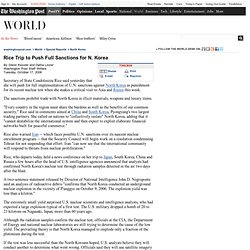 The sanctions prohibit trade with North Korea in illicit materials, weapons and luxury items. "Every country in the region must share the burdens as well as the benefits of our common security," Rice said in comments aimed at China and South Korea, Pyongyang's two largest trading partners. She called on nations to "collectively isolate" North Korea, adding that it "cannot destabilize the international system and then expect to exploit elaborate financial networks built for peaceful commerce. " Rice also warned Iran -- which faces possible U.N. sanctions over its nascent nuclear enrichment program -- that the Security Council will begin work on a resolution condemning Tehran for not suspending that effort. New Scientist SPACE - Breaking News &045; Cookies on the New Scientist website close Our website uses cookies, which are small text files that are widely used in order to make websites work more effectively.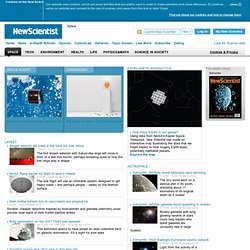 A spot in the sun | the Daily Mail. By This Is Money Updated: 14:56 GMT, 22 March 2006 DEAR Chancellor, I am the owner of a small business, making car air fresheners in Croydon. We employ 23 people and I implore you not to add any further regulations to our wages bill in the forthcoming budget. You and the Prime Minister have always sung the praises of SME's but the continuing regulations are strangling the life out of our 46 year-old company. In 1998, Tony Blair wrote 'The burdens on business must be reduced' and a year later in Bristol he told a business audience 'Small businesses are where the growth is going to be in terms of jobs and we must constantly look at ways to improve their situation.' Today.reuters.co.uk/news/articlenews.aspx. Technology Review: Emerging Technologies a. A painstakingly constructed network map of yeast's molecular responses to DNA damage is providing a glimpse into how cells might thwart cancer. Since most cancer is caused by the failure of cells to repair DNA damage due to aging, toxins, radiation, and other exposures, researchers can now turn to this new map to help pinpoint which cancer networks to target for therapeutics.
The map, which documents interactions between genes and regulatory proteins involved in repairing DNA, was prepared by Trey Ideker, assistant professor of bioengineering at the University of California, San Diego (see "Comparative Interactomics"). Ideker's group exposed yeast cells to a DNA-damaging substance and carefully mapped the ensuing interactions between regulatory proteins and genes. [For a diagram of the complex reactions of yeast cells to DNA damage, click here.] Studio Daily | Cellular Visions: The Inner. What can character animators learn from those who render microscopic worlds in 3D? Plenty. The Inner Life of a Cell, an eight-minute animation created in NewTek LightWave 3D and Adobe After Effects for Harvard biology students, won't draw the kind of box office crowds that more ferocious—and furrier—digital creations did last Christmas.
But it will share a place along side them in SIGGRAPH's Electronic Theatre show, which will run for three days during the 33rd annual exhibition and conference in Boston next month. Stansberry &Associates - Matt Badialis Oil. Shiny Shiny: Robot Guinea Pig with animatr. You turn the key in the lock and step into your darkened flat, and suddenly, a bright-eyed ball of fluff charges you! It's Gupi, the robotic guinea pig, expressing love the only way he knows how (aside from sharing his "magic carrot"). He has sensors in his eyes and legs, which allow him to figure out pretty much how to get around your place and not fall off or over things, 30 different sounds, and his reaction varies depending on the example you set.
If you mistreat or ignore him, he hides (and possibly leaves silicon pellets in your pants drawer) and if you pet him, he frolics. Also, you can have more than one (they'll develop relationships) without worrying about a Pigs is Pigs situation. £40. Gupi the Robotic Guinea Pig. Self-healing material also pinpoints damag.
Cookies on the New Scientist website close Our website uses cookies, which are small text files that are widely used in order to make websites work more effectively. To continue using our website and consent to the use of cookies, click away from this box or click 'Close' Scientists probe 2,000-year-old Greek comp. Science & Theology News - What makes nice. Researchers use corn waste to generate ele. Popular Science. Plastic Batteries 100 Times More Powerful. Pink Tentacle. Pink Tentacle. Pink Tentacle. Pink Tentacle.
PAK hardware.com. Blog/2006/10/15/hsl-system/ News in Science - Tarantula feet spin stic. New Scientist Archive &045; The Last Word. New micromotor enslaves bacteria for micro. Natural-born painkiller found in human sal. MIT team describes unique desert cloud for. MIT group develops mind-reading device | C. Liquid armor is here. Japanese inventor touts water-powered batt. In tunneling physics, a decadesold paradox. In the land of death, scientists gather to.
---