Education
USA | Video: RSAC US 2012 Keynote: Focus on Innovation: Putting Breakthrough Thinking into Action - Sal Khan
Founder Khan Academy Sal Khan started the Khan Academy with a simple but innovative idea: to provide world-class education to anyone, anywhere.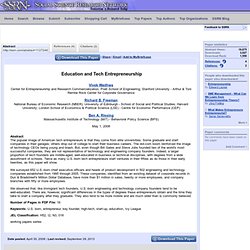 Vivek Wadhwa Center for Entrepreneurship and Research Commercialization, Pratt School of Engineering; Stanford University - Arthur & Toni Rembe Rock Center for Corporate Governance Richard B.
Education and Tech Entrepreneurship by Vivek Wadhwa, Richard Fre
M.I.T. Calls Academia's Bluff by Gary North
by Gary North by Gary North Recently by Gary North: Wikipedia and Google Will Bring Down Establishments All Over the World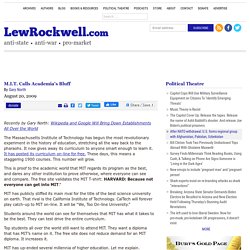 In the Future, the Cost of Education will be Zero
The average cost of yearly tuition at a private, four-year college in the US this year was $25,143, and for public schools, students could expect to pay $6,585 on average for the 2008-09 school year, according to the College Board .
Simply Put, Smart People Don't Need An MBA | MadConomist.co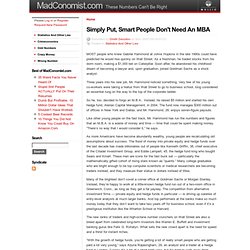 MOST people who knew Gabriel Hammond at Johns Hopkins in the late 1990s could have predicted he would rise quickly on Wall Street. As a freshman, he traded stocks from his dorm room, making a $1,000 bet on Caterpillar. Soon after, he abandoned his childhood dream of becoming a lawyer and, upon graduation, joined Goldman Sachs as a stock analyst.
There was an interesting essay in the most recent CACM titled "Why You Can't Cite Wikpedia in My Class" (http://doi.acm.org/10.1145/1284621.1284635).
Do experts edit Wikipedia? Will they? - GroupLens Research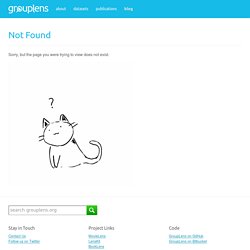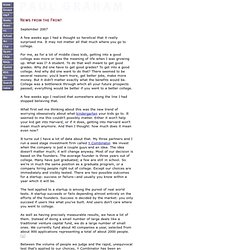 September 2007
News from the Front
MBA in a Page
My buddy Ray Schraff from Hyland Software pointed me to this site containing a comprehensive list of management theories . It is an "MBA in a page," and I mean that in a pejorative way.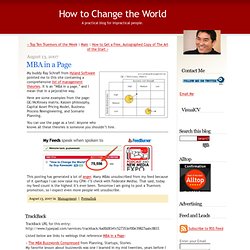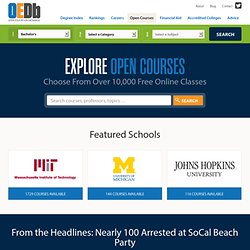 Tuesday 26th February, 2013
East Bay - News - Rich, Black, Flunking
Course Catalog - The Stingy Wiki
Open Culture: Digital MBA: America's Best Business Schools
The American Freshman: National Norms for Fall 2005
How the Public School System Crushes Souls | steve-olson.com
"It has been said that whoever asks about our childhood wants to know something about our soul. Society must take time to inquire." – Isa Helfield 2001 Let me bare my soul for you.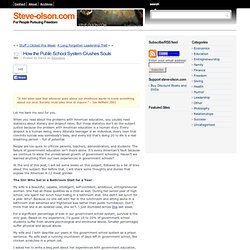 10 Things I Wish I Had Never Believed | steve-olson.com
March 2005 (Parts of this essay began as replies to students who wrote to me with questions.) Recently I've had several emails from computer science undergrads asking what to do in college.
Undergraduation
The Collegiate Landscape of the Future
Here, as in furnaces of boiling gold, Stars dipt, come back, full as their orbs can hold Of glitt'ring light. —Richard Blackmore , Prince Arthur I was an undergraduate at the University of Massachusetts in Amherst, a large public institution not unlike hundreds of others around the United States and around the world. As a freshman I lived in a crummy 1960s-era cement-block dormitory where I had to walk around pools of vomit to get to the bathroom, where I never saw anyone under 18 or over 22, and where I met about five people. I moved out at the end of my freshman year and never went into another campus dormitory again .
StudentOfFortune.com »
Jon Stewart&039;s (&039;84) Commencement A