DIY
A Pair & a Spare | DIY FASHION. Creative Reuse 2008: Simple Pen Holders | Apartment Therapy Re-Nest. Sew Daily. How to make a scratch off lottery ticket? You probably know the scratch off lottery tickets?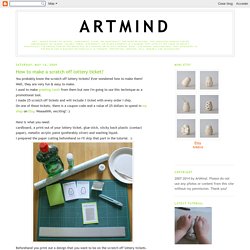 Ever wondered how to make them? Well, they are very fun & easy to make.I used to make greeting cards from them but now I'm going to use this technique as a promotional tool.I made 25 scratch off tickets and will include 1 ticket with every order I ship.On one of those tickets, there is a coupon code and a value of 25 dollars to spend in my shop on Etsy. Waaaahhh, exciting! How To Make Salt Dough Pendants. Learn how to make salt dough pendants and create your own affordable handmade jewelry.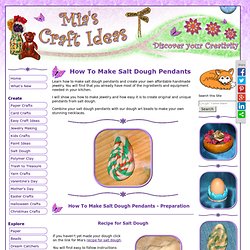 You will find that you already have most of the ingredients and equipment needed in your kitchen. I will show you how to make jewelry and how easy it is to create original and unique pendants from salt dough. Combine your salt dough pendants with our dough art beads to make your own stunning necklaces. How To Make Salt Dough Pendants - Preparation. One Pearl Button: Technique Tutorial: Stencil with Sharpie. Galaxy Handbag (and heels!) I have to admit - I'm typically not a glitter kind of girl.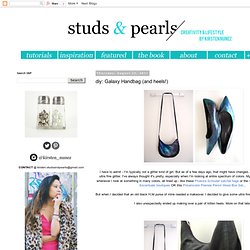 But as of a few days ago, that might have changed...or least when it comes to ultra fine glitter. I've always thought it's pretty, especially when I'm looking at entire spectrum of colors. My heart totally skips a beat whenever I look at something in many colors, all lined up - like these Proenza Schouler satchel bags or the mineral eyeshadows at Bare Escentuals boutiques OR this Prisamcolor Premier Pencil Wood Box Set... But when I decided that an old black H;M purse of mine needed a makeover, I decided to give some ultra fine glitter a shot.
Jewelry. Make a basket out of plastic bags! Sewing needles (sharps OR heavy duty will work best) white thread (I chose polyester for added strength) a thimble (I really recommend coin thimbles) plastic bags of all types - grocery bags are easiest, but you can mix and match.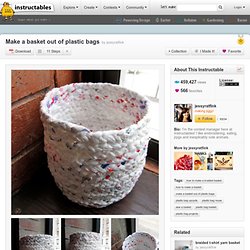 The thicker, more opaque bags will produce a thicker braid, while thin, more transparent bags will produce thinner ones. Try to get as many colors as you can - my basket is made almost entirely of white bags with very small amounts of color, and I think it would look even nicer with some full color bags mixed in. I did lose track of how many bags I used to create this basket, but I'm guessing it was no more than 30. :) SUPER FANCY BAGS TO LENGTH UPDATE: It took me 51 plastic bags to get 60 feet. Wednes-DIY Home Décor: The Light Bulb Vase | Free People Clothing Boutique Blog. This week we're sharing some of the blog's greatest hits!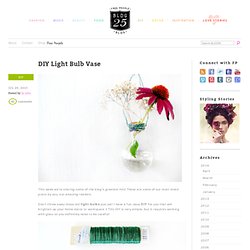 These are some of our most loved posts by you, our amazing readers. Don't throw away those old light bulbs just yet! I have a fun, easy DIY for you that will brighten up your home decor or workspace :) This DIY is very simple, but it requires working with glass so you definitely need to be careful! What you need: A light bulb (any shape or size will work!) , pliers and gardening wire. Print Hula Hoop Rug Page | Crafts | FamilyFun. This photo originally appeared in FamilyFun Magazine Total Time 2 to 3 hours Ages school-age What does it take to transform a pile of old T-shirts into spectacular works of woven art?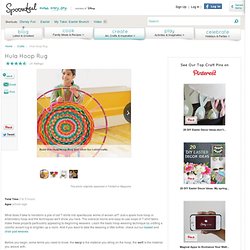 Just a spare hula hoop or embroidery hoop and the techniques we'll show you here. I Spy DIY. Psimadethis.com. Instructables - Make, How To, and DIY. IMG_0830.JPG (1600×1040) Pretty Petals Potholder 9378. Materials: KNIT-CRO-SHEEN, 1 ball Steel Crochet Hook No. 7 1 bone ring.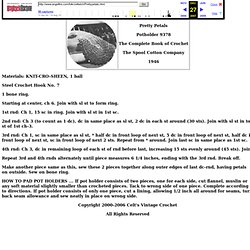 Starting at center, ch 6. How-To: Cyanotype Print on Handknits. Christina McFall over on CRAFT has a great tutorial on using the cyanotype printing technique on textiles like handknits and crochet.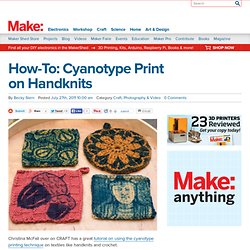 Cyanotype is a fun printmaking technique that is well-suited for printing designs on hand knits and crochet as well as other fabric. While the nature of cyanotype limits the print to shades of blue*, the deep indigo blue is beautiful printed on different colors of yarn and fabric.
---