Publicidad
Copyright © 1999-2012 GoDaddy.com, LLC. All rights reserved. *One FREE .COM, .CO, .NET or .ORG with purchase of a new 12-, 24- or 36-month website builder plan. Plus ICANN fee of $0.18 per domain name per year. You must add the domain name into your cart before purchase, and you must select a domain term length equal to or less than the term length of your website builder plan to qualify for the free domain offer.
TruAction Flipbooks – marketing, event and tradeshow promotion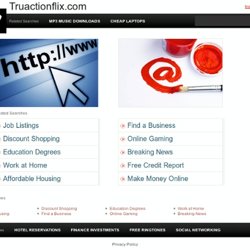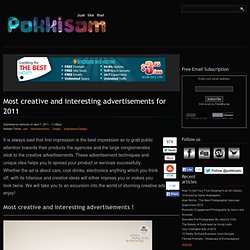 It is always said that first impression is the best impression so to grab public attention towards their products the agencies and the large conglomerates stick to the creative advertisements. These advertisement techniques and unique idea helps you to spread your product or services successfully. Whether the ad is about cars, cool drinks, electronics anything which you think off; with its hilarious and creative ideas will either impress you or makes you look twice. We will take you to an excursion into the world of stunning creative ads enjoy! About the author
Andamos Armados
The new year is almost upon us and it seems like nearly everyone is publishing their year-end best-of lists. It's easy to get nostalgic at times like these, and I'm certainly not immune to it. As this week progressed, I found myself remembering and reliving some of my favorite viral videos of the year. 2010 was a spectacular year for viral video, as more people than ever uploaded, watched, and shared videos online. While it's virtually impossible to know what innovative videos await us in 2011, we can find some clues in a trip down memory lane. What can we learn from the year in viral video that might give us an edge in the year ahead? Below I've compiled my personal list of the top 10 lessons we can learn from the last 12 months of online video's successes and failures.
Top Viral Video Marketing Lessons From 2010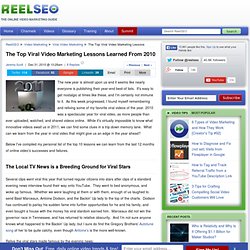 When you are Nike, you just do it. There's absolutely no point being timid or ordinary. You blaze trails, create trends, draw attention. Here at Access, we are creating Nike Extreme experiences around the globe.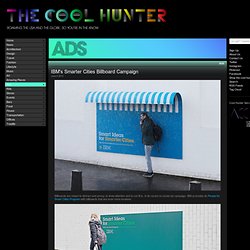 Ads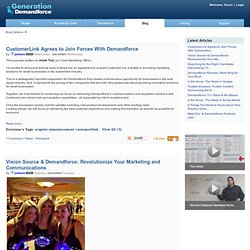 This post was written by Jenny Urbano, our Social Media Manager. Here at Demandforce, we love seeing and celebrating your ideas! And more than that, we love to hear from YOU. We want to bridge the gap between us and you, so that's why we're offering a once in a lifetime opportunity to win a trip to San Francisco, sightsee in this amazing city, visit Demandforce headquarters and share your ideas with us!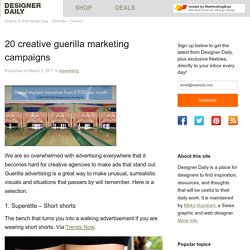 We are so overwhelmed with advertising everywhere that it becomes hard for creative agencies to make ads that stand out. Guerilla advertising is a great way to make unusual, surrealistic visuals and situations that passers by will remember. Here is a selection. 1.
Using @Screenr to create and embed some kick butt training vignettes for a presentation. *LOVE* this website by @Articulate! #rocks —ross_sanders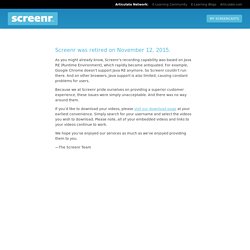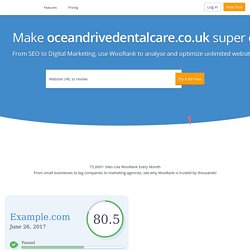 All fields are mandatory Invalid email address All fields are mandatory Forgot your password? Don't have an account?
Interaction Design and Design Strategy
Comience!
New to SEO? Need to polish up your knowledge? The Beginner's Guide to SEO has been read over 1 million times and provides comprehensive information you need to get on the road to professional quality SEO.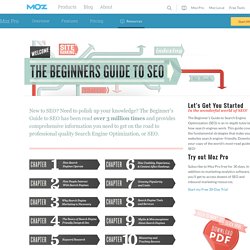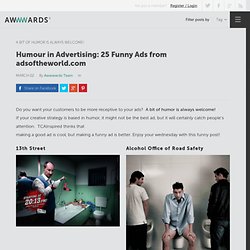 Do you want your customers to be more receptive to your ads? A bit of humor is always welcome! If your creative strategy is based in humor, it might not be the best ad, but it will certainly catch people's attention. TCAInspired thinks that making a good ad is cool, but making a funny ad is better. Enjoy your wednesday with this funny post!
Humour in Advertising: 25 Funny Ads from adsoftheworld.com
Encontrar el insight del consumidor se ha vuelto cada vez más complejo. En ocasiones se extraña la época en la que sentarse en el exterior de una tienda y escuchar a los clientes era suficiente. Hoy obtener una mirada a los deseos del consumidor se ha vuelto tarea de procesos Big Data y análisis predicitvo; sin embargo, hay marcas que entienden que el mejor camino es preguntar. Leer más Internacional.- Con el objetivo de celebrar los más de 200 años de José Cuervo la agencia de publicidad McCann Nueva York lanzó un sitio web para la marca , pero este no es un sitio común, ya que son cinco sitios en uno. Además de presentar su nuevo sitio para el 2014, la marca también se imaginó como hubiera sido el sitio en 1795, 1880, 1945 y 1974.