Hacking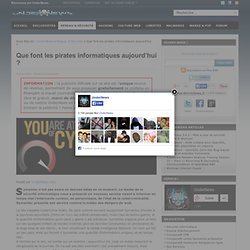 que-font-les-pirates-informatiques-aujourdhui
INFORMATION : la publicité diffusée sur ce site est l'unique source de revenus, permettant de vous proposer gratuitement ce contenu en finançant le travail journalistique. Si vous souhaitez la survie d'un web libre et gratuit, merci de désactiver votre bloqueur de publicité ou de mettre UnderNews en liste blanche. Vous souhaitez aider tout en limitant la publicité ?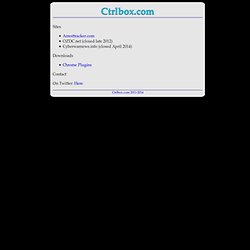 #1 Daily Source for Hacking News, Data Leaks, Account Leaks and much more
Microsoft No idea What to Do after breached by Syrian Electronic Army Yesterday the @Official_SEA16 announced a breach on Xboxs twitter account and shortly after started posting from that account. Not to long after they have continued on the breach spree with an attack on the Microsoft official blogs website and twitter accounts. It also appears that now they have also got access to some of the email […]
(Debuggers / Disassemblers:) ArkDasm 0.7.0 Author: CyberBobArkDasm is a 64-bit interactive disassembler. Supported file types: PE64, raw binary files. Main features: - parsing PE32+ imports, exports, resources - subroutine stack data (arguments, local variables) recognition - loading local debug symb [more...]Date: 07 April 2014 - 01:29 Filesize: 14.3 mb Total Downloads: 1618 (IAT / PE Rebuilding:) Scylla - x64/x86 Imports Reconstruction 0.9.6b Author: AguilaImpREC, CHimpREC, Imports Fixer... this are all great tools to rebuild an import table, but they all have some major disadvantages, so I decided to create my own tool for this job.
Tuts 4 You: Downloads
Packet Storm ? Full Disclosure Information Security
#!/bin/the hacker's choice - THC
SecurityReason.com - Our Reason is Security
Subscribe for free Browse archive NSA collects 200 million text messages a day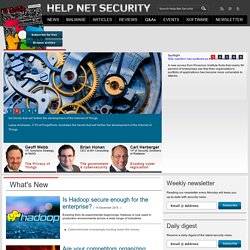 Help Net Security
ThreatWire – March 13 2014: Drones vs. The FAA 0 Views6 Likes The Federal Aviation Authority (FAA) loses case against Raphael Pirker, a swiss model aircraft enthusiast. Appeals.
Hak5 – Technolust since 2005 Security – SnakeOil Labs
Password eXploitation Class
Password Exploitation Class This is a class we gave for the Kentuckiana ISSA on the the subject of password exploitation. The Password Exploitation Class was put on as a charity event for the Matthew Shoemaker Memorial Fund ( http://www.shoecon.org/ ). The speakers were Dakykilla, Purehate_ and Irongeek. http://www.question-defense.com/http://www.irongeek.com/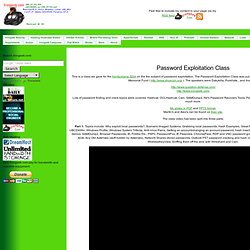 PenTestIT ? Your source for Information Security Related information!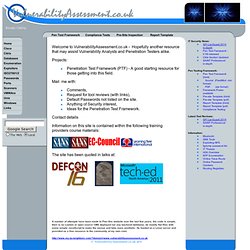 Welcome to VulnerabilityAssessment.co.uk - Hopefully another resource that may assist Vulnerability Analysts and Penetration Testers alike. Projects: Penetration Test Framework (PTF) - A good starting resource for those getting into this field. Mail me with:
VulnerabilityAssessment.co.uk
Offensive Computing | Community Malicious code research and analysis
Recently I was asked to review a pre-publication copy of Mike Sikorski and Andrew Honig's book "Practical Malware Analysis" by Nostarch Press. I gave it an enthusiastic review, and I strongly believe this will become the defacto text for learning malware analysis in the future. This is a review of that book, and a short rant on reverse engineering. Before getting into Practical Malware Analysis, I hope you will indulge me in a rant about other books on the reverse engineering topic: They are not pretty.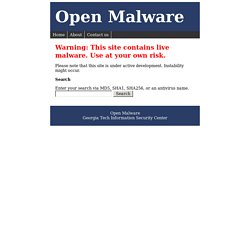 Inj3ct0r is the ultimate database of exploits and vulnerabilities and a great resource for vulnerability researchers and security professionals. Our aim is to collect exploits from submittals and various mailing lists and concentrate them in one, easy-to-navigate database. This was written solely for educational purposes. Use it at your own risk. The author will be not responsible for any damage. // r0073r Select your language
1337day Inj3ct0r Exploit Database : vulnerability : 0day : shellcode by Inj3ct0r Team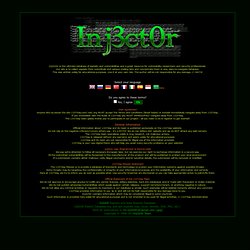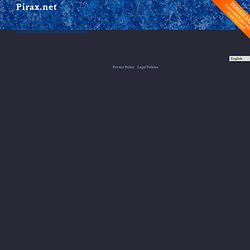 Spring weddings are among the most desirable times to marry due to weather, fresh blooming flowers, and the ease all brides may feel in their dress, irrespective of what the design-even long sleeves can be used easily in the spring. While it's important to find the right dress, shoes, veil, and other bridal outfit, finding bridal jewelry for your spring wedding must be tops on your own list-especially with today's fashion trends changing from time to season and year to year. Beyond a necklace and earrings for you, the bride, you must also think of your marriage ceremony and how their jewelry can enhance your look although not over shadow it. Trends for both garments and jewellery for the 2009 wedding are leaning toward color in both garments and jewelry.
PiraX
The Hackers News
Also check out Hackbloc's other publications There is also a mirror of all of our issues at HackThisSite and Textfiles.com {*style:<b>#13: People, Like Information, Want to be Free </b>*}
Hack This Zine | HackBloc.org
Security Alert System - BugSearch.net
BugSearch is an information portal focused on applications security, web oriented and not. We offer our services to disclose our registered users on security alerts found on the net, in order to warn them as soon as possible on bugs, system flaws, exploits and threats afflicting applications and possible patches. New Feature: Post New Exploit Register now to start receiving our security alerts of your favourite applications or try our new Android App which will keep you updated everywhere you are! Last Advisories
Exploits Database by Offensive Security
Exploit Search
Exploit-ID | Indonesian Exploits Archive
<p><strong>This page is having a slideshow that uses Javascript. Your browser either doesn't support Javascript or you have it turned off. To see this page as it is meant to appear please use a Javascript enabled browser.</strong></p> Snowden lawyer PGP email 'crack' flap: What REALLY happened?
Darknet - The Darkside | Ethical Hacking, Penetration Testing & Computer Security
Wappalyzer - Home
Infosec Island