Wine Blogs
Stephen Tanzer's International Wine Cellar: Non-Subscriber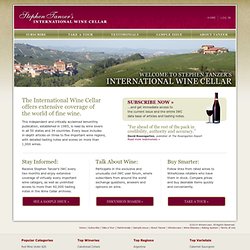 This independent and critically acclaimed bimonthly publication, established in 1985, is read by wine lovers in all 50 states and 34 countries. Every issue includes in-depth articles on three to five important wine regions, with detailed tasting notes and scores on more than 1,000 wines. ...and get immediate access to the current issue and the entire IWC data base of articles and tasting notes. David Rosengarten, publisher of The Rosengarten Report Read more testimonials » Receive Stephen Tanzer's IWC every two months and enjoy extensive coverage of virtually every important wine category, as well as unlimited access to more than 60,000 tasting notes in the Wine Cellar archives.
eRobertParker.com: The Independent Consumer's Guide to Fine Wine
Fermentation: The Daily Wine Blog
The appointment of Antonio Galloni to the California reviewer position at Robert Parker's Wine Advocate a year and a half ago was an important event in the world of California Wine. For years, Robert Parker's palate was the source of reviews of the state's wines at the influential Wine Advocate. How things might change under a Galloni palate has been the topic of some conversation. No matter who might have been appointed to the California Chair of the Wine Advocate, any new reviewer would labor under the same kind criticism that has long been pointed at Robert Parker and other influential critics: The influence is too great and the 100 Point rating system is too reductionists.
James Suckling Uncorked | Archive | Blogs
Harvey Steiman At Large | Archive | Blogs
Bruce Sanderson Decanted | Archive | Blogs
James Laube Unfined | Archive | Blogs
Stirring the Lees with James Molesworth | Archive | Blogs | Wine
Text Size: What Did Rudy Ruin? Not since the Mondavi brothers faced each other in a San Francisco courtroom has there been so much drama in the world of fine wine. Like many of my fellow pundits, I followed the trial of Rudy Kurniawan and the events that led up to it closely. Being slightly more inquisitive than your average wine geek, but unable to put my life on hold by flying to New York to attend the trial, I also read many of the daily courtroom transcripts. The trial was possessed of a Hollywood feel even before Aubert de Villaine, Christophe Roumier and Laurent Ponsot... continue reading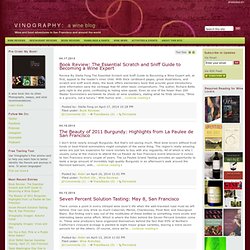 Jancis Robinson.com | Fine Wine Writing, Wine Reviews & Tasting
The Cellarist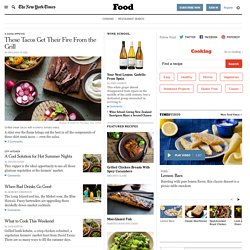 How to Make Great Pizza Dough Jeepney's Chori Burger Chocolate Caramel Macarons Bacchanal Pepper Sauce
March 14, 2011 Gary Vaynerchuk has finally made it to episode 1,000 of Wine Library TV! It's been an amazing ride since that day in February 2006, with great guests, amazing (and sometimes awful) wines, as well as a lot of Jets talk. Today, the main focus is a huge thank you to all the Vayniacs who helped make this community…and a huge announcement from Gary.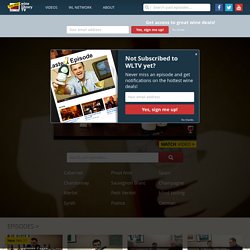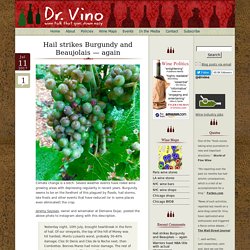 Crain's New York ran a piece over the weekend pointing to a 14% rise in wine shops in NYC since 2010. Will the proliferation of shops "bottle up profit" they wondered? The short answer is: no. There's a huge thirst for wine in America right now and especially in New York City.