Christian News
Controversial conservative commenter and outspoken Christian Dinesh D'Souza has been indicted on charges of breaking some election finance laws—specifically, reimbursing donors so that they could donate more than the $5,000 cap mandated by law. Although his attorneys insist he didn't know he was breaking the law—"He and the candidate have been friends since their college days, and at most, this was an act of misguided friendship by D'Souza," said Benjamin Braffman—he's been arraigned by the District Court of Manhattan. D'Souza has made a name for himself with fiery opinions regarding President Barack Obama, including his book, The Roots of Obama's Rage and his documentary, 2016: Obama's America ... Discuss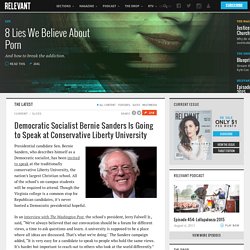 Alltop - Top Christianity News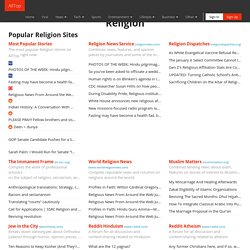 It's that time again—when great leaders step out of their daily grinds to come together and converge in one location from October 5-7 at an event called CATALYST. This year, the Catalyst team is pulling out all the stops, bringing in guest speakers like Andy Stanley, Priscilla Shirer, Dave Ramsey, Mark Driscoll, Blake Mycoskie, David Platt, and more. As an off-shoot, they'll also offer break-out sessions under these labels: activists, engage, perspective, storytelling, influence, and missional. The point? To challenge ministry leaders and teams to shun status quo,…
Alltop - Top Christian Church News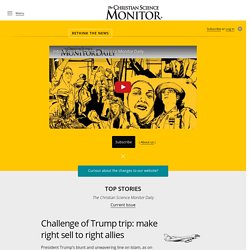 Skip to: Content Skip to: Site Navigation Skip to: Search Sign up for FREE E-Newsletters: Subscribe and save 79 Advertisements
ASSIST News Service
Lausanne World Pulse
Christian News
Church buildings vandalized in Israel March 19, 2012 Anti-Christian graffiti and slurs against Jesus were spray-painted onto a Jerusalem church late last February. The words "Death to Christianity" were written on the wall of the Baptist Narkis Street Congregation church building along with the words "Price Tag" -- a slogan used by Jewish extremists. Full Story... Five More Texas Abortionists Scheduled for Hearings on Abortion Abuses March 19, 2012 Robert L. Prince, Margaret Kouril Kini, Pedro J.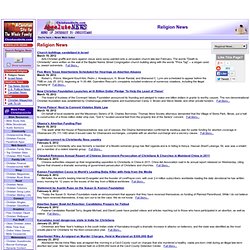 MidnightWatcher's Blogspot
Luke 21:16, "You will be betrayed even by parents and brothers, relatives and friends; and they will put some of you to death. And you will be hated by all for My name's sake." By Jeremy Reynalds, Christian Post – "Muslim relatives of a convert from Islam in a village in eastern Uganda last week tried to poison him to death, the Christian told Morning Star News. According to a story by Morning Star News, Hassan Muwanguzi, who lost his wife and job as a schoolteacher shortly after his conversion in 2003, was hospitalized on March 31 in Mbale.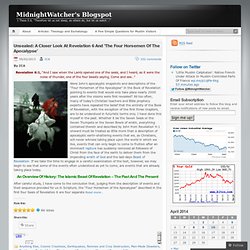 Egypt: Killed for a Cross0 On a Friday afternoon late last month, a young woman was killed over a cross after she drove to the Ain Shams neighborhood of Cairo to deliver food and medicine to the elderly, according to International Christian Concern. Chinese Christians Form Human Shield to Protect Church0 Thousands of Christians formed a human shield around the newly-constructed Sanjiang Christian Church in Zhejiang Province after several hundred police officers with bulldozers threatened to demolish it, according to International Christian Concern. Pakistani Christian Couple Sentenced to Death for 'Blasphemy'2 A Christian couple in Pakistan's Punjab Province was sentenced to death Friday for allegedly sending blasphemous text messages, according to Morning Star News.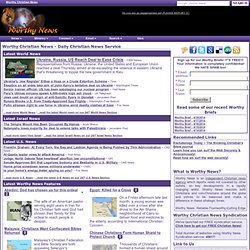 While "word of mouth" is the best advertisement, it should not be an excuse to sit back and wait for students to flow into your classrooms. Recruitment, aggressive recruitment, should always be the "modus operandi." Actually when enrollment is strong, marketing be even stronger.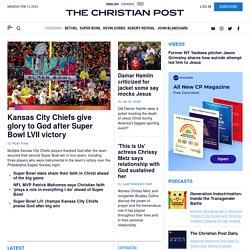 Christian Newswire – Up to the Minute Christian News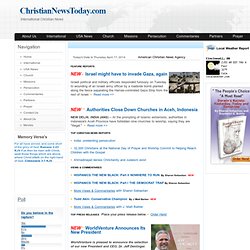 NEW Israel might have to invade Gaza, again Israeli political and military officials responded furiously on Tuesday to wounding of an Israeli army officer by a roadside bomb planted along the fence separating the Hamas-controlled Gaza Strip from the rest of Israel. Read more >>
Christian NewsToday