HTML5-CSS3
Balotelli: champagne, narghilè e massaggi in discoteca. Un party a Saint Tropez con champagne, narghilé e belle ragazze.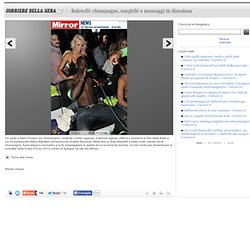 Il tabloid inglese «Mirror» pubblica le foto della festa a cui ha partecipato Mario Balotelli nell'esclusiva località francese. Nelle foto si vede Balotelli a petto nudo mentre beve champagne, fuma tabacco aromatico e si fa massaggiare le spalle da un'avvenente bionda. Un bel modo per dimenticare la sconfitta nella finale di Euro 2012 contro la Spagna (al sito del Mirror) LESS « The Dynamic Stylesheet language.
Web development tutorials, from beginner to advanced. In-depth tutorials and articles on web design. HTML5 Boilerplate. HTML.it. Browser Compatibility Charts for HTML5 and CSS3. HTML5. Web Design.
---