Lifestyle
Home - Inner Design. Gadgets. Carryology. Hand-Eye Supply - Tools, Books & Clothing for Practical Purposes. Living Box. Unità residenziale, ricettiva, modulare, trasportabile, realizzata da Edilportale, concept Università di Trento.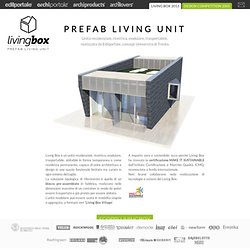 Living Box è un'unità residenziale, ricettiva, modulare, trasportabile, abitabile in forma temporanea o come residenza permanente, capace di unire architettura e design in uno spazio funzionale limitato ma curato in ogni minimo dettaglio. La soluzione tipologica di riferimento è quella di un blocco pre-assemblato in fabbrica, realizzato nelle dimensioni massime di un container in modo da poter essere trasportato e già pronto per essere abitato. L'unità modulare può essere usata in modalità singola o aggregata, a formare veri 'Living Box Village'. The Architecture and Design Network. Edilportale presents Livingbox The modular and transportable residential-hospitality unit 02/08/2013 - After the resounding success of BiosPHera hosted in Smart Village 2012, the 2013 edition will also host a sustainable and energy efficient prototype.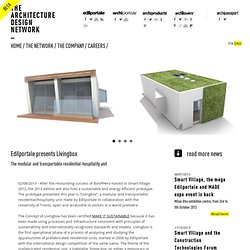 The prototype presented this year is "Livingbox", a modular and transportable residential/hospitality unit made by Edilportale in collaboration with the University of Trento, open and accessible to visitors in a world première. The Concept of Livingbox has been certified MAKE IT SUSTAINABLE because it has been made using processes and infrastructure consistent with principles of sustainability and internationally recognized standards and models. Star Wars Call Me Maybe. Oggi non ho fretta » 10.10.12 – A CENA CON… Quattro appuntamenti per cenare e conversare con grandi interpreti della musica jazz e pop italiana Mercoledì 26 settembre 2012A cena con … Enrico Intra, Maurizio Franco, Paolo Tomelleri Mercoledì 10 ottobre 2012A cena con … Roberto Vecchioni, Patrizio Fariselli e Paolino Dalla Porta Mercoledì 24 ottobre 2012A cena con … Tullio De Piscopo e Renato Sellani Mercoledì 7 novembre 2012A cena con … Ornella Vanoni e Enrico Intra.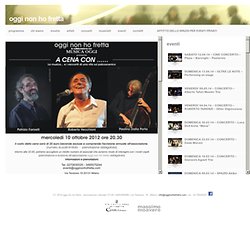 Video Teaser Red Bull Flying Bach in arrivo a Firenze e Torino- -- Red Bull Flying Bach Video -- Red Bull.
(9) Fab.com - Everyday Design. iPhone - iPad. Surf Style. Pin Up. American old style Seventeen. Maggiolino. Vacanze & Viaggi. Giochi - gadget. Tech. Camper - Outdoor. Il portale dei viaggi avventura. Vacanze. Game outdoor. Kite. Clothing. ZORB.com - Site Locations. Zorb Ball Shop, Zorb Ball for Sale » Standard Zorb Ball For Sale. Zorb Ball and Water Ball China Manufacturer Zorb Limited specializes in manufacturing zorb ball, water ball, body zorbing, water pool, water roller, Water Inflatables, zorbing ramp, inflatable show ball, dancer ball, inflatable water sports, inflatable games.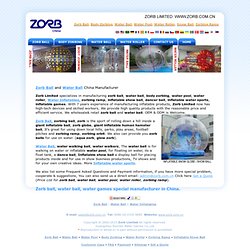 With 7 years experience of manufacturing inflatable products, Zorb Limited now has high-tech devices and skilled workers, We provide high quality products with the reasonable price and efficient service. We wholesale& retail zorb ball and water ball. Gianmarco Magnani. Web Magazine for guys. Bless This Stuff. Automoblox - Home. Buy now Pijama! Camere bimbo. Lorenzo Jovanotti - Estate 1992-(2012) Unique homeware, fashion and gifts | Wall stickers, Wallpaper, Beanbags, Handbags, Jewellery, Unusual Presents & more. TAIJI FUJIMORI ATELIER. Www.onetrippass.com/blog/ Colt Miller and Logan Caldbeck of Corbra Rock Boot Company show us how they make their beautiful and unique South Highland leather boots out of thier shop in the small West Texas desert town of Marfa.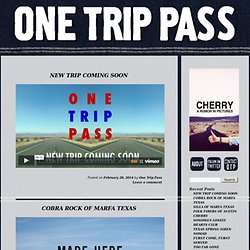 When furniture designer and maker Joey Benton of Marfa, Texas had a surplus of beautiful leather left over from a job, he made lemonade by making sandals inspired by footwear of the past, where there were no left and right. Here he explains the idea behind the sandal's design and speaks about the wild possibilities and limitations that are part of living in the remote west texas desert town of Marfa, Texas. Primo Carrasco supplies the soundtrack and demonstrates how to break in these beautiful sandals and make them your own. North Kingdom. Drama Button. Vicoli Genova. Infos générales. Fancy. GearCulture: The Online Gear Magazine for Men. Wavegarden Wave Pool Surfing Beyond the Ocean.
Budnitz Bicycles. Etsy - Your place to buy and sell all things handmade, vintage, and supplies.
---