Aleksatorri
Aleksa Torri
Hello! I'm Aleksa Torri. Welcome to my page! I'm a self taught handmade artist trying to turn my favorite hobby into life style and profession. You can see all my works at my Shop - www.CitrusCat.etsy.com
Spring collection. Congratulations on the first month of spring.Finally, the nature is going to the warm season and we can rest from the pile of warm clothes and bad weather.I am incredibly pleased by March.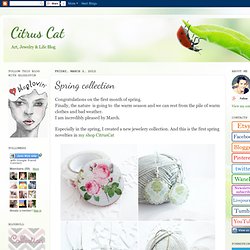 Especially in the spring, I created a new jewelery collection. And this is the first spring novelties in my shop CitrusCat. Exercise Finder, health - divine.ca - Page 2. DIY Home Decor | Magazine Holders Out of Cereal Boxes | Craft Projects. Pinterest freaks, you're in a for a real treat today.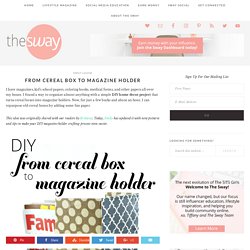 We have a great DIY home decor tutorial from Brittany, who blogs at Mommy Words and Tip Top Nest. She is here to show you an amazingly easy way to take old cereal boxes and convert them into stylish storage items! I have magazines, coloring books, kids school papers, medical forms and other paper all over my house. Adjustable Knot Leather Bracelet. One of my Alt Summit friends recently posted about how to make an adjustable knot, you know, the ones that you use when making friendship bracelets.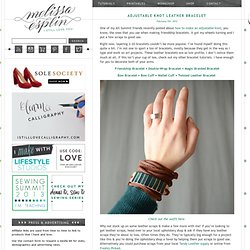 It got my wheels turning and I put a few scraps to good use. Right now, layering 2-20 bracelets couldn't be more popular. I've found myself doing this quite a bit. I'm not one to sport a ton of bracelets, mostly because they get in the way as I type and work on art projects. These leather bracelets are so low profile, I don't notice them much at all. How to Make Paper Pencils (tutorial) I have always wanted to make my own pencils, but the thought of shaping two pieces of wood to allow a piece of lead to sit perfectly inside made me think it wasn't worth the effort.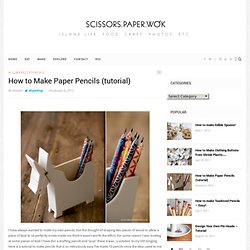 For some reason I was looking at some pieces of lead I have (for a drafting pencil) and "pop" there it was.. a solution to my DIY longing. Here is a tutorial to make pencils that is so ridiculously easy I've made 10 pencils since the idea came to me yesterday! Silk-dyed eggs | Foxflat's Blog. This easter, forgo the candy-colored tablets and vinegar for dyeing eggs with silk neckties.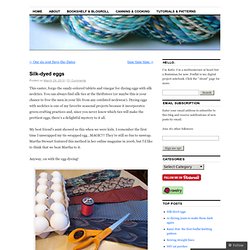 You can always find silk ties at the thriftstore (or maybe this is your chance to free the men in your life from any outdated neckwear). Dyeing eggs with neckties is one of my favorite seasonal projects because it incorporates green-crafting practices and, since you never know which ties will make the prettiest eggs, there's a delightful mystery to it all. My best friend's aunt showed us this when we were kids. I remember the first time I unwrapped my tie-wrapped egg…MAGIC!!! They're still so fun to unwrap. Clean Eating Zucchini Chips | The Joy of Clean Eating. Both of my kids are fruit lovers.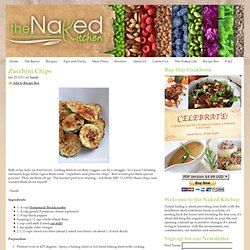 Getting them to eat their veggies can be a struggle. So I wasn't holding out much hope when I gave them some "superhero and princess chips" that would give them special powers! They ate them all up! Superfood Salad with Lemon Vinaigrette. Superfood Salad with Lemon Vinaigrette combines ultra-healthy and flavorful ingredients in a light-yet-filling meal.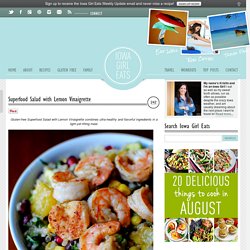 Superfood Salad with Lemon Vinaigrette combines ultra-healthy and flavorful ingredients like quinoa, pomegranate, citrus, avocado and beans, in a light-yet-filling meal, that's bursting with satisfying flavors and textures. Eat by itself, or topped with shrimp or grilled chicken. Superfood Salad with Lemon Vinaigrette Print this recipe! Downloading Websites. Brown Victorian style earrings. New items in CitrusCat Shop. 吉祥结diy手工教程 来自L君在堆糖网的分享. 堆糖 - 发现收集我所爱. Breakfast. Untitled. Untitled. My inspiration. This Weekend Favorites, part 2. Untitled. I don't have a title for this one... Happy girls are the prettiest - 165-171/365. Начну и закончу сегодня мозаикой, потому что совсем не успеваю их выкладывать.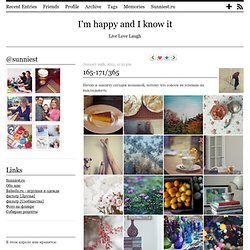 День сто шестьдесят пятый, 23 января.Я когда-то собирала маленькие туфельки и башмачки, мне их дарили в огромных количествах.А потом перестала. Но некоторые всё ещё дарят :) Теперь я вялотекуще собираю только подставки под пиво, у меня их уже больше 300 штук. Блокноты ручной работы Buntmal, фотографии и мысли - Macarons. Etsy Russian Team. Today, we'd like to introduce our team member Aleksa who runs CitrusCat shop on Etsy. - Please tell us a little bit about yourself What can I tell about myself?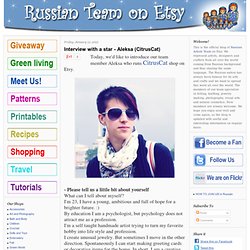 I'm 23, I have a young, ambitious and full of hope for a brighter future. :) By education I am a psychologist, but psychology does not attract me as a profession. I'm a self taught handmade artist trying to turn my favorite hobby into life style and profession. DIY - Tutorial - How to make a leather bow cuff bracelet. Macaron Coin Purse. Just can't help for not making these sweet little macaron coin purses when one of Craft Passion's Facebook fans showed them to me.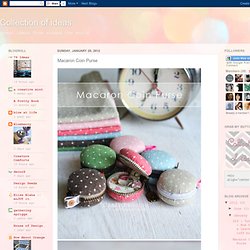 Thanks to XYZZhandmade for her inspiring handmade and some tutorial links in Japanese, this, this, this and this. No, I can't read Japanese but I can guess from the pictures on how to sew it. Here is the English version of tutorial on how to sew this macaron coin purse where I add more details in the sewing. Color Scheme Designer 3. The Magic Adjustable Ring: A Better Way to Begin Crochet in the Round.
Along with this free eBook on how to make a magic ring + crochet patterns, you will also receive a free membership to our online Crochet Me community! Your free membership in the online community includes: Access to our blogs, forums, videos, galleries and more! The ability to share your work with other crochet lovers and get their opinions, by uploading into our Member's Gallery: accessible 24 hours a day, 365 days a year! Free Crochet Me email newsletters with FREE patterns, tips and techniques. Loisirs créatifs : Tous les loisirs créatifs et idées décoration.
Six Angles » Paperwhites. Best Wedding Blog for Vintage Weddings. Aleksa Torri (citruscat) on Pinterest. Tea time / tea cup. Botanicals / Selina Lake Stylist: HAPPY MOTHER'S DAY! Flowers / soft. Pretty / Floral Remedies | Flickr - Photo Sharing! Мiss ιη∂ερεή∂eήт ♥ Colors ~ Blue and White / Blue jay. Glisten / hot choko. * C U T E S E C R E T S . N E T, 2011 Rilakkuma Calendar, tumblr themes, cute tumblr themes, funny graphics, tumblr graphics, pinoy jokes, pinoy graphics, tagalog quotes, love quotes, jokes, funny pictures, tumblr layouts, pink tumblr layouts, blue tumblr l. Dr_R.jpg (изображение «JPEG», 500 × 520 пикселов) Coffee and Tea / Goat Cheese and Chive Tea Sandwiches Recipe - 101 Cookbooks.
Inspired Design. Photo Inspiration / Autumn display. Color Inspiration: Blue / Three Blue Vintage Ink Bottles. Color Inspiration: Blue / tea cup. Color Inspiration: Blue / . Morning / la la Lovely: Like a French Girl. Cups and mugs / Rose #cup. Materials / TinyBear. Materials / box, organize, lace. Photo / Week 7 of 52 – our theme is "Vintage Photography" | Flickr - Photo Sharing! Materials / leslie williamson: kay sekimachi. Cups and mugs / Vintage china <3. Materials / VintageRoseGarden. My Etsy Shop. Violin music earrings by CitrusCat.
Elegant handmade jewelry with Violin image is a perfect gift for musician Lovely handmade earrings have unusual square shape.These are lightweight and easy to wear. • Pendants are aprox. 2.7 cm/ 1.06 inch• Total length of the earrings approx. 4.5 cm/ 1.7 inch• Image applied on both sides. Winter T 240 by Aleksa Torri.
Treat Yourself To Something Fun by Julie. Organize! by Alecia Arctida. Let's go on vocation! by Svetlana Novikova. <div id="javascript-nag" class="notice"><p> Take full advantage of our site features by enabling JavaScript. <a href=" more</a>. </p></div> Help Etsy. Winter T 263 by Aleksa Torri. Winter T 262 by Aleksa Torri. Winter T 247 by Aleksa Torri. Winter T 248 by Aleksa Torri. Winter T 253 by Aleksa Torri. Winter T 252 by Aleksa Torri. Winter T 249 by Aleksa Torri.
Winter T 254 by Aleksa Torri. Bee Necklace on Honeycomb hand embroidered by bstudio. Winter T 260 by Aleksa Torri. Winter T 257 by Aleksa Torri.
Pearltrees videos
Getting started.
---
ascend21 Feb 13 2012

So, were at the same boat. lol. I have yet to completely understand and experiement with this program. With a little persistance I bet we both can truly use this tool to its most proficient and productive manner. If you have any questions then just comment me and I'll help you out as best I can.

aleksatorri Feb 13 2012

Hi. I still have not figured out this resource, but I hope it will not be difficult :)

ascend21 Feb 13 2012

Hi, Aleksa! So your a Self taught artist eh, that cool. I'm actually studying for Graphic Design. Well nice to make your aquantience, and I will be expanding the downlod link as well as yourself partner, lol.
---