Psychology
He does it your way."Cole makes the bed the way I like it—no creases, no sheets hang-ing out, pillows plumped up just right. When I come home, no matter what kind of day I've had, it makes me feel happy and adored." —Joy Blocksma Edwards, 25, Portland, Ore.He texts you back intwoseconds (and not just for sex).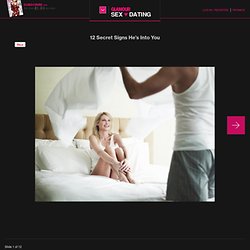 12 Secret Signs He's Into You: Sex, Love & Life
Most people only think that there is one way to sleep: Go to sleep at night for 6-8 hours, wake up in the morning, stay awake for 16-18 hours and then repeat. Actually, that is called a monophasic sleep cycle, which is only 1 of 5 major sleep cycles that have been used successfully throughout history. The other 4 are considered polyphasic sleep cycles due to the multiple number of naps they require each day. How is this possible? How is this healthy?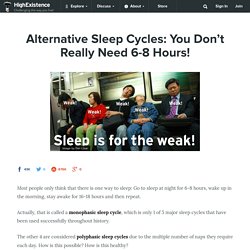 Aggh. Everyone showed up clothed! Once upon a time, I suffered from glossophobia. This affliction touches billions. It's the fear of public speaking , even to a tiny group. I conquered it by discovering what makes people smile, nod, and listen carefully, because nothing calms you down faster than an interested audience.
May 6, 2011 | 42 Comments » | Topics: Life, List At the start of the new millennium the Dalai Lama apparently issued eighteen rules for living. Since word travels slowly in the digital age these have only just reached me. Here they are. Take into account that great love and great achievements involve great risk.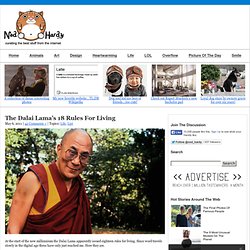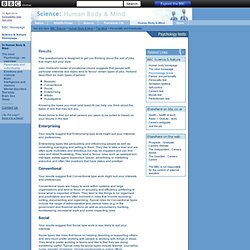 Science & Nature - Human Body and Mind - Mind - Careers
This questionnaire is designed to get you thinking about the sort of jobs that might suit your style. John Holland's model of vocational choice suggests that people with particular interests and styles tend to favour certain types of jobs. Holland described six main types of person: Realistic Conventional Social Enterprising Artistic Investigative Knowing the types you most (and least) fit can help you think about the types of role that may suit you. Read below to find out what careers you seem to be suited to based on your results in the test: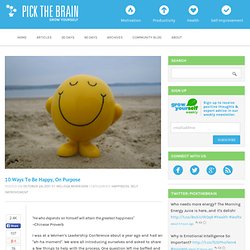 "He who depends on himself will attain the greatest happiness" ~Chinese Proverb I was at a Women's Leadership Conference about a year ago and had an "ah-ha moment". We were all introducing ourselves and asked to share a few things to help with the process. One question left me baffled and ultimately changed my life; "What do you do to make yourself happy?". At the time I honestly didn't know. I had a great job, friends, and family.
Psychological ("personality") Types According to Jung's theory of Psychological Types we are all different in fundamental ways. One's ability to process different information is limited by their particular type. These types are sixteen.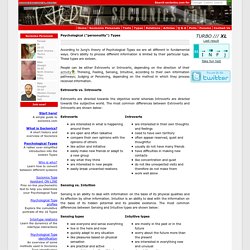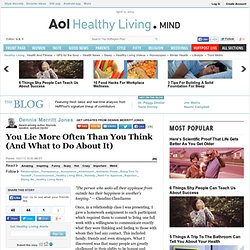 Dennis Merritt Jones: You Lie More Often Than You Think (And What to Do About It)
"The person who seeks all their applause from outside has their happiness in another's keeping." -- Claudius Claudianus Once, in a relationship class I was presenting, I gave a homework assignment to each participant which required them to commit to living one full week with a willingness to communicate exactly what they were thinking and feeling to those with whom they had any contact. This included family, friends and even strangers.
55378d1226863122-procrastination-flowchart-flowchart2.jpg (JPEG Image, 1024x773 pixels) - Scaled (83%)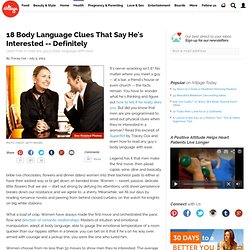 It's nerve-wracking isn't it? No matter where you meet a guy at a bar, a friend's house or even church the facts remain: You have to wonder what he's thinking and figure out how to tell if he really likes you. But did you know that men are pre-programmed to send out physical clues when they're interested in a woman? Read this excerpt of Superflirt by Tracey Cox and learn how to read any guy's body language with ease. Legend has it that men make the first move, then plead, cajole, wine, dine and basically bribe (via chocolates, flowers and dinner dates) women into their bachelor pads to either a) have their wicked way or b) get down on bended knee.
18 Body Language Clues That Say He's Interested -- Definitely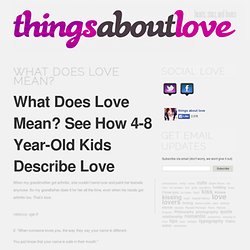 When my grandmother got arthritis, she couldn't bend over and paint her toenails anymore. So my grandfather does it for her all the time, even when his hands got arthritis too. That's love.
When you're young, there's one lesson that gets hammered into you more often than others: Tell the truth. Tell the truth, you're told, and everything will be OK. Then why does Mom call her boss claiming to be sick when she's not, and why does Dad say Mom's dress doesn't make her look fat? The lesson didn't stick for them when they were little, and it didn't stick with you or me, either.
How Lying Works"
The end of 2010 fast approaches, and I'm thrilled to have been asked by the editors of Psychology Today to write about the Top 10 psychology studies of the year. I've focused on studies that I personally feel stand out, not only as examples of great science, but even more importantly, as examples of how the science of psychology can improve our lives. Each study has a clear "take home" message, offering the reader an insight or a simple strategy they can use to reach their goals , strengthen their relationships, make better decisions, or become happier. If you extract the wisdom from these ten studies and apply them in your own life, 2011 just might be a very good year. 1) How to Break Bad Habits