Beauty
How to curl your hair with a sock! No heat. How To Style a Fishtail Braid. We love the look of fishtail braids!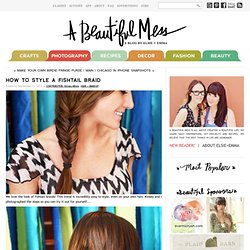 This trend is incredibly easy to style, even on your own hair. Kinsey and I photographed the steps so you can try it out for yourself... Nails.♥ How to: pore strips | Petit Elefant. You know those Biore pore strips you buy at the drugstore for about $12 a pop? Yeah, those. Today I'm going to teach you how to make your own homemade pore strips. How-To: The Cascade/Waterfall Braid. The waterfall braid also known as the cascade braid recently exploded as the new "trend braid" of the season.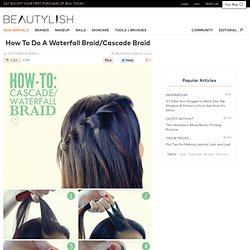 The waterfall effect looks cool and complex, but it's easier to style than you think. Give this beautiful braid a try when Beautylish takes you through the how-to! Section Off The waterfall braid works best on straight or loose waves. Tipped Out. Adele Oh I love it!!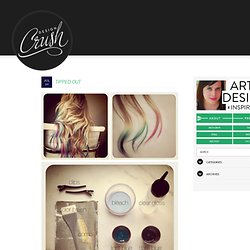 I am blonde, but not sure I would dare do this to my own hair!!!! 07-20-11 » 10:03 am » Addie I absolutely LOVE this…. and if something went wrong, all you have to do is cut it off… Although, from experience, coloring blonde hair is not as great as you would expect… the color fades way faster than you would think b/c when you bleach darker hair, it kind of damages it, so the color really soaks into the hair, with blonde hair, it isnt damaged, so it doesnt soak in as well…Im such a nerd, sorry 07-20-11 » 10:08 am » Paige Seriously wishing I was blonde right about now to do this to my tips!
Or would it still look cool with brown hair? 07-20-11 » 10:10 am » Kelly i'm dark brown and would try it if my hair were a bit a longer – i say go for it! How To Put Your Hair Up In A Cute Bun | Guide « Wonder How To. Comb your hair carefully to eliminate any tangles or knots.Take some hair from the top of your head. 3.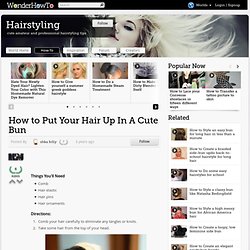 Tie off this hair with a hair elastic. 4. Don't pull off the ends. 5.
---