Main meals
This is a melt-in-your-mouth, easy-to-make cookie with a delicious Eggnog and cinnamon flavor. They're satisfyingly crackly on the outside, but super gooey and chewy on the inside. Santa will love these! Let me start out by saying I am not the huuugest fan of eggnog, so if you curled up your lip at the name of these cookies, I won't hold it against you!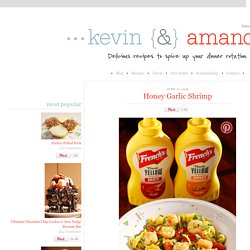 Someday, if you're lucky and I feel like sacrificing our dignity, I will show you a picture of our lovely oven. Chris originally thought we should name this blog "The Timeless Kitchen" because the oven has no clock. That's right, read 'em and weep, literally. At some point the LYK oven's clock shorted and started beeping uncontrollably, as our smoke alarm also tends to do. Naturally, the previous tenants thought it best to simply rip out the clock. We now have a gaping black hole of death with cut wires popping out of it, instead of an oven clock.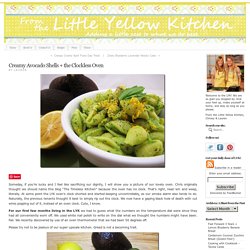 Christmas Challenge - Day 3 My mom sent my boyfriend and I home with TWO bags of turkey and a coffee carafe filled with turkey soup. So for the last week for both lunch and dinner I've eaten nothing but turkey. Turkey sandwiches, turkey soup, turkey pot pie, just plain turkey, and more turkey sandwiches. My boyfriend loves it. He could eat cold turkey all day everyday.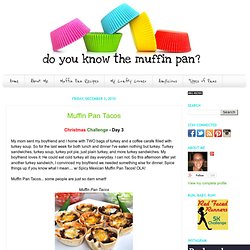 Do You Know the Muffin Pan?: Muffin Pan Tacos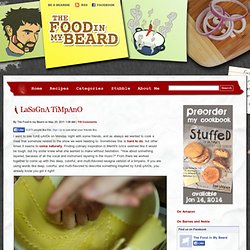 I went to see tUnE-yArDs on Monday night with some friends, and as always we wanted to cook a meal that somehow related to the show we were heading to. Sometimes this is hard to do, but other times it seems to come naturally. Finding culinary inspiration in Merrill's lyrics seemed like it would be tough, but my sister knew what she wanted to make without hesitation. "How about something layered, because of all the vocal and instrument layering in the music?" From there we worked together to come up with this deep, colorful, and multi-flavored lasagna version of a timpano. If you are using words like deep, colorful, and multi-flavored to describe something inspired by tUnE-yArDs, you already know you got it right!
I find there's a fine line between like and obsessed . A whisper-thin, sliver of a line. Take my reverence for Target, for example. What began nearly ten years ago as a casual, "Hey I really think that place is the cat's pajamas" slipped almost too quickly into me considering ways to spend an entire weekend within its red doors. How lovely a weekend that would be. My relationship with my muffin tin is similarly alarming.