Main meals
So excited to share this super easy, ultra creamy pesto alfredo sauce, poured over dreamy, fluffy gnocchi and topped with crisp bacon and shaved parmesan. It's warm, hearty, delicious, and perfect for busy weeknights. The combo of bacon, creamy basil pesto, and parmesan send this decadent sauce over the top!! It's seriously too good to eat in public.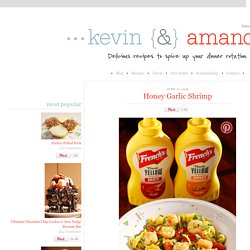 Someday, if you're lucky and I feel like sacrificing our dignity, I will show you a picture of our lovely oven. Chris originally thought we should name this blog "The Timeless Kitchen" because the oven has no clock. That's right, read 'em and weep, literally. At some point the LYK oven's clock shorted and started beeping uncontrollably, as our smoke alarm also tends to do. Naturally, the previous tenants thought it best to simply rip out the clock. We now have a gaping black hole of death with cut wires popping out of it, instead of an oven clock.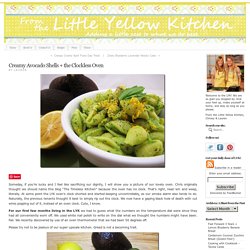 Christmas Challenge - Day 3 My mom sent my boyfriend and I home with TWO bags of turkey and a coffee carafe filled with turkey soup. So for the last week for both lunch and dinner I've eaten nothing but turkey. Turkey sandwiches, turkey soup, turkey pot pie, just plain turkey, and more turkey sandwiches. My boyfriend loves it. He could eat cold turkey all day everyday.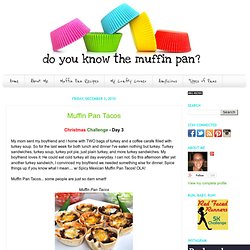 Do You Know the Muffin Pan?: Muffin Pan Tacos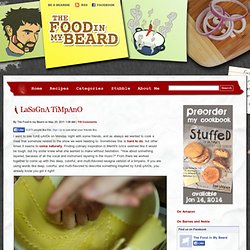 I went to see tUnE-yArDs on Monday night with some friends, and as always we wanted to cook a meal that somehow related to the show we were heading to. Sometimes this is hard to do, but other times it seems to come naturally. Finding culinary inspiration in Merrill's lyrics seemed like it would be tough, but my sister knew what she wanted to make without hesitation. "How about something layered, because of all the vocal and instrument layering in the music?" From there we worked together to come up with this deep, colorful, and multi-flavored lasagna version of a timpano. If you are using words like deep, colorful, and multi-flavored to describe something inspired by tUnE-yArDs, you already know you got it right!
recipe slightly adapted from Hungry Girl (makes 12) 12 oz raw ground turkey ¼ tsp salt, divided ¼ tsp pepper 1 cup chopped onion